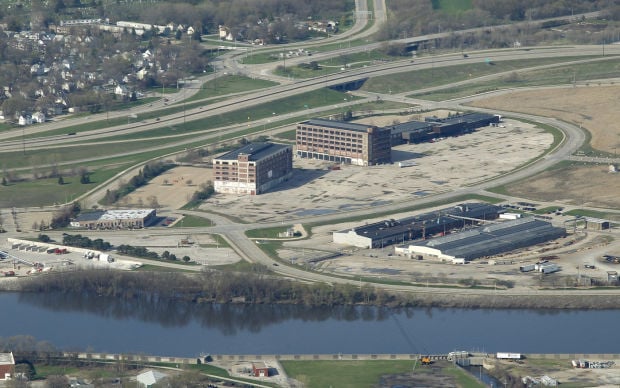 WATERLOO | The city has boosted its financial commitment to get construction started at the Cedar Valley TechWorks.
Waterloo City Council members voted 6-0 Monday to amend the original development agreement for the project by raising the city's general obligation bond award from $12.75 million to $20.75 million.
The partnership between the city, nonprofit Cedar Valley TechWorks Inc. and private investor Financial District Partners will create a new 180-room Courtyard by Marriott hotel and restaurant, conference and training center in the vacant Tech 2 building while helping build out the advanced manufacturing center in the Tech 1 building.
This week's council action solidifies the $55 million financing package and is expected to allow construction to start this fall.
Steve Dust, president of the Greater Cedar Valley Alliance and Chamber, said the project, in conjunction with the recently opened John Deere Tractor & Engine Museum, will be a major economic boost to the area.
"You are getting 30 acres of brand new investment over time, $70 million of new tax base that wasn't there before on a brownfield environmentally challenged location," Dust said.
"The citizens of Waterloo are getting a huge new attraction, one of the largest tourism attractions in the state," he added. "They're getting a big boost in tax base over a period of time and a lot of jobs."
A development agreement approved in January 2012 called for the city to provide $12.75 million in bond funds for the overall development, with those bonds expected to be paid off with future property taxes generated at the campus. Only $3.5 million for site improvements has been issued to date.
The new agreement adds another $8 million in city bonds, which are expected to be repaid with the increased sales and hotel/motel tax created in the district.
The Iowa Economic Development Authority has agreed to let the city set up an Iowa Reinvestment District to capture up to $12 million in state sales and lodging taxes over the next 20 years.
The city's remaining $17.25 million commitment requires a public hearing in the coming months before bonds can be sold. Financial District Partners, or FDP, also has secured $6.8 million in state historic tax credits and a $13 million bank loan to complete the Tech 2 project.
Council members supported the new development agreement despite lawsuits filed last week against FDP's Rodney Blackwell of Bettendorf by Kansas City, Mo., developer Michael Knight.
Blackwell said Knight's claims to 20 percent of any profits from Cedar Valley TechWorks and FDP's Machinery Row redevelopment project in Racine, Wis., lacked merit.
"He's never been here before, he's never worked here before and I don't believe anybody in the room knows who he is," Blackwell said. "We will respond appropriately, and it won't affect this project going forward."
Councilman Steve Schmitt said Blackwell and the city need to assure the public the TechWorks would not turn into "another Sunnyside South," a housing development that has been mired in litigation for several years.
"We need to make the case that this is not apples to apples, that it is apples to oranges," Schmitt said. "It might even be fruits and vegetables."
While the amended development agreement focused mainly on financing to get Blackwell's Tech 2 hotel project moving forward, the action also was necessary to clear the way for a future $3 million award from the sales and hotel tax investment district for Tech 1.
Randy Pilkington, director of business and community services at the University of Northern Iowa, said the money — in conjunction with other state grants — will help turn UNI's Metal Casting Center into the advanced manufacturing hub of North America.
"In my opinion, we'll be the premier 3D additive manufacturing center for excellence," he said. "People are going to look to the Cedar Valley for assistance and guidance. We'll be the go-to community."