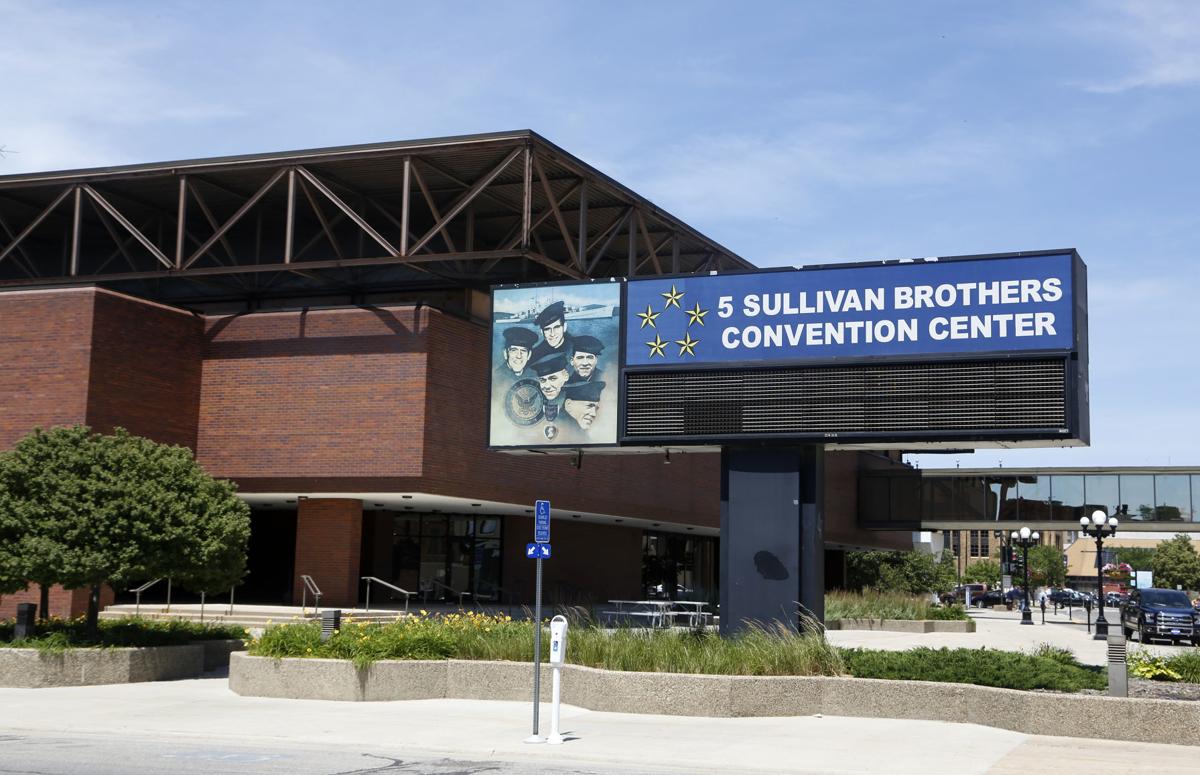 WATERLOO — The city has picked up the pieces more than a year after a deal to sell the Five Sullivan Brothers Convention Center collapsed.
Waterloo City Council members voted unanimously Monday to hire a firm to manage the downtown convention center, which comes as a private developer has purchased and started renovating the adjoining hotel.
Spectra Venue Management, a Philadelphia-based company owned by Comcast and NBCUniversal, will begin its management duties Wednesday. The company manages 184 venues worldwide, including the Iowa Events Center in Des Moines, Xtream Arena in Coralville and Tyson Events Center in Sioux City.
"I personally think this is a wonderful opportunity for Waterloo," said Councilwoman Margaret Klein. "You seldom get these kinds of things to fall into your lap, and to get a company of the caliber of this company gives me an awful lot of hope."
The new arrangement replaces a 2017 attempt to sell the city-owned, 45-year-old convention center to Omaha, Neb.-based Leslie Hospitality, which was also expected to buy and renovate the Ramada Hotel.
The Leslie deal fell apart in October 2018 when the company was unable to secure financing and ultimately filed a lawsuit against the city that is still pending in federal court.
Michelle Weidner, the city's chief financial officer, said the convention center has been without a manager since Dec. 31.
"We were under a 40-year-long management agreement at the convention center with the previous owner of the Ramada Hotel," she said. "That agreement finally expired in December. We also saw the hotel be sold to new owners who are not interested in the management contract for the convention center."
Makenda LLC of Fargo, N.D., is investing in a $10 million renovation of the former Ramada and turning it into a dual brand Best Western Plus and Executive Residency.
"We're obviously excited about it moving forward because we've made our commitment, and this is the last piece to a very, very important puzzle for the whole Cedar Valley," said Rod Lindquist, of the new hotel ownership.
John Bunge, president of Iowa Show Productions, which has put on the Waterloo Home Show at the convention center since it was built, said he has had good experiences with Spectra in other communities.
"I was part of the hope for the last management group and I'm not feeling too good about that," Bunge said. "But I've worked personally with Spectra at one of our large events in Des Moines for over 10 years and they're a first-class operation."
The city will maintain ownership of the convention center and still be responsible for any operating losses and capital improvements, which has been the case since it was built.
The initial contract with Spectra runs for just over five years and includes a possible five-year extension.
The city will pay Spectra $120,000 annually to manage the center and up to $25,000 in quality incentives based on user reviews and a local committee tasked with evaluating the company's efforts. Spectra can also earn additional fees by exceeding revenue and operating budget projections or by securing new sponsors.
The company will kick in $350,000 initially for transition expenses, facility improvements and equipment.
Peter Zingoni, vice president of business development and client relations for Spectra, said he believe's the firm's contacts in the convention and entertainment worlds can bring more events at the center.
"We feel we can drive some concerts, some family shows," he said. "There's a lot of great products that are on the market from Disney products, Sesame Street Live."
Courier reporter Tim Jamison's most memorable stories of 2019.
Courier Reporter Tim Jamison's most memorable stories of 2019
It wasn't always the most important news of the day that stood out to me this year. For the most part, these stories were the ones that reminded me that newspapers play an important role in informing and connecting our community.