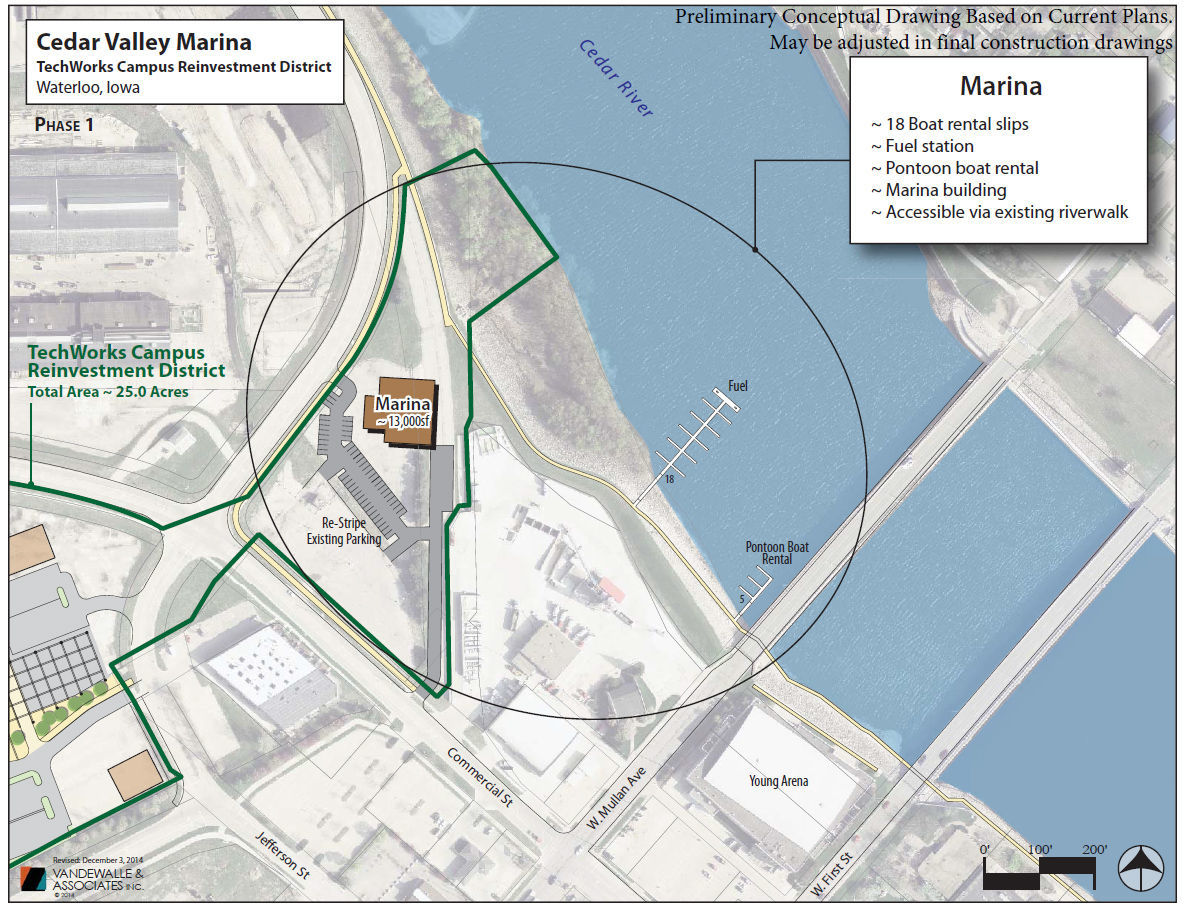 WATERLOO — A planned downtown Cedar River marina is headed to the drawing board.
Waterloo City Council members are scheduled Monday to consider a $127,500 contract with AECOM Technical Services Inc. to develop conceptual and preliminary designs for a Cedar River Marina District.
The city and Waterloo Development Corp. have been working to create a boating facility on the west bank of the river just upstream from the Manatt's concrete plant, near the intersection of West Commercial Street and River Road.
The marina is part of the 2015 Iowa Reinvestment District approval, designed to provide $12 million in state sales and room tax funding for several projects on the Cedar Valley TechWorks campus.
A proposed contract indicates the project is expected to include several commercial or residential buildings, parking areas, river docking areas and "amenities to create new and unique downtown lifestyle opportunities and improved river access for downtown Waterloo."
The marina district would be connected to the recreational trail system in that area.
You have free articles remaining.
A separate agreement calls for the WDC, a private nonprofit corporation working to revitalize the downtown area, to fund the engineering contract using gaming revenues it receives from the Black Hawk County Gaming Association.
An IRD application submitted to the Iowa Economic Development Authority in 2015 estimated the first phase of the marina project to cost $2.7 million and include rental boat slips, a boat fueling station, pontoon rentals and a river-themed restaurant.
The project was expected to be constructed with the state IRD funds, gaming revenue and tax-increment financing along with an investment from private developers.
The meeting is scheduled for 5:30 p.m. Monday in City Hall.
Other scheduled business includes:
A public hearing on an application to put the Walnut Street Historic Neighborhood on the National Register of Historic Places. Approval could open up tax credit funding opportunities for redevelopment projects in the neighborhood.
A 3:55 p.m. work session to review a proposed bicycle ordinance covering equipment standards, riding rules and other issues related to the use of bikes on public rights of way.