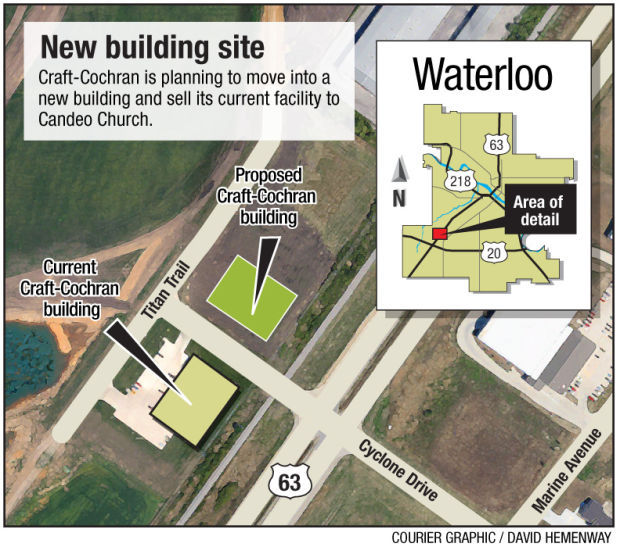 WATERLOO | Craft-Cochran is crossing the street and making way for a new church in the Greenbelt Centre business park.
The longtime screen print and embroidery service is planning to construct and relocate to a new 10,800-square-foot building directly north of its current location Titan Trail and Cyclone Drive.
The existing 15,000-square-foot building would then be sold to Candeo Church, a growing new congregation which has been holding Sunday services in a leased space at Central and Hoover middle schools.
Members of the Waterloo Planning, Programming and Zoning Commission on Tuesday endorsed site plan amendments for both the new Craft-Cochran building and the church's plan to add a parking lot south of the existing building. The City Council has the final say on those matters.
Commissioners also endorsed a special permit for the church, which will be considered at a Board of Adjustment meeting later this month.
Craft-Cochran in 2009 was one of the first companies to locate in Greenbelt Centre, a 120-acre business park along U.S. Highway 63 and Ridgeway Avenue north of the former Waterloo Greyhound Park. The company, founded in 1947, had been on Ansborough Avenue.
Company co-owner Steve Miles said the business actually is growing despite moving into a smaller building.
"We are going to downsize our building but increase production capabilities, and we'll be looking to hire people," Miles said. "We can retool our equipment and update some of what we've seen out there (at trade shows)."
Miles said contractors are already lined up to begin construction pending final city approval. The new facility could be ready to use within three months.
Community Planning and Development Director Noel Anderson said Craft-Cochran will be asked to repay a $196,000 grant it received as part of an incentive package the City Council approved in 2008 for the project. Another development agreement then could be considered for the new building.
"Essentially we worked to take the city out of the first project," Anderson said. "By repaying the grant amount, the (original) building is now on its own."
Planning staff noted some concerns about having a church locate in an industrial park, but wound up supporting Candeo Church's request to move into the original Craft-Cochran facility.
"We did not object to it from a land-use standpoint as we have some other churches mixed in with other commercial areas," Anderson said.
Candeo Church is a Cedar Valley outgrowth of Cornerstone Church in Ames. It is also affiliated with the Salt Company campus ministry, which operates at Iowa State University, the University of Iowa and, since 2012, the University of Northern Iowa.
Stan Hayek, Candeo's college pastor, said the church started holding services locally in a leased space last September. The Craft-Cochran facility would be a temporary site for a few years while the church seeks a permanent location.
"We're averaging just over 300 on weekends," Hayek said.
Get Election 2020 & Politics updates in your inbox!
Keep up on the latest in national and local politics as Election 2020 comes into focus.