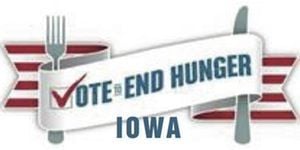 DES MOINES | A coalition of advocacy groups believes the right kind of government action could eliminate world hunger in the next 15 years.
The groups collaborating on Vote to End Hunger believe achieving that lofty goal starts with quizzing candidates and convincing voters to make hunger issues voting issues in the 2016 elections.
"We think it's possible to end hunger in our country and around the world by 2030," said David Beckmann, president of Bread for the World, one of the organizations involved with Vote to End Hunger.
Beckmann spoke Tuesday at a news conference in downtown Des Moines at the World Food Prize's annual Borlaug Dialogue International Symposium.
"To make that happen … it's crucial to win a shift in U.S. national priorities, and the time to do that really is 2017 (after next year's election)," Beckmann said. "We have an extraordinary opportunity with the election of 2016 to see a shift in our nation's heart and our national priorities."
Vote to End Hunger is comprised of nonprofit advocacy groups and charity organizations such as Bread for the World, Feeding America and Catholic Charities USA.
Beckmann said Vote to End Hunger's goal is not to advocate for specific policies, but instead to ask candidates what they will do to address hunger and to ask voters to consider hunger issues when choosing the next president and members of Congress.
"What we're all pushing for together is to make hunger, poverty and opportunity a higher priority for the U.S. national government. If it really is a higher priority, the president and Congress will adopt a set of policies that will put us on a path (to ending hunger)," Beckmann said.
"As a coalition, we are leading the candidates to tell us (their policy ideas) and let the voters decide," he added.
Roughly 1 in 5 American children live in homes that are food insecure, meaning access to adequate food is limited by a lack of money and other resources, according to the U.S. Department of Agriculture.
Roughly the same fraction of children are living in poverty.
"The need is very high," said Lisa Davis of Feeding America. "I think the moment in time is right, and I think the strengths we bring to the table really set us ahead of some other issue campaigns out there."
The coalition believes it can appeal to voters' sense of community in encouraging them to press candidates on hunger issues and vote for a candidate based on their responses to those issues.
"We think a lot of voters are ready to raise this issue, and that's what we're trying to encourage."