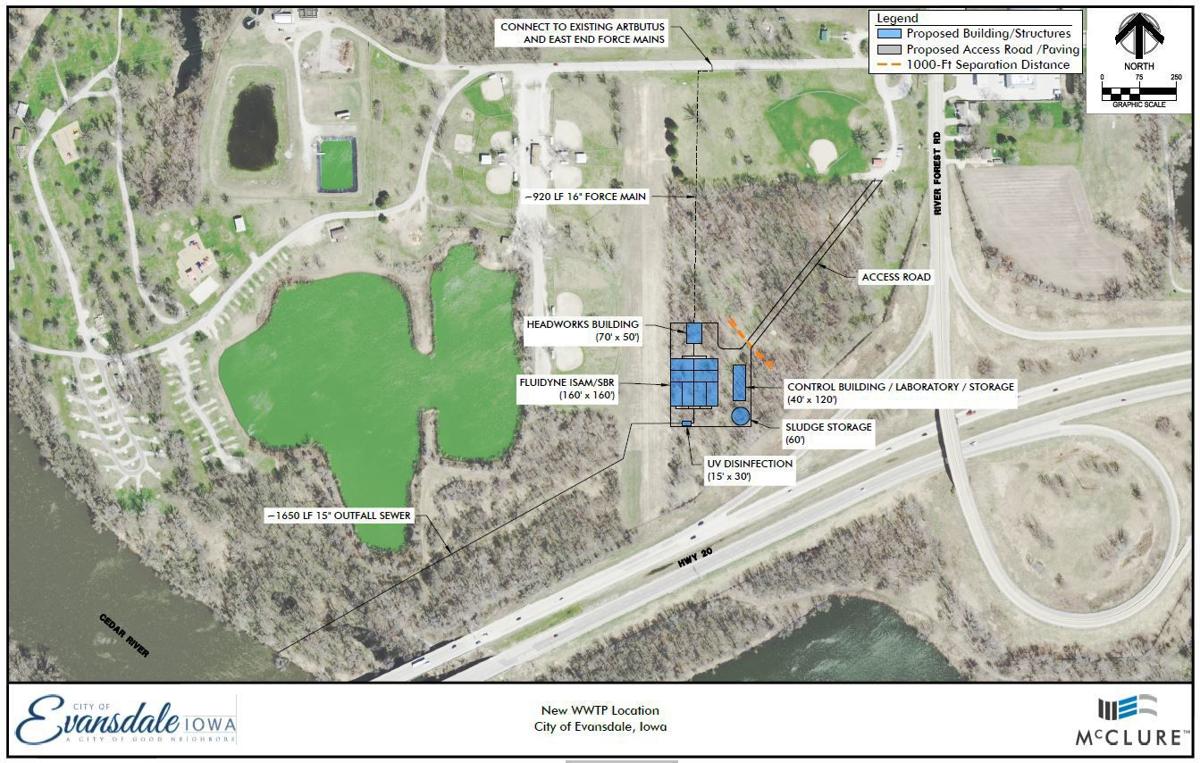 EVANSDALE — It had been contentious for months, with council members, the mayor and dozens of citizens packing council chambers, all weighing in on the best sewage plant option for their city.
But with deadlines looming, extended and passed — and with McClure Engineering all but threatening to walk away from the process — the Evansdale City Council finally chose a design to move forward with, in order to comply with disinfection requirements from the Iowa Department of Natural Resources by 2022.
The five-member council voted, 3-2, to approve a new wastewater treatment plant on the dry side of the levee — to be located at Highway 20 and River Forest Road — at an estimated cost of $13.79 million.
Voting against were Ward 3 council member Steve Seible and at-large council member Lynn Bender.
After 90 minutes of the meeting Tuesday, which was nearly all about the plant, Seible and Bender argued that the cost should not be as high as it was for the cheapest option facing the council, and nitpicked their engineering firm on everything from moving the current plant's entrance to whether certain upgrades were needed.
"We just spend, spend, spend; borrow, borrow, borrow," Seible said. "What (are) the basics for doing this to move forward, rather than all the bells and whistles? Because I don't honestly believe it's necessary."
"Then we are at a fundamental disagreement," said McClure representative Derick Anderson, pointing out they were brought on less than a year ago to provide options for Evansdale's looming disinfection deadline. "These are the options on the table. There's a long process to go there, but if we're at a point where we have to debate the scope, then we have to rebuild trust or we have to step away."
Ward 4 council member Dick Dewater then made a motion to approve the new plant, with Ward 2 council member Gene Walker seconding the motion. Some in the audience were audibly shocked, since the discussion had so far mostly centered on getting the lowest-cost option even lower, and a few said citizens had been shut out of the process.
"We've been talking about this for a year and a half, two years," Mayor Doug Faas said. "Just because some people are late to the party — we've discussed it."
The new plant design, which would demolish the old plant at 1212 River Forest Road, would build out of the flood plain, address nutrient reduction and utilize aerobic granular sludge — a 30-year-old European technology not yet approved by the Iowa DNR but in use in other states and being looked at by other cities like Cedar Rapids.
It was also the most expensive option on the table, at least up front. But Dewater and Walker argued that they believed the city would be spending even more on a bare-bones option when the DNR inevitably added nutrient reduction and floodplain requirements in five to 10 years.
"As a homeowner on a fixed income, it's easy to spend $7 million (for the cheapest option) — it's less," said Walker. "But as a council member, do we really want to spend that now, and then down the road spend another $5 to $6 million?"
Bender said it was also possible that true wastewater regionalization could become a viable option with Waterloo or another entity by then.
"We'd like to spend as little as possible, because it's possible we will want to regionalize in 5 to 10 years," she said. "Spend as little as we can now, meet our requirements, and move forward."
Faas said he thought that was a shortsighted approach.
"I'm just cautioning you that (the $7 million option) could end up being a very, very expensive Band-Aid that we're going to have to rip off and throw away," he said. "It's not what's best for the city in 20, 30, 40 years."
At its current preliminary cost, the new plant build will gradually raise monthly sewer bills to $37 beginning July 1, 2021, $48.50 beginning July 1, 2022 and $53 on July 1, 2023, where Faas said the rate was expected to stabilize.
An earlier version of this story misstated the monthly sewer bill increase, based on previous information from July. Mayor Doug Faas said the new numbers were arrived at after factoring in the commercial property rate.
Get Election 2020 & Politics updates in your inbox!
Keep up on the latest in national and local politics as Election 2020 comes into focus.