CEDAR FALLS – At the head of a popular loop on the Cedar Valley trail system, a brown gate with two dreaded words has been stopping traffic for several years.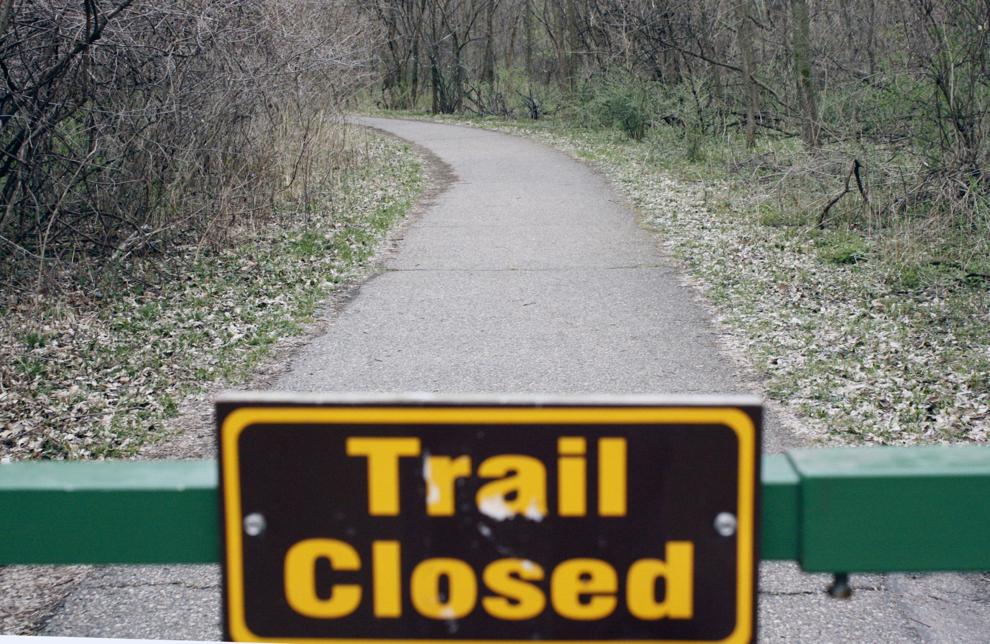 Since 2018, cyclists, walkers, hikers and runners have been stopped in their tracks on a section of the trail situated in the floodplain forests of George Wyth State Park.
"It's the connection between Cedar Falls and downtown Waterloo," said local trail advocate and cycling enthusiast Roger White. "There's no other way around it. It basically closes the George Wyth side of the trail."
Repeated flooding has caused soil erosion and crumbling blacktop on several parts of the Cedar Valley Lakes Trail from Krieg's Crossing by Pfeiffer Springs Park and into George Wyth. The stretch was officially deemed unsafe with a gate closing that part of the trail after the flood in 2018.
"A lot of people are frustrated because it's not repaired yet," said George Wyth State Park Manager Lori Eberhard.
That's why White and other volunteers with the Cedar Trails Partnership are raising money to repair about 1,000 feet of flood-damaged areas and restore the seamless trail connection from Cedar Falls to Waterloo. The estimated cost is $100,000.
"It doesn't sound like it should be that much, but there is a lot of engineering that has to be involved to withstand flooding," Eberhard said.
With local donations and grant funding, including a recent $10,000 grant from Rails-to-Trails Conservancy, the Cedar Trails Partnership is pushing the project forward by raising nearly $70,000.
Eberhard, who has been working at George Wyth for more than 20 years, said she is "one of the luckiest state parks staff" because of the strong community support in Black Hawk County.
"We all work together. We are all connected by the trails," she said.
Once the proper Department of Natural Resources permits are granted and enough money is raised, Eberhard and White are hoping to see construction begin this fall.
"That is a wonderful trail through the park and through the nature area. You've got runners, bikers, walkers, rollerbladers — you name it," White said.
Paved 40 years ago with 8-feet wide blacktop, the damaged stretch of trail is considered the oldest trail in the Cedar Valley. It eventually becomes part of the Cedar Valley Nature Trail, a historic rail trail running 67 miles between Waterloo and Cedar Rapids. It's also a segment of two national rail trails — The American Discovery Trail and The Great American Rail Trail.
Repairs to the trail will include switching to concrete, which Eberhard said helps prevent flooding, and widening the path to 10 feet to meet trail standards. The renovations also will add accessibility to emergency services.
The long-term goal is to replace the stretch from Krieg's Crossing to the George Wyth shelter, about a 1.5-mile stretch with an estimated cost of about $500,000.
But for many residents like White — who has spent more than 12 years trailblazing efforts to improve the hundreds of miles of paved trails in Black Hawk County — the trails are priceless.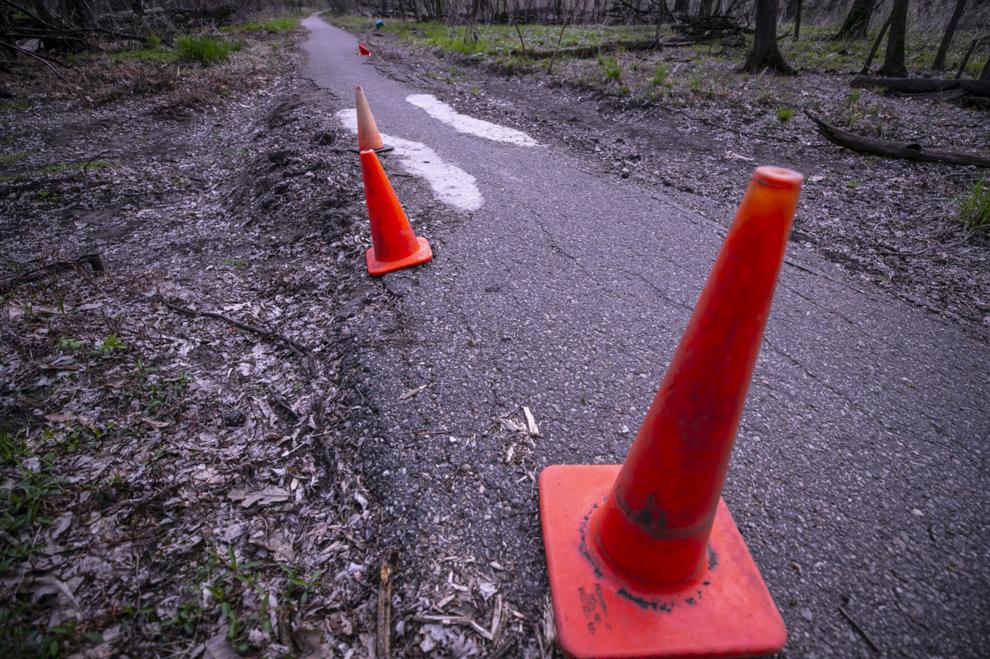 "It's just invaluable we have those paved roads throughout the park to better utilize and get out there and enjoy nature and recreate," he said.
George Wyth is one of 68 state parks across Iowa that rely on state funding. As Congress continues to slash parks' budgets, many are forced to rely on local support for repairs.
In 2009, the Iowa state parks budget was almost $22 million, Eberhard said. In 2018, it was cut to about $11 million and is still decreasing.
"It's different when you have that many parks fighting over the same pot of money. Everybody wants to be first," she said.
And with last year's derecho in the Cedar Rapids area, many state parks are in need of repair.
"Having local groups helps makes a huge difference," said Eberhard.
"I am very thankful for being a part of this community and for the support that has been given to George Wyth and me over the years," she said.
For more information, go to: www.cedartrailspartnership.org. Donations can be made to: Cedar Trails Partnership, 6510 Hudson Road, Cedar Falls, IA 50613.