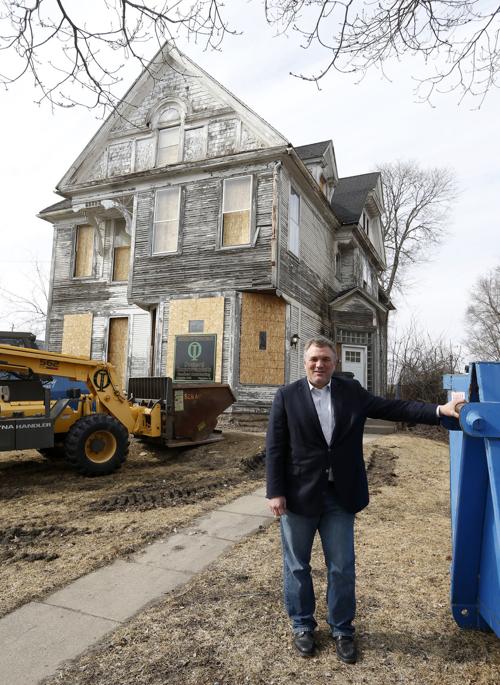 WATERLOO — A local developer has started restoring the historic "Judge Platt" home even as a key financing element is under attack in the Statehouse.
The 124-year-old Victorian at 515 E. Third St. is one of four historically significant houses JSA Development is planning to renovate through a partnership with the city and Walnut Neighborhood.
While JSA is counting on state historic preservation tax credits to help offset the cost of those extensive repairs, a bill that passed the Iowa Senate Wednesday would slash $10 million in funding for the program next year and eliminate it entirely by 2025.
JSA's David Deeds said the tax credits are critical to ensuring historic renovations are viable, not only for the Walnut houses but for numerous other projects in Waterloo and across the state.
"They're not feasible without the tax credits," Deeds said. "The tax credits help close that financing gap."
WATERLOO — Waterloo has joined a chorus of communities urging Congress not to cut tax credit…
Contractors already have begun working on the Platt house and are hoping to start next door at 519 E. Third St., the Herbert Reed family home also built in 1894.
Both houses were slated to be torn down in 2014 when Councilman Pat Morrissey and members of the Waterloo Historic Preservation Commission lobbied to save them, fearing the loss of any more significant structures would doom efforts to create a historic district in the Walnut Neighborhood.
JSA Development, led by Jim Walsh, stepped forward with plans to restore four houses, including two others on Pine Street. The company has successfully renovated a number of downtown buildings using historic tax credits.
You have free articles remaining.
Even with the federal and state tax credits, Deeds said, the two restorations on East Third Street are "marginally" feasible.
"We're doing it for what we believe to be good for the community," he said. "You're going to see these houses from Lincoln Park, from downtown. They're going to make a statement about what's happening in this neighborhood as a whole."
WATERLOO — Willie Mae Wright and her neighbors have been waiting more than two decades for s…
The house at 515 E. Third, was build by Franklin C. Platt, who lived there until his death in 1924. Platt, who moved to Waterloo in 1883, was elected to a judgeship in 1910 and served as member of the Waterloo City Council, where he advocated switching to a city manager form of government.
Herbert Reed, who build the home next door, was a "broker in foodstuffs" who brought products grown and made in other parts of the country to Waterloo while shipping out items produced here. He was instrumental in starting the Waterloo Club for Businesses that later reorganized as the Chamber of Commerce.
Both houses are being renovated into duplexes initially, but Deeds said he hopes they can be returned to single-family homes in the future when neighborhood conditions improve.
City Council members voted unanimously Monday to pass a resolution encouraging state lawmakers not to cut the historic tax credit program.
The resolution noted the current state funding level already leaves many potential projects on the drawing board. Developers sought $56 million in credits last fall when just $19 million was available.
Dees noted every $1 of tax credit leverages $3.20 of private investment, while historic renovation jobs require more skilled labor, creating more jobs and better wages.
"We have a lot of underutilized buildings and houses across the city of Waterloo," Deed said.
Historic tax credits "help revitalize the areas that already have streets, that already have sewers, that already have police patrolling them, that are already being plowed," he said. "They're not adding to the burden on our taxpayers because the infrastructure is already there."