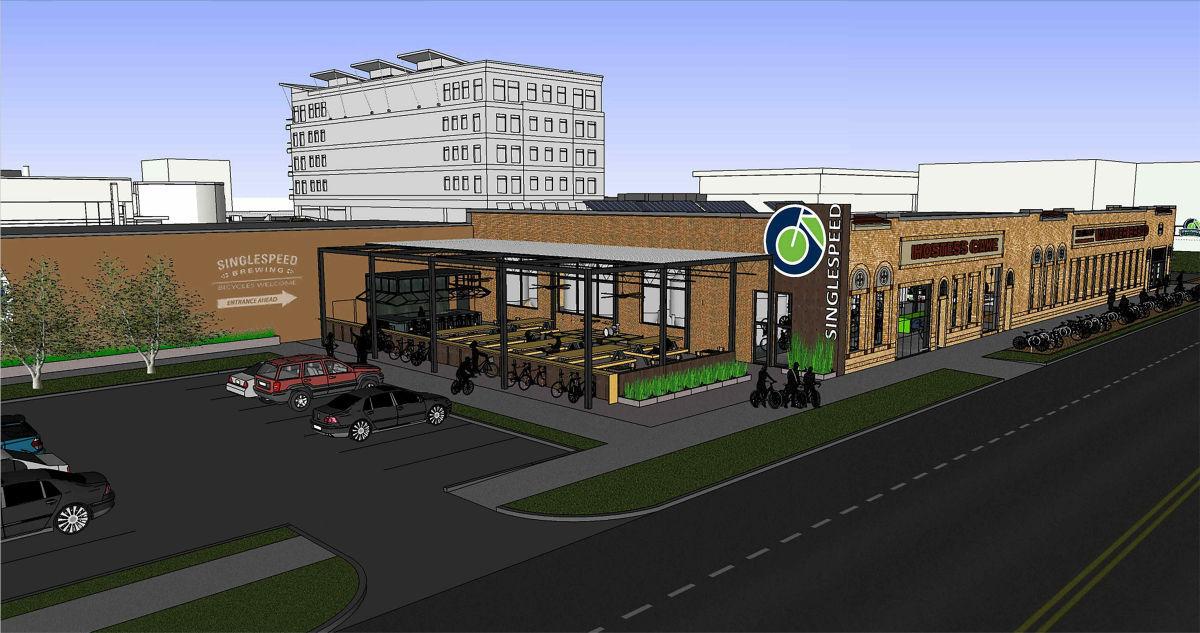 WATERLOO | A historic downtown bakery once slated for the wrecking ball will see new life as a craft beer brewery, pub and retail space.
Waterloo City Council members voted unanimously Tuesday to approve a development agreement for Single Speed Brewing Co. to renovate the former Hostess Wonder Bread building at West Third and Commercial streets.
The vote drew heavy applause from a large crowd of supporters who organized last year to save the building following a Hostess bankruptcy and then rallied behind the Cedar Falls-based brewing company's renovation plans.
Friends of the Waterloo Wonder Bread Building, a group spearheaded by downtown business owner Jessica Young, presented council members with dozens of letters of support for the project.
Councilman Pat Morrissey lobbied his colleagues and prodded city staff to get the deal done.
"It's going to be a very successful and beautiful attraction and destination point for downtown Waterloo," he said.
Councilwoman Carolyn Cole called the plans "incredibly cool," while Councilman Steve Schmitt added, "During Irish Fest and My Waterloo Days, every young person I talked to commented about this in a very positive manner."
The agreement donates the property to Single Speed along with $160,000 for select demolition work in a separate wing of the building and 70 percent property tax rebates for 15 years in return for the company's estimated $4 million investment.
The building will be turned into a production brewery, a restaurant, tap room and two additional storefronts, and is guaranteed to maintain at least a $3 million assessed value.
Single Speed founder Dave Morgan said work could begin in November pending historic and environmental clearances.
"We're obviously excited about the project's potential, most importantly about the role we can play with the continued revitalization of that zone down there," Morgan said. "A lot of good things have happened down there already — the SportsPlex, the amphitheater — obviously projects that make this project a little bit more appealing to us.
"We think we can add to that with our restoration of that space," he added. "We're just excited about driving some traffic to that area."
The Waterloo Historic Preservation Commission has endorsed the building at 325 Commercial as a local historic designation, which could open the door for historic tax credits to help the renovation.
"The project is a great example of what historic preservation is all about: the adaptive reuse of a historically significant building that also provides an economic benefit to Waterloo and the surrounding area," said Ed Otteson, the commission's chairman.
Built in 1927, the bakery ceased production in November 2012 after Hostess Brands filed for bankruptcy. The city bought it for $400,000 last April, but earlier versions of the downtown redevelopment master plan showed it being torn down to provide parking for planned residential development.
Community Planning and Development Director Noel Anderson credited Morgan with stepping forward quickly with a viable alternative as changing the building's fate.
"We think it's a great mixed-use building," Anderson said. "It fits in well with the (planned) housing around the building as well."
Get Election 2020 & Politics updates in your inbox!
Keep up on the latest in national and local politics as Election 2020 comes into focus.