WATERLOO — A third candidate has emerged in the race for Waterloo mayor, determined to make the election a referendum on what she believes are the mayor's failures over the past six years.
Sophia Mays, 40, a 1999 Waterloo East High School graduate and U.S. Army veteran who volunteers at the Jesse Cosby Center, was a surprise late filing for mayor. But she said she's been making plans to run since this spring. She feels let down by current Mayor Quentin Hart.
"I've been hearing City Hall and the current mayor has been getting a lot of complaints, and I've also heard that they have been ignored," Mays said in a Courier interview last week. "I feel like I've got some ideas to help build and change the community and maybe uplift the city, and I'd like to implement them."
Hart announced in June he would run for a fourth two-year term. At around the same time, city Councilor Margaret Klein announced she would vacate her seat to challenge him.
Mays doesn't see it as a three-way race, however, saying she just wanted to give voters another option besides Hart, who has previously run unopposed for mayor, most recently in 2019.
"I don't have any problem with Margaret Klein," Mays said, noting the two spoke on the phone. "My issue is with Quentin Hart, and he's not getting a lot of stuff done, period."
Mays said Hart didn't listen to her when she's tried to speak with him, and believes that's also the reason for low morale at the Waterloo Police Department.
"The Waterloo police chief is not getting proper guidance from the mayor, who is his boss," she said. "I would figure out a way to give (the chief) proper guidance to rectify that situation."
Mays said she doesn't want to reveal her plans as mayor until after the election.
"I know how to do it, but I'm not going to say it because then Quentin will hear it and then he'll try to do it," she said.
Mays wants to rectify what she says is low morale around the city as well. She said there was a need for more youth activities, as well as more transparency from City Hall, particularly on issues like the delay in constructing All-In Grocers.
"You're not getting straight answers," she said. "I think it should be more transparency down there."
Another big issue for Mays is figuring out ways to bridge the Black/white divide. She would "encourage diversity more," and alleviate the overrepresentation of Black people in the justice system, which she says is the main reason the Cedar Valley is consistently named one of the worst places to be Black in the U.S.
Mays has personal experience with this last part: She was charged with two felonies for a January 2020 incident at the Black Hawk County Veterans Affairs Office.
Mays goes to the VA office frequently, and that day in particular had been difficult for her. She said she thought people were trying to harm her, and county employees she was familiar were not there that day, leading her to believe they must have been kidnapped, causing her to lash out.
After several COVID-related continuances, her jury trial is now slated to begin on Election Day, according to online court documents.
Now that she's received therapy and medication, Mays recognizes the incident was a mental breakdown for her previously undiagnosed depression and post-traumatic stress disorder, common afflictions for veterans like her. She hopes a judge recognizes that, too, so her charges can be dropped.
"I went seeking help," she said. "The whole situation was a mental health situation; I've been looking to clear that up for some time."
That incident and others spurred her to create the "Free Sophia" campaign because of what she said was "people calling the police on me" unfairly. The campaign has been running for nearly two years, with signs Mays makes and puts around town and clothing she sells online.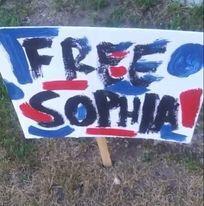 Ultimately, Mays said, her message for mayor is similarly succinct.
"If Quentin Hart can do it, I can do it, and I can do a better job than him," she said.