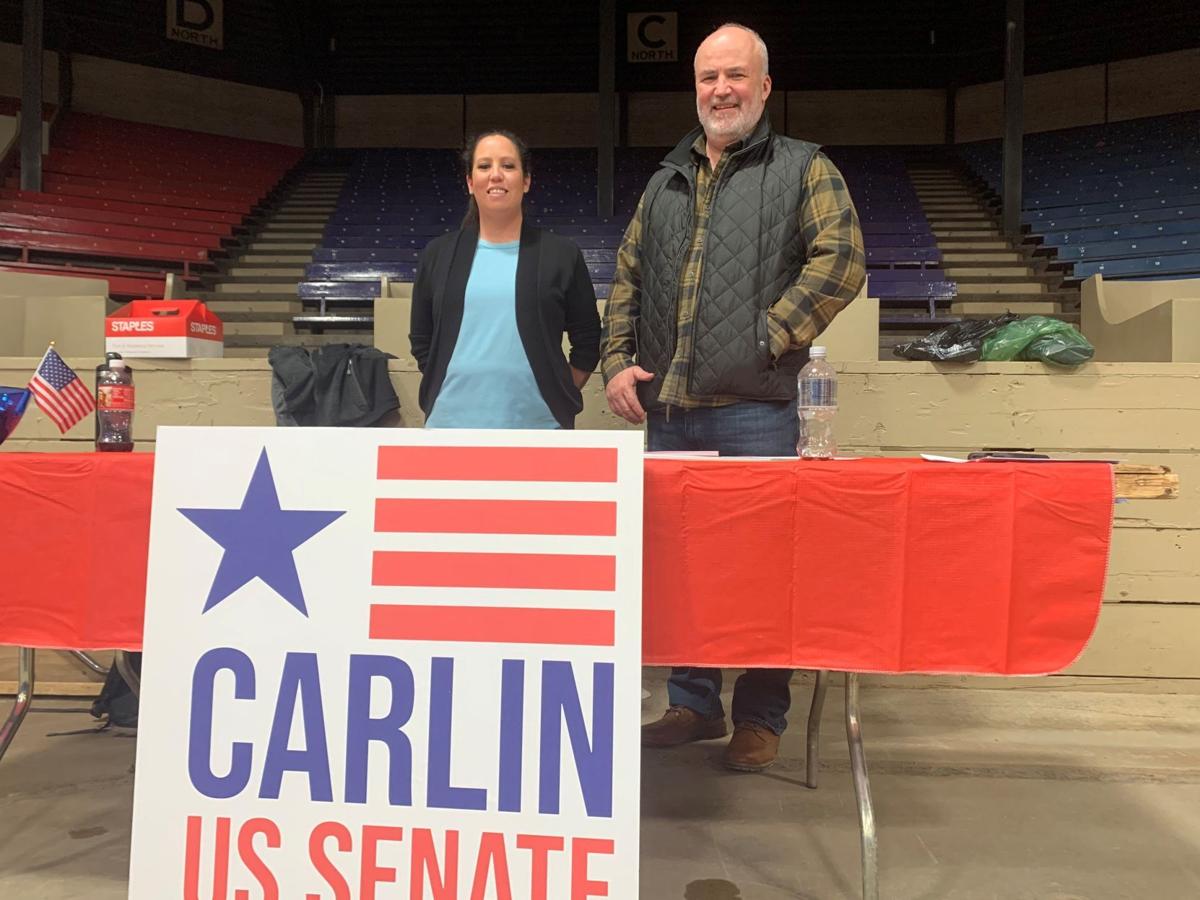 WATERLOO — Whether U.S. Sen. Chuck Grassley runs for re-election or not doesn't matter much to state Sen. Jim Carlin.
"I was going to run irrespective of who I was going to face in the primary," the Republican from Sioux City said Saturday. "I didn't want it to define me, and I didn't want it to be perceived that way."
Carlin, who has spent three years in the Iowa Senate and a year in the Iowa House before that, would have an uphill battle in a 2022 Republican primary against Grassley, who was first elected to the U.S. Senate in 1980 and remains popular in Iowa.
Grassley, 87, has not yet indicated whether he will seek an eighth term.
But Carlin — who says he's concerned with "the enormous problem of China, the disintegration of the family, the decline of rural America and the big tech suppression of free speech and control of media content," thinks Grassley may be out of touch with the current Republican Party.
"It's not that I believe he doesn't share those concerns," Carlin said "I do think a new vision and some new perspective is needed on those issues."
As he chatted with voters Saturday afternoon at his campaign booth inside the Midwest Arms Waterloo Gun Show at the Hippodrome, Carlin spoke about his belief in the Second Amendment as "a boundary of freedom" and "a limitation on a potentially tyrannical government," as well as his opposition to red flag laws, which would allow police or family members to petition a court to order the temporary removal of firearms from a person who may present a danger to themselves or others.
But the biggest issue voters have on their minds, he said, is the election.
"You have millions of voters who believe that there was evidence of fraud. Whether there was enough evidence to overturn the election, I can't speak to," he said. "But the concern I have is, we didn't really look at it. We didn't define it. We didn't address any breaches, and nobody was held accountable. Have we just incentivized it, and made it worse for the next election?"
Carlin, 58, a 30-year trial lawyer, has been making headlines in recent weeks.
Senate File 292, which he introduced two weeks ago, would require the Iowa Board of Regents to survey state university employees about their political affiliation and report back to the General Assembly by Dec. 30.
Then, as he chaired a Senate hearing Feb. 16 on a proposal to bar businesses from requiring employees to be vaccinated, Carlin posed a series of anti-vaccination questions to one of the state's top public health experts last week.
"One of the questions I've asked myself is, will our children and our grandchildren be free 10, 20 years down the road?" Carlin said Saturday. "I think a lot of people are concerned about the direction the country is going."
Another big issue that concerns Carlin is dealing with China. He is concerned about the theft of U.S. technology and trade secrets, particularly military technology.
"There is very effective spying and espionage going on in the United States that has to be confronted and not permitted to continue," he said.
He is concerned China is now dominant in manufacturing, to the detriment of the U.S.
"I am of the belief that we watched our manufacturing base be shipped to China since the '90s, and little if anything was done by the political class to address that," Carlin said. "Corporations went where there was cheap labor and could make more money, and in the process we lost one of our strengths."
He said he is running for "the forgotten man," noting he represented working-class families as a lawyer.
"I take their considerations and the quality of the life that they lead and their realities to heart," he said. "It's personal to me."