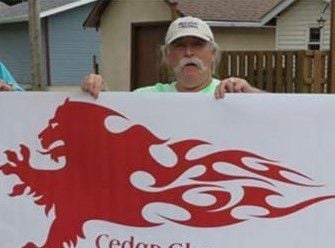 WATERLOO – A Waterloo City Council member who wants to do away with the police department's griffin patch is being criticized by the police union for belonging to a music group whose logo depicts a similar creature.
But council member Pat Morrissey said the Highland bagpipe and drum group's lion logo harkens back to history and not a racist terror organization.
"If someone wants to say there is a similarity to it, they don't even know what they are talking about," Morrissey said. "It's a symbol that was present over in Scotland that is being used by us. … There was nothing other than a depiction of a Scottish tartan and clan symbol. Scottish."
That's clan with a "C," not klan with a "K."
The Waterloo Police Department has been represented by a red griffin on a gold field since 1964. Officers say the symbol stands for vigilance — a core value of police work — and it is near and dear to their hearts.
In recent months, the griffin patch has come under fire by residents who say it closely represents a Ku Klux Klan symbol and claim its 1960s adoption date corresponds with a backlash to the civil rights movement.
The klan has a leadership position called the "grand dragon," and the hate group's original standard was a black dragon on a triangular pennant with a gold background.
Morrissey demonstrated the similarities during a Zoom-assisted City Council work session Monday, and a resident spoke out against the griffin in the council meeting that followed.
On Wednesday, the Waterloo Police Protective Association took aim at Morrissey in a Facebook post that showed a mash-up the police griffin patch, a photo of Morrissey holding up the pipe and drum group banner and photo of Morrissey showing the klan dragon from his City Council presentation.
The police union post asks, "Which is more similar?"
Morrissey said the comparison with the Scottish band's lion logo — which is based on the rampant lion from the Scottish flag — isn't valid.
"It's not on a police department car or shield to protect human beings. It's on a pipe band that is of Scottish origin that that is taken from. Completely different scenario," Morrissey said. "That is amazing some people would try to draw a parallel between a pipe band and a law enforcement agency putting on a Ku Klux Klan logo."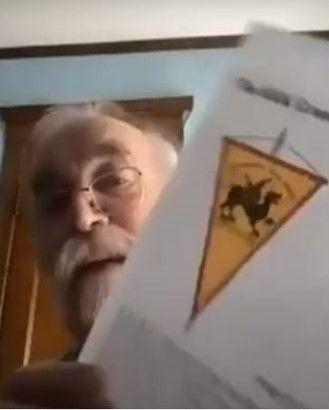 Morrissey plans to introduce resolutions and ordinances at a future council work session prior to the members voting on a police reform ordinance proposed by the mayor. The mayor's proposal doesn't address the griffin patch. Morrissey said his proposals will.
"If a segment of our community feels that it is something that is offensive and oppressive, then I think we have a duty as City Council to address that and to try to correct something seen as a wrong," Morrissey said. "It's not disrespectful. There is no disrespect intended. It is making change where change could occur and should occur."