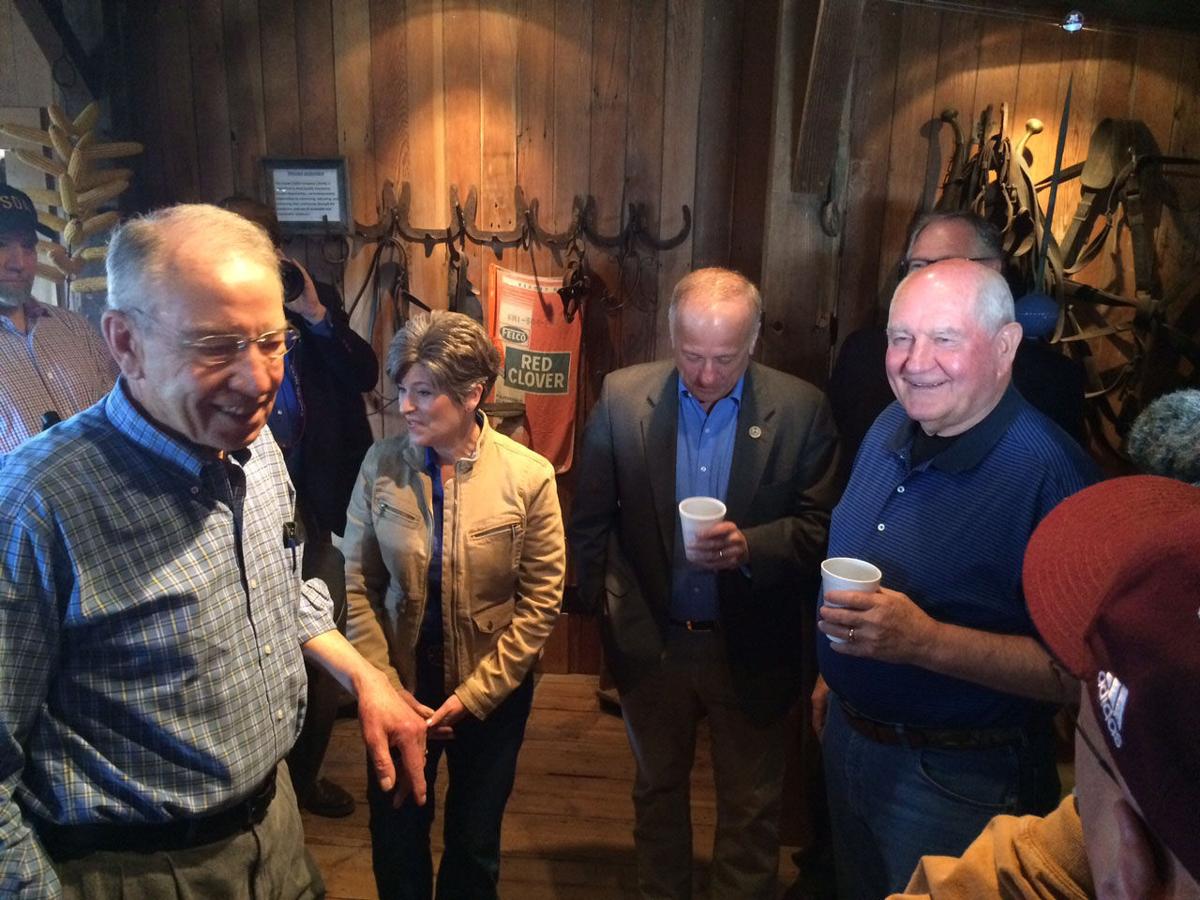 NEVADA — With steam from a nearby ethanol plant visible behind him, the nation's new agriculture secretary confirmed his support for the fuel and its production Friday.
Sonny Perdue, recently confirmed as the U.S. secretary of agriculture, told an Iowa crowd "you have nothing to worry about" regarding the future of the Renewable Fuel Standard and President Donald Trump's commitment to support the industry.
"Did you hear what he said during the campaign? Renewable energy, ethanol, is here to stay, and we're going to work for new technologies to be more efficient," Perdue said, later sporting a "Don't Mess with the RFS" pin.
A veterinarian and former Georgia governor, Perdue gave a town hall-style speech on a cattle farm in Nevada, in Story County.
Nevada is home to an ethanol production plan run by Lincolnway Energy and a cellulosic ethanol production plant run by DuPont.
Monte Shaw, executive director of the Iowa Renewable Fuels Association, hailed Perdue's comments.
"We fully expect he will continue the USDA's legacy in this area and continue to aggressively pursue greater access to renewable fuels at the pump," Shaw said in a statement.
The speech was pegged as Perdue's first major policy talk since becoming agriculture secretary.
While he stayed away from many specifics, Perdue made priorities of trade, support for farm labor and working as the nation's chief agriculture salesman.
"I'm going to be the unapologetic chief advocate, chief salesman for American agriculture products around the world. You grow 'em, we're going to sell 'em," he said.
Speaking with reporters after his talk, Perdue said the administration is looking at about a six-month long renegotiation period for the North American Free Trade Agreement.
Members of Iowa's congressional delegation — U.S. Sens. Charles Grassley and Joni Ernst and U.S. Rep. Steve King — joined Perdue, as did Iowa Agriculture Secretary Bill Northey.
Friday's visit also came as rumors have swirled that the White House is eyeing Northey for a position with the U.S. Department of Agriculture. Citing unnamed sources, political news website POLITICO reported April 27 that Northey was being looked at for deputy secretary, the department's No. 2 position.
Northey has said himself that he would consider leaving his current position for a role with the USDA.
"I don't know what role that might be," Northey said on a call with reporters last week. "I certainly would love to work with him as Iowa secretary of ag. If there is another job that is offered, I would be very willing to consider that as well."
Perdue said he and his agency are still examining candidates for about 17 positions. He did not give hints about who he would tap for his deputy, but joked that Northey's name has been dropped — including by Grassley.
"I think the timeline, you'll probably hear some announcements in the next couple of weeks. … I've even had some suggestions from Iowa about some people," Perdue said with a wink.