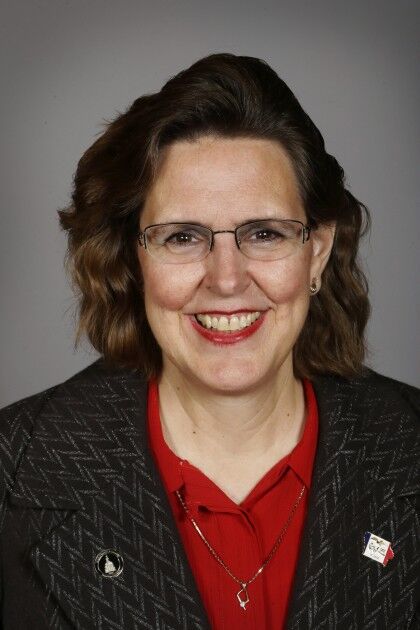 JANESVILLE — A bill that would ban transgender girls from playing girls' sports didn't pass the Legislature this year, but the Cedar Valley lawmaker who introduced it plans to try again next session.
State Rep. Sandy Salmon, a Republican who has served Waverly, Bremer County and part of northeastern Black Hawk County since 2013, introduced the "Save Women's Sports Act" with two other Republicans.
"We just had different occasions of biological males going out for girls' sports pop up in a few places in Iowa," Salmon told The Courier. "I thought it was high time to address that issue of fairness and equality for girls' sports."
Salmon said she "can't remember offhand" any examples of transgender athletes, but thought there was a case in southwest Iowa in recent years.
Even if the measure never passes, the discussion alone harms transgender kids and contributes to transphobia, said Dr. Kyle Christiason, a family physician at UnityPoint Health.
"We see more anxiety, depression and suicidality just because these bills have been discussed," Christiason said. "They question the very existence of people."
The bill would restrict K-12 schools, community colleges, universities and private colleges that are members of national athletic associations from allowing "students of the male sex ... to participate in athletic teams or sports designated for females, women or girls."
The bill would require students whose "sex is disputed" to provide signed statements from a doctor showing "the student's biological sex, as ascertained at or before birth in accordance with the student's genetics and reproductive biology," as well as "the student's normal, endogenously produced levels of testosterone" and "an analysis of the student's genetic makeup."
Salmon immediately withdrew her proposal — an amendment to an education bill — this year, saying House Republicans "wanted to wait for a while and see how it might best shake out." Gov. Kim Reynolds told Fox News in late April she would sign such a bill.
"There's a definite amount of interest," Salmon said. "At that time I introduced it, there was a lot of uncertainty as far as how the wording should be, how the NCAA — how we might need to handle them."
If the "Save Women's Sports Act" sounds familiar, that's because it's the exact name of model legislation from the Alliance Defending Freedom, which offered legislation under that title to state legislators across the country.
More than 20 states have introduced bills banning transgender girls from competing on girls' athletic teams. Idaho passed such a measure in April of 2020, although it remains blocked by a court ruling. Florida Gov. Ron DeSantis signed the "Fairness in Women's Sports Act" into law in that state Tuesday.
The ADF says such bills are needed because of a pair of transgender high school sprinters in Connecticut, Terry Miller and Andraya Yearwood, who combined to win 15 championship races between 2017 and 2019.
"If males are permitted to compete in women's athletics, women will lose out on opportunities to compete and experience the thrill of victory," the ADF says on its website, arguing that transgender girls have an advantage over cisgender girls, or girls born female at birth.
But even proponents acknowledge the Connecticut case is rare, saying they're hoping to prevent future instances. Further, neither of the governing bodies of Iowa high school girls sports or national college women's sports endorse transgender bans.
The NCAA, which regulates college sports, allows transgender athletes to participate, noting that transgender girls who transition before puberty have no biological advantages over cisgender girls.
"The assumption that all male-bodied people are taller, stronger, and more highly skilled in a sport than all female-bodied people is not accurate," the NCAA states in its policy.
It also noted events may be moved out of states that pass such laws. The NCAA released a statement April 12 saying, in part, "When determining where championships are held, NCAA policy directs that only locations where hosts can commit to providing an environment that is safe, healthy and free of discrimination should be selected."
Keenan Crow, director of policy and advocacy for LGBTQ advocacy group OneIowa, told the Associated Press in May "there just aren't issues" in the state regarding transgender girls gaining a competitive advantage.
"Most transgender kids, like most kids, don't even play at elite levels of sports," he was quoted as saying. "They just want to play everyday school sports and participate with their peers."
Christiason said several medical associations, including the American Medical Association, have endorsed this view as well.
"There's very little to no evidence that trans girls participating in sports does any harm to cisgender athletes," he said. "But there's a lot of harm to trans girls" if they can't.
A recent Gallup poll showed 62% of U.S. adults believe transgender athletes should only play on teams that match their birth gender, including 63% of Republicans. Salmon's district has slowly moved further to the right over the years, and she coasted to victory with 63.3% of the vote in 2020.
"I sure hope that what we can do is maintain the fairness and equality for girls and women in sports as we've always done," Salmon said. "I don't want to see girls have to deal with an unfair playing field."
"This amendment, through invasive examinations and discriminatory rhetoric, will do irreparable harm to all children, cisgender and transgender," said one respondent, Brett Billman.