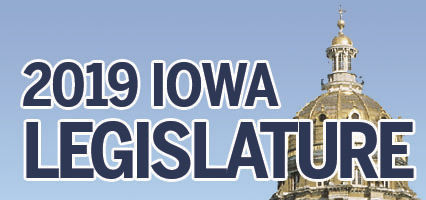 Third in a series of stories on the upcoming Iowa Legislature's 2019 session.
DES MOINES — The good news is Iowa's unemployment level is as low as it's been in the state's history.
The challenge that remains, business and political leaders say, is businesses have job openings but cannot find workers.
Iowa's unemployment rate of 2.4 percent matches the state's lowest on record, previously achieved in late 1999 and early 2000. More than 1.6 million Iowans are working while 40,600 remain unemployed, according to state data.
While that is good news for most workers, the low unemployment level has made it difficult for some businesses to fill positions or expand, business and political leaders say.
"Workforce development continues to be the defining challenge of Iowa," Molly Grover, with the Dubuque Area Chamber of Commerce, said on behalf of the Iowa Chamber Alliance, an organization representing the chambers of commerce in Iowa's 16 largest cities.
"Our members continually share the challenges our organizations face and we hear from our members in workforce development," Grover said. "Iowa businesses continue to struggle to find qualified candidates with the appropriate skills who are ready to work."
Helping businesses find workers and helping workers acquire education or job training are primary goals of Gov. Kim Reynolds.
"The good news is our economy is growing. I still hear optimism from business and industry as I travel the state. They're projecting growth. They just need workforce. We know that," said Reynolds, who in November was elected to her first, full, four-year term.
Reynolds hopes to deliver more funding for the Future Ready Iowa program and its stated goal of ensuring 70 percent of Iowa's workforce by 2025 has post-high school education or job training. That figure is at about 58 percent, state officials say.
You have free articles remaining.
Previous Gov. Terry Branstad established the program, Reynolds has continued to support it and it has strong bipartisan support in the Legislature. A bill that established apprenticeship, mentor and intern programs unanimously passed both chambers in 2018.
The next step, Reynolds and legislators say, is more funding so it can reach more people.
"We have the foundation of what we need to do. Now we need to put the funding in it to start to implement it," Reynolds said. "It's going to continue to help us grow our economy at the capacity that I believe that we can. This is a wonderful opportunity for Iowans to help them get the skills and then to match them up with the jobs.
"That's a game-changer. That starts to take care of so many other things when an individual can take care of themselves and provide for their family."
Jack Whitver, the Republican Iowa Senate majority leader from Ankeny, said funding Future Ready Iowa is the Legislature's No. 1 challenge this session.
"We went from a state asking where are the jobs to where are the workers," Whitver said. "We need to encourage more people to get into the workforce."
Bill Dotzler, a Democratic state legislator from Waterloo with more than 20 years' experience in economic development and a member of the Senate's Economic Development Committee, agrees a worker shortage is one of the state's top challenges. But he criticized Republicans for focusing on lowering business taxes instead of funding programs like Future Ready Iowa.
"I look at facts and figures, and I'm a person of science. And I'm telling you right here, right now, that the No. 1 problem that's holding Iowa's economy back isn't our tax structure, it's the lack of talent across this state to meet the ever-changing needs of business in Iowa," Dotzler said at a legislative session preview event hosted by the chamber alliance. "I want to talk about the talent problem."
Legislators and business leaders said making more affordable rural housing available and offering incentives to companies to expand broadband internet access in rural areas also could help boost the state's workforce.
They also say federal immigration reform would help provide a more stable atmosphere for businesses to hire immigrant workers.
Linda Upmeyer, the Republican House speaker from Clear Lake, said because many programs ultimately run their course and states move on to the next carrot, the state should focus on boosting its workforce by retaining its citizens, especially college graduates.
"Everybody's going to be competing for workforce, so I think the solution is to grow the workforce," Upmeyer said. "We should be interviewing (college graduates), talking to those people about staying right here in the United States, staying right here in Iowa and working for one of our businesses."