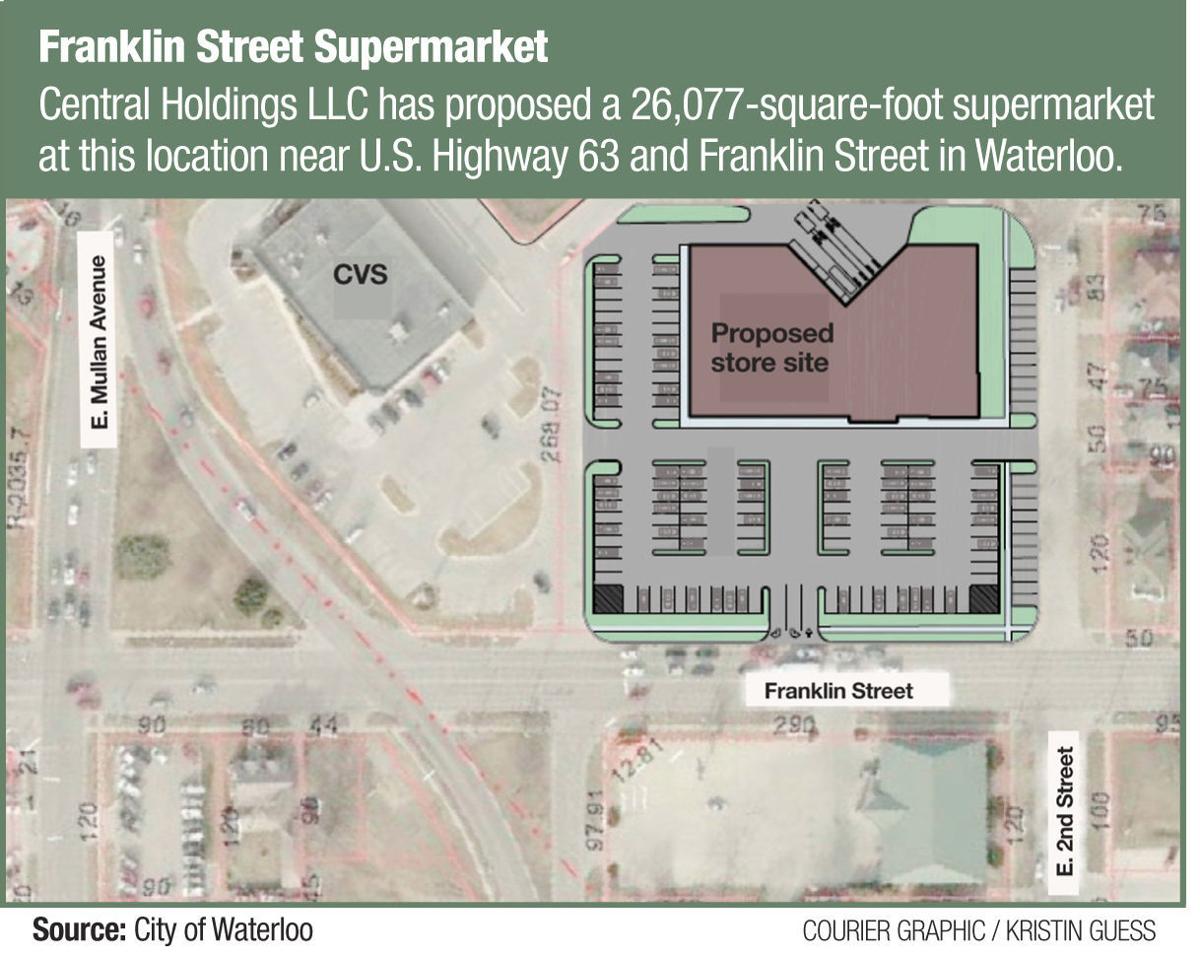 WATERLOO — Supporters packed City Hall and cheered Monday as council members voted to award incentives for a new supermarket in the Walnut Neighborhood.
Waterloo councilmen voted unanimously to approve $1.3 million in grants, property tax breaks and land donations for the estimated $8.5 million, 26,000-square-foot All In Grocers to be developed by entrepreneur Rodney Anderson and architect Dan Levi near the CVS Pharmacy at U.S. Highway 63 and Franklin Street.
Anderson, who developed a strip mall near the store location, said the project was his way to bring up to 80 jobs and fill a need in the heart of a city suffering from a "jelly doughnut effect."
"Everybody was moving out to the north to the south and to the west," he said.
Levi said the project has been planned more than a year with help from UpLift Solutions, a nonprofit company that works to put grocery stores in under served neighborhoods and has done a feasibility study and business plan for the project.
"We want to be a partner," Levi said. "We will not be successful unless the community is a partner with us."
Many of those packing the council chambers supporting the store reminisced about years past when the city's east and north side had retail groceries that disappeared. Others were thrilled to see an African-American entrepreneur building in the community.
"Mr. Anderson and his group are building hope," said resident Mickye Johnson. "In our community, we're lacking that."
You have free articles remaining.
The Rev. Mary Robinson joined several residents in talking about a lack of healthy food choices in that area of the city.
"We should not have to drive out to San Marnan, or drive to the Crossroads, or drive to Ansborough, or drive to Cedar Falls to get the kind of healthy products (we need)," she said.
Willie Campbell said Anderson will inspire others in the city's African-American community to start businesses, which he hopes will bring back entrepreneurship on the city's north side.
"We have an opportunity to revitalize the history and also to be an inspiration for someone else, for our generation," he said.
The only bone of contention voiced on the project involved the House of Hope building at 222 Walnut St., which the city is buying for $354,000 so it can be torn down to make way for the store.
Walnut resident Ivan Valtchev said he was "absolutely 100 percent behind the grocery store" but suggested turning it and moving it closer to Franklin Street to avoid demolishing the 95-year-old house.
But Eric Johnson, an attorney for the developers, said CVS Pharmacy won't sell the land to the store if the building was going to block its sight lines on Franklin Street.
House of Hope is planning to use money from the sale and raise additional revenue for a $1 million renovation of a building on West Fourth Street to double the size of its transitional housing for woman and children.
"The House of Hope is not a building; we are a support system," said Executive Director Karin Rowe. "We are so grateful that Rodney is bringing this into the Walnut neighborhood."
The store, which will include a restaurant, community room and possibly a bank branch, still needs zoning and site plan approval. The developers hope to break ground in November and have the store open in the fall of 2018.