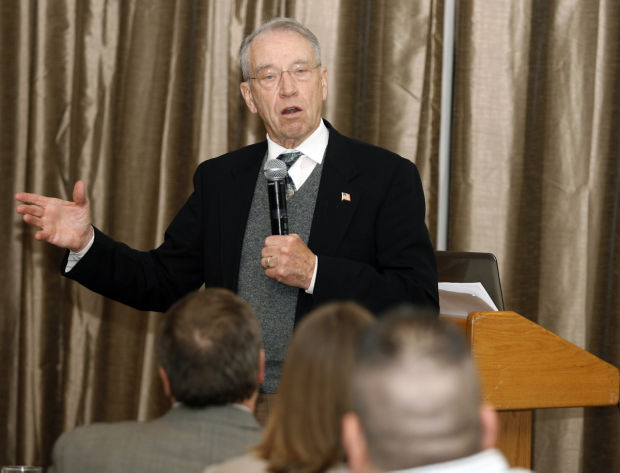 WATERLOO, Iowa --- Sen. Charles Grassley, R-Iowa, believes a showdown over funding the government and the Affordable Care Act will make for a long two months.
September will be a busy time in Washington. After an August recess, legislators will look to get done nearly all of the big things Congress needs to accomplish in just a few short weeks. The Farm Bill, for one, is still up in the air. But the big tamale appears to be finding a way to keep the government operating at all. With no compromises worked out on a budget bill, funding government programs could come through continuing resolutions to keep paying the bills.
Several Republican senators have threatened to stop any continuing resolutions that fund the Affordable Care Act, commonly known as Obamacare. Led by Sen. Mike Lee, R-Utah, as well as Sen. Ted Cruz, R-Texas, and Sen. Rand Paul, R-Ky., a coalition has informed Senate Majority Leader Harry Reid, D-Nev., that they will not vote for any continuing resolution that funds implementation of the act. Grassley was among 12 Republican senators who signed Lee's letter to Reid stating their position.
"With or without signing the Lee letter there are going to have to be an awful lot of negotiations between now and Sept. 30 to avoid the government shutting down," Grassley said Wednesday in a conference call with Iowa reporters.
Grassley has long opposed the Affordable Care Act. Many Republicans are looking at this fall's showdown as a last chance effort to kill the bill.
Grassley had harsh words for how it has been implemented up to this point. He criticized the failure to administer parts of it, including the one-year delay for implementing the employer mandate
"This is an administration that talks about Republicans supposedly operating for the big fish, well corporations, according to this administration, have more pull than the poor individuals in America. They're not going to get relief from the mandate. That decision not to go along with the employer mandate, according to the CBO, is going to add $12 billion to the national debt," Grassley said.