WATERLOO — Nearly five decades have passed since Greenbelt Lake was excavated to build the city's flood levees.
Now a grant from Iowa's Resource Enhancement and Protection program will help the city improve the quiet fishing, hiking and bird-watching hot spot for visitors.
"Greenbelt Lake is kind of a hidden gem in our park system," said City Forester Todd Derifield, who is spearheading the project for Waterloo Leisure Services. "There's a lot of people you run into that have never heard of it.
"This will just make it a more attractive place to come visit and certainly more useful for people who want to fish down there," he added.
The $200,000 REAP grant from the Iowa Department of Natural Resources will fund the first phase of a long-term master plan to develop the city-owned natural area in the Katoski Greenbelt on Martin Road, just west of U.S. Highway 63.
The grant is expected to pay for a new accessible fishing pier and a walkway from the parking lot conforming with the Americans with Disabilities Act. Several areas around the lake also will be improved for fishing access.
"We will have some bigger stones to get down to the lake," Derifield said. "It's basically going to make it a more permanent access rather than fighting your way through the willows."
Another element is a four-acre pollinator planting in an open field west of the lake, which will include a mix of 52 different types of flowers and grasses that attract pollinating insects and butterflies.
It will be one of the local Cedar Valley monarch zones backed by the Young Family Foundation and being coordinated through the Cedar Valley Arboretum and Botanic Gardens.
Tom Schilke, president of the Prairie Rapids Audubon Society, was grateful to the city for including his organization's members in the planning process for Greenbelt Lake, which is a hot spot for bird-watching enthusiasts from around the state.
"I'm glad they're leaving it natural," Schilke said. "Hats off to the city planners and the parks people for their forward thinking and for reaching out and asking the right people the right questions."
The input resulted in dropping plans to pave a trail around the entire lake and helped site access to the pollinator prairie to avoid disturbing bird habitat. PRAS also supplied information on bird species at the lake, which improved the REAP grant application.
"It was really a good collaborative effort," Schilke said. "The bird life and wildlife there is really good, and they wanted to maintain that integrity."
He also noted the pollinator plantings will increase the insect population, which also drives the population of birds that feed on the bugs.
"The prairie is really a win-win for the birds and maintaining the integrity and diversity of the habitat," Schilke said. "These days with declining bird populations and pollinators, it's important."
Derifield said the city is working with Align Architecture & Planning, formerly AHTS Architects, on plans for improvements at the lake.
"We're hoping to add a couple of shelters and some interpretive signing," he said. "We also could possibly have a boardwalk across a nearby wetland."
Waterloo Leisure Services has been successful in the past securing REAP grants to fund improvements in its more rugged natural areas maintained as part of the park system.
A $200,000 REAP grant in 2014 helped construct a picnic shelter, interpretive panels, benches, granular trails along the river, a parking area and trail connection in the flood-prone Sherwood Park area.
REAP grants also help build fishing jetties, a trail, shelter and other improvements in the Riverview Recreation Area, once called the Mitchell Avenue sand pits.
Courier Reporter Tim Jamison's Most Memorable Stories of 2016.
Courier Reporter Tim Jamison's most memorable stories of 2019
It wasn't always the most important news of the day that stood out to me this year. For the most part, these stories were the ones that reminded me that newspapers play an important role in informing and connecting our community.
In the biggest local economic development announcement of the year, Gary and Becky Bertch announced plans in July for a $100 million theme par…
A controversy over whether the city of Waterloo should sell off portions of its parks for new housing development was a great reminder of the …
Waterloo put itself on the vanguard of a national civil rights movement this year when City Council members made it first city in Iowa and one…
What could have been a routine story about the 10-year anniversary of Waterloo's Pat Bowlsby Off-Leash Dog Park became one of my favorite inte…
Waterloo's slow rolling out of automated traffic enforcement cameras over the past two years have made it difficult to get a grasp on how acti…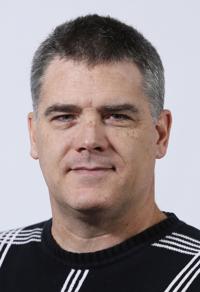 Tim Jamison
Tim Jamison has covered city government in Waterloo since 1991.