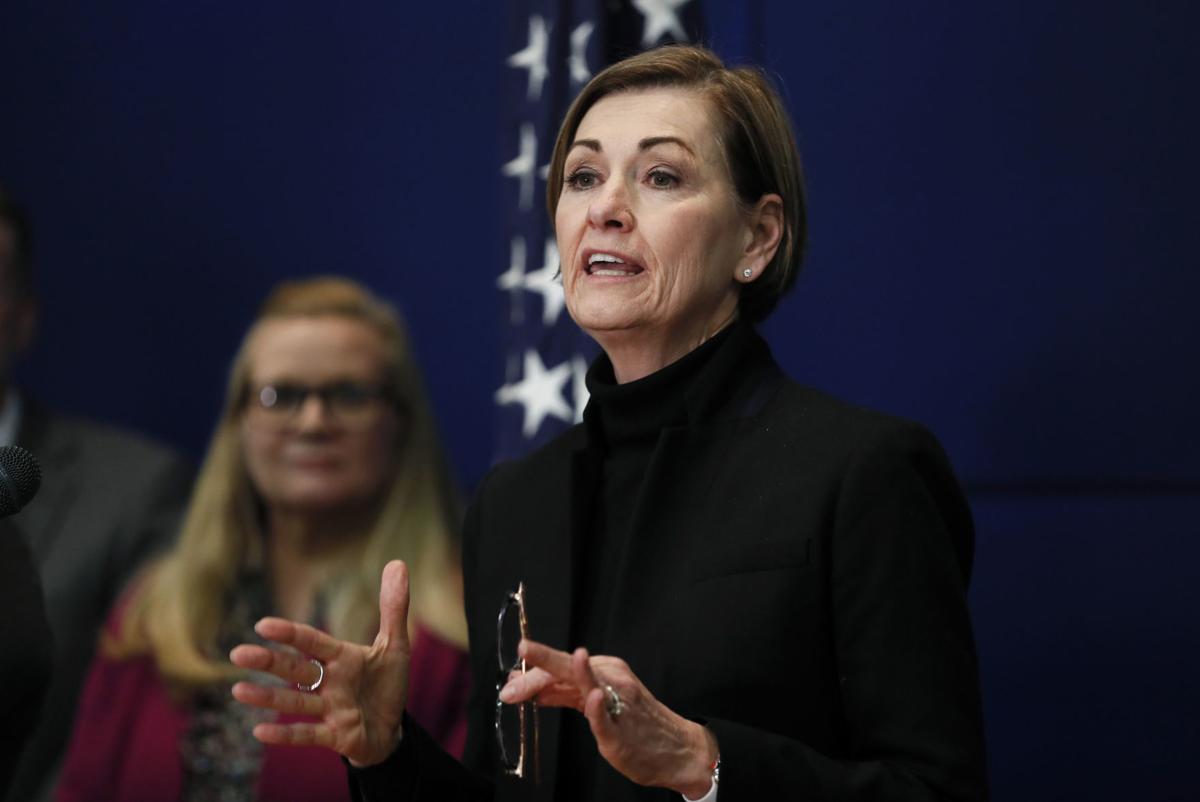 This story was written in March 2020. Updated information can be found here.
DES MOINES — Gov. Kim Reynolds on Tuesday declared a statewide public health disaster emergency that includes limiting gatherings to 10 people and closing bars, restaurants, casinos and other businesses until at least the end of the month in response to the state's coronavirus outbreak.
Reynolds said she took the extraordinary action in activating the public health response and recovery aspects of the state disaster emergency plan to slow the community spread of the virus that already has triggered 23 confirmed cases and likely will grow in the future.
The governor said her order takes significant steps to require social distancing and limit community spread of the virus by implementing temporary measures including moving restaurants to drive-through, carryout and delivery only and closures of certain entities such as bars and recreational facilities.
The order took effect at noon Tuesday. The restrictions it imposes on gatherings larger than 10 people, restaurants, bars, fitness centers, adult day cares and casinos end March 31 unless changed, The overall health emergency remains in effect until 11:59 p.m. April 16 unless the governor terminates or extends the provisions.
The proclamation also allows state agencies additional flexibility in responding to the unprecedented COVID-19 situation, and supports the critical work of public health, Reynolds said in a news release.
"These are unprecedented times and the state of Iowa will do whatever is necessary to address this public health disaster," she said. "I have authorized all available state resources, supplies, equipment and materials to combat the spread of COVID-19," said Reynolds. "The actions taken today are necessary to protect the health and safety of all Iowans and are critical to mitigating the spread of the virus."
Under the governor's directive, all restaurants and bars are closed to the public for now, but food and beverages may be sold on a carryout or drive-through basis if they are promptly taken from the premises or are delivered to customers off the premises.
Other businesses temporarily closed by the governor's action include all fitness centers, health clubs, health spas, gyms and aquatic centers; all theaters or other performance venues at which live performances or movies are shown; and all casinos and other facilities conducting pari-mutuel wagering or gaming operations.
Social, community, spiritual, religious, recreational, leisure and sporting gatherings and events of more than 10 people are prohibited at all locations and venues, including but not limited to parades, festivals, conventions and fundraisers. Facilities that conduct adult day services or other senior citizen centers must close as well.
Also, planned large gatherings and events must be canceled or postponed until after the order expires.
Other provisions of the emergency order temporarily eased licensing and regulatory provisions of Iowa law — including rules pertaining to vehicle weight limits of highways, telemedicine services and driver's licenses.
Reynolds also directed all state agencies to "coordinate expeditiously in developing plans to mitigate the economic effects of the closings necessitated by this disaster, including potential financial support, regulatory relief, and other executive actions."
The emergency had an immediate effect on many Iowa businesses.
Carl Wertzberger, manager partner of several restaurants in the Des Moines metro area, sent a plea to patrons to buy gift cards as a way to help them weather the directive.
"I write this with tears in my eyes as I ask for your help. Our governor made the difficult decision to shut our industry down to help the greater good," Wertzberger said in an email appeal to customers.
"I pray that it works. Unfortunately, that puts my work family and our livelihoods in an extremely difficult position. Many small businesses will not survive," he added. "What I'm about to ask is extremely difficult and heartbreaking. I need your help, no I'm begging for your help. Please purchase gift cards to help us survive this very difficult time."
Concerned about COVID-19?
Sign up now to get the most recent coronavirus headlines and other important local and national news sent to your email inbox daily.