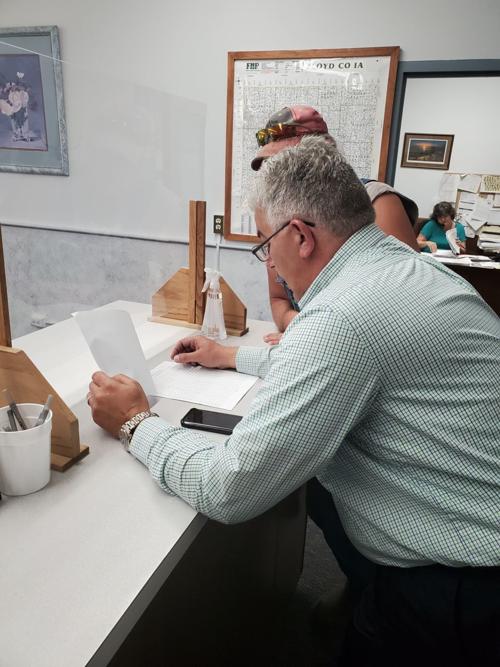 CHARLES CITY — Despite a warning from their attorney that the county will likely end up in court, the Floyd County Board of Supervisors voted unanimously this week to reject a petition asking for a special election.
The Coalition for Better County Government had circulated a petition seeking to change how the county elects its supervisors. Floyd County currently elects supervisors at large, with the entire county voting for each supervisor. The petition asks voters to divide the county into three geographical districts, with voters in each district electing one supervisor. That would ensure voters in both rural and urban areas are represented on the board, according to the coalition.
To force the issue onto the ballot, the group needed signatures from registered Floyd County voters equivalent to 10% of the turnout from the last election, or 809 people.
On June 1, Gordon Boge, president of the coalition, presented a petition with more than 1,100 signatures. Auditor Gloria Carr, upon the advice of the Iowa Secretary of State's office, deferred formally approving the petition to the Board of Supervisors.
At issue was the fact that the petition question was not listed on every signature page. Under state code, that's a requirement for nomination papers for anyone seeking elected office. However, the coalition and its attorney, Michael Byrne of Mason City, argued that part of Iowa code, Chapter 45.5, does not apply to petitions for special elections. Those are governed by Chapter 331.207, which Byrne said does not require the question appear at the top of every signature page.
Assistant County Attorney Randall Tilton told the board there is no state case law that directly applies to Floyd County's situation, but two similar cases were worthy of note.
The first was a Supreme Court ruling regarding a petition to amend Iowa City's charter. The court ruled that the petitioners only needed signatories' names, addresses and the date on the petition. Tilton noted this decision came after the Legislature enacted Chapter 45.5.
The second was an attorney general opinion in 1980 regarding a Black Hawk County petition, and the result was the same — petitioners need only the signature, address and date on the form.
Tilton said he had spoken with the coalition's attorney, and assumed that if the board rejected the petition, it would face a lawsuit.
Several residents in attendance also spoke up, so much so that at one point, board chair Linda Tjaden had to repeatedly call for order.
One resident wanted to know, "What are you so afraid of?"
After the vote, coalition president Boge told the board they'd see him again, only next time the room would be "much bigger."