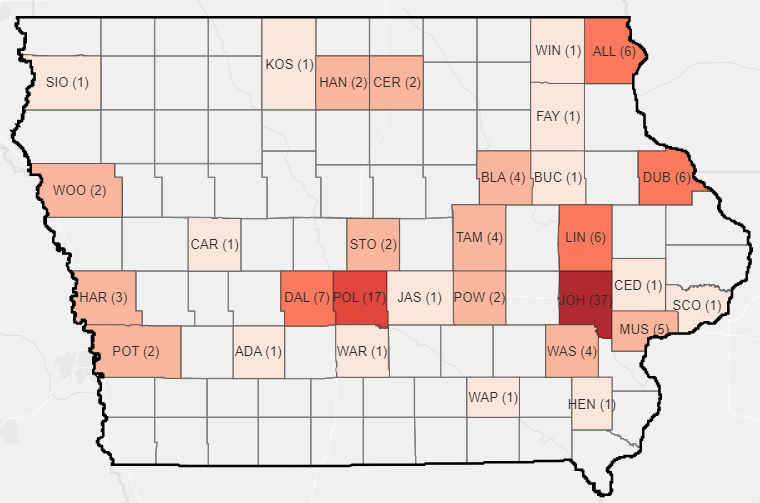 JOHNSTON — Iowa has its first death related to the novel coronavirus.
The state announced Tuesday evening that the virus-related death was a Dubuque County resident whose age was between 61 and 80 years old.
No other details were released.
"Our hearts are heavy with the first loss of an Iowan to COVID-19. The thoughts and prayers of our state are with the family during this difficult time," Iowa Gov. Kim Reynolds said in a statement. "I continue to urge all Iowans to protect their health and the health of others, especially older individuals and those with chronic health conditions who are most at risk. We all have a role to play in limiting the spread of this virus."
Nineteen new cases of the novel coronavirus were confirmed in Iowa on Tuesday, state officials said.
That brings the total confirmed cases in Iowa to 124 in 30 different counties, according to state data.
As of 2:30 p.m. Tuesday, the time of the governor's daily press conference and before the state learned of the first death, 17 patients were hospitalized in Iowa as a result of the virus, up from seven just a day earlier; 10 patients had been discharged and are recovering, state officials said.
More than 2,400 tests have been conducted at the state hygienic lab or at private labs since they started reporting, according to state data.
Iowa Gov. Kim Reynolds said she shares President Donald Trump's desire to re-open American businesses as soon as possible.
Unlike the president, Reynolds said she will not make predictions or put timelines on such actions.
Trump said Tuesday during a Fox News interview that he wants the country's economy re-opened by Easter, and that he may soon loosen federal guidelines for social distancing. Health care experts have warned that would be too soon and could enable the virus to spread more rapidly.
During her daily news conference later Tuesday from the State Emergency Operations Center at Camp Dodge in Johnston, Reynolds said she hopes businesses and schools in Iowa will soon be open again. But when asked how long that may take, unlike the president, Reynolds declined to offer a timeline.
"As I've said all along, I'm going to continue to make decisions based on the data, utilizing the expertise that I have in the Department of Public Health, working alongside the (federal) CDC, taking a look at what other states are doing, really walking through some of the metrics (the state is tracking), working with communities across that state, and we'll take a look at what makes sense for us to either extend or start to bring some of those sectors back online."
Reynolds and her public health department officials continued to ask Iowans to stay in their homes as much as possible, work from home when able, stay in their homes when feeling sick, contact their doctors if they feel they should be tested for the coronavirus, and practice social distancing while in public.
Reynolds said the state is recommending those strategies because health experts say they will help minimize the virus' spread, which could help the state get to a place where businesses and schools can open again.
But Reynolds made no predictions or promises as to how long that will take.
"I'm not prepared at this time to say a date because all along the decisions are so fluid," Reynolds said. "I want to get business back to normal as quickly as I can, too. I think we all have that shared goal. I just want to make sure that I'm protecting Iowans and I'm making the decisions on the right data points."
The state public health department examines myriad data when determining what mitigation strategies to recommend to the governor, deputy director Sarah Reisetter reiterated Tuesday. That data informs, for example, whether the department recommends closing schools and businesses, which it has, or whether to order Iowans to stay in their homes except for essential needs, which it has not.
Reisetter said the department considers the percent of an area's population that is 65 or older, the percent of cases that requires hospitalizations, the rate of infection per 100,000 Iowans over the past 14 days, the number of outbreaks in settings like long-term care facilities, and information from other states and local public health officials.
"Think of this as a dial and not a switch," Reisetter said. "We will recommend turning the dial up and down over time. That's how we will slow the spread of the virus in our state in order to prevent overwhelming our health care system and to protect our health care workers and our vulnerable populations."
Concerned about COVID-19?
Sign up now to get the most recent coronavirus headlines and other important local and national news sent to your email inbox daily.