WATERLOO — Fourth of July aficionados might soon need to say goodbye to their home firework displays.
Most Waterloo City Council members said Monday they support another ban on the explosive spectacles. Complaints about rowdy fireworks, billowing smoke and rule-breaking residents last summer are spurring the consideration. The topic was discussed in a work session and could be formally voted on at a future meeting.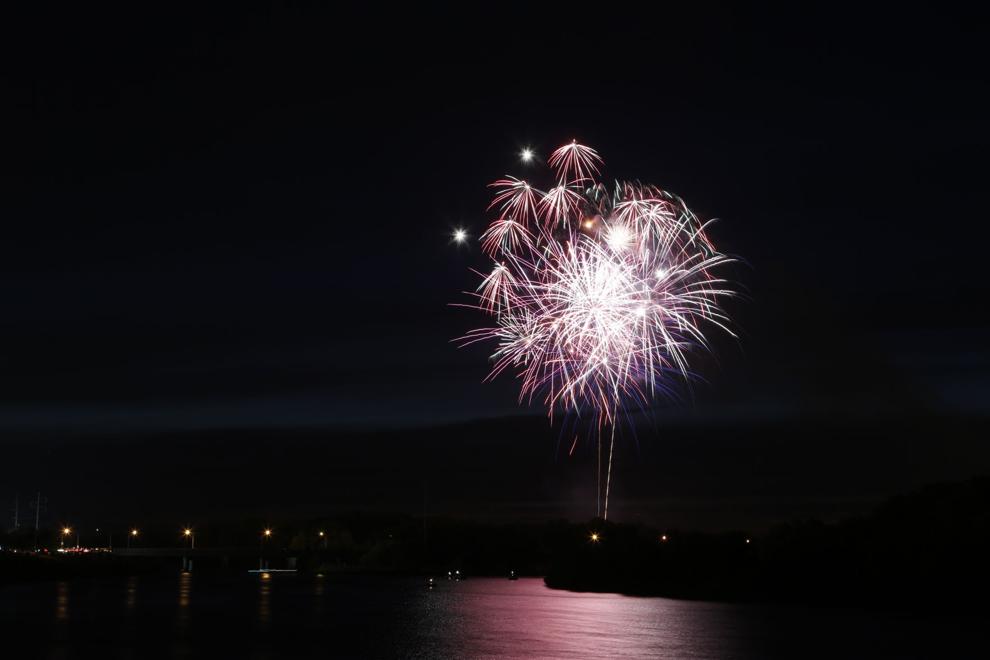 Margaret Klein, the City Council member who introduced the proposed ban, said fireworks can trigger people with post-traumatic stress disorder. She said the explosives can scare pets and the smoke cause breathing problems for people with asthma, like her grandchildren.
"I just think we've had experience with fireworks, we've begged people to be responsible — it hasn't worked out the way we want it to," Klein said. "I'm asking for a little mercy on our people."
Klein acknowledged people will set off fireworks anyway. But she said a ban would take away people's uncertainty about complaining to police.
Councilman Jonathan Grieder said he joins other parents who struggle to get their kids to sleep during fireworks.
"I don't know if it's because people were expressing some of their COVID isolation, manifesting by blowing things up," Grieder said. "But a lot of people told me that last year was worse than it has ever been."
Waterloo first approved a ban on setting off fireworks in 2017 after Iowa law changed to allow their sale and use. The City Council decided in 2019 to allow people to use fireworks during designated times from July 3-5 annually. The city then saw calls for service nearly double for fireworks complaints from 2019 to 2020, according to data from the Waterloo Police Department.
Grieder asked whether more could be done by police to prioritize fireworks calls.
Police Chief Joel Fitzgerald said officers are "stretched very, very thin" with heightened service calls near Fourth of July. In 2019, the city saw 320 calls for service about fireworks. After lifting the ban, 2020 saw 686 calls. Only one citation was issued. The data includes calls that fall outside the partial window of legality July 3-5.
He said the likelihood of catching someone shooting off fireworks or having neighbors cooperate as witnesses is "low."
"We just have to remain cognizant of the fact that stepping it up may mean sacrificing in some other area," Fitzgerald said. "And I don't know that we can sacrifice in another area that would make the residents here in the city of Waterloo happy."
Councilman Dave Boesen said fireworks are an inconvenience to the entire city. He watches his neighbor climb onto the roof to clean debris. He gets calls, emails and text messages constantly from complaining residents.
"From the day they go on sale to two to three weeks after they go off sale, it's like a war zone out here at times," Boesen said. "It truly is."
Councilwoman Sharon Juon encouraged people to take their families to professional fireworks shows. She said a ban could take away the "very traumatic" experiences of many residents, who endure explosive noises throughout the night.
"We've tried to be responsible, we've tried to give the people that love fireworks a chance, and too many of them have just ignored that," Juon said.
State law requires cities to allow the sale of fireworks. Councilman Pat Morrissey said banning the explosives from being set off would be "holding out the forbidden fruit to people."
"That's going to encourage, I believe, some people to say, 'If I can buy them, then I'm going to shoot them off,'" Morrissey said. "Period."
He said the city should ramp up its enforcement of the current fireworks ordinance, which allows the materials to be set off from noon to 11 p.m. July 4 and from noon to 10 p.m. on July 3 and 5.
Morrissey said he wants Waterloo officials to ask the Legislature to allow local control of firework sales. He said it would help enforcement of a Waterloo ban on setting off the explosives.
Councilman Jerome Amos Jr. said the council already debated the issue in recent years. He sees no need to change the ordinance.