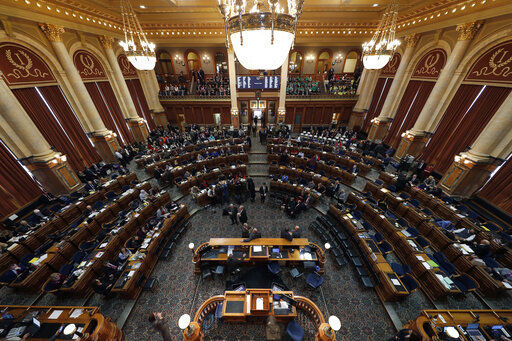 DES MOINES — Gov. Kim Reynolds recommended Iowa schools close for four weeks and legislative leaders will suspend their 2020 session for at least 30 days after Sunday's discovery of "substantial community spread of COVID-19" in the state.
"Based on new information today from the Iowa Department of Public Health, now is the time to move to the next level of response," Reynolds said in a statement Sunday night. "I am now recommending that all Iowa schools close for a period of four weeks to help mitigate the spread of COVID-19."
Reynolds said she was making her recommendation in consultation with the health officials based on federal guidelines. Officials at the U.S. Centers for Disease Control and Prevention issued a new recommendation Sunday for organizers of gatherings of 50 or more to cancel or postpone such events throughout the United States for the next eight weeks. But the advisory did not apply to day-to-day operations such as schools, colleges and businesses.
State health officials were notified Sunday of four additional positive cases of Iowans with COVID-19 — bringing the known total to 22 positive cases.
According to the state Health Department, two cases are related to international travel. The individuals are residents of Allamakee County; one is a middle-age adult between 41-60; the other is younger then 18.
"The third case is a middle-age Johnson County resident with no identified travel-related risk or exposure to a known COVID-19 case, and is considered the second case of community spread in Iowa. The fourth individual resides in Polk County and is a middle-age adult and indicates a third case of community spread," according to a news release from the governor's office.
One of Sunday's new cases was the first Iowa test conducted by a national lab. With testing options now expanding, Iowa expects the number of positive cases to increase.
State officials said they are developing policies to ensure continued access to child care during this time of emergency, including meals for low-income students.
Earlier Sunday, Republican legislative leaders announced the Iowa General Assembly's 2020 legislative session will be suspended at least 30 days following the announcement there is evidence of community spread of the novel coronavirus in the state.
Republicans who control the Legislature said the decision was made in consultation with the state public health officials and Reynolds office based on CDC recommendations. Reynolds, who met privately with legislative leaders to discuss the situation, supports the decision of GOP legislative leaders to temporarily halt the session, a governor's spokesman said.
The decision to temporarily suspend this year's session came one day after the Republican governor called on Iowans to take more aggressive measures to limit the spread.
Last week, Senate Majority Leader Jack Whitver, R-Ankeny, and House Speaker Pat Grassley, R-New Hartford, said evidence of community spread likely would cause them to consider policy changes at the Capitol building to mitigate problems and concerns associated with the global pandemic.
The House and Senate will convene Monday at their regularly scheduled times to consider resolutions for continuity of government to ensure delivery of essential services to Iowans, the leaders said. Previously scheduled subcommittee and committee meetings have been canceled, and standing committees will be on call as needed.
The Capitol building will be open at 11 a.m. Monday, officials said, with entrances open on the south and west sides. Before entering the Statehouse, staff members and the public will be required to undergo a health screening administered by the state Health Department that included filling out a health questionnaire and a temperature reading.
All scheduled events, tours and receptions at the Capitol are canceled until further notice.
Members of the public over the age of 60 or with underlying health conditions such as heart disease, diabetes and lung disease were encouraged to avoid the Capitol.
Republicans, who hold majorities of 32-18 in the Senate and 53-47 in the House, were preparing for this week's second funnel deadline — a self-imposed hurdle for bills to clear one chamber and a committee of the other chamber to remain eligible for consideration.
Lawmakers still have to formulate a nearly $8 billion state budget for fiscal 2021, which begins July 1. Majority Republicans also were expected to approve a tax relief package and complete action on their remaining priorities before adjourning their election-year session.
Along with passing emergency legislation to suspend the session until April 15, there were indications legislators would approve supplemental funding for the state's Medicaid program, give guidance to Iowa's 372 school districts, extend the Senate confirmation process for gubernatorial appointees and consider any other action that might be needed while legislators are on hiatus.
Sen. Rob Hogg, D-Cedar Rapids, who independently and voluntarily chose to stay away from the Capitol starting last Wednesday and Thursday, said he believed GOP leaders made the right decision to suspend the session.
"I think everybody across the state really has to come together here and try to avoid spreading the COVID-19 disease," Hogg said in an interview. "I do regret that we weren't able to get the Capitol shut down and discourage some of the outside groups that were there Wednesday and Thursday. I hope we don't have coronavirus spread because of that."
Hogg said he did not plan to travel to Des Moines unless he was told it was essential that he be present when the Legislature is in session.
"I think Gov. Reynolds should shut down the schools as well for at least a week or two and then re-evaluate," he said.
The Cedar Rapids Democrat called the situation "unprecedented" in his memory, although legislators stayed away for the Capitol for several weeks in 2011 as leaders and Gov. Terry Branstad attempted to break a state budget impasse that lasted until June 30 of that year.
"What's so challenging about this pandemic is it is affecting everybody everywhere," said Hogg. "It's affected our economy, it's affecting people's health, it's affecting our social activities, it's affecting jobs — you can go down the list. If we can really act decisively, my hope is that we can avoid this disease becoming widespread in Iowa like it has in other places across the country and around the world.
"It's going to be a very, very difficult situation for at least the next two or three weeks and hopefully we begin to turn it around so it doesn't continue to get worse beyond that," he added.
Also Sunday, State Auditor Rob Sand said effective Monday he was directing agency employees with identified risk factors for coronavirus or general health immunity concerns to work from home and he suspended office travel as precautions.
"This is not just about keeping our employees safe, but also about making sure we help keep others safe and don't unwittingly spread the virus. That helps our public health system from getting overwhelmed, and helps our economy avoid the bigger hit," Sand said. "If you think I am overreacting, I hope it turns out you are right. But I would rather myself be wrong than anyone in or out of our office become seriously ill because I did not act."
Reynolds signed a Proclamation of Disaster Emergency on Sunday continuing the proclamation signed on March 9, allowing retailers that sell liquor, beer, wine, carbonated beverages, and other beverages with an Iowa beverage container deposit to stop accepting empty cans and bottles for the duration of this disaster emergency.
Concerned about COVID-19?
Sign up now to get the most recent coronavirus headlines and other important local and national news sent to your email inbox daily.