CEDAR FALLS – The final statement of Tuesday's mayoral debate came from incumbent Rob Green, who said it is impossible to judge his performance at the city's helm after only two years in office.
He is seeking re-election to a second term against challengers Dave Sires, an at-large councilor, and Tom Blanford, a former councilor. Because of the learning curve that comes with being in the top role, Green said, he would like to apply all that he's picked up along the way and "truly make the mayor's office his own."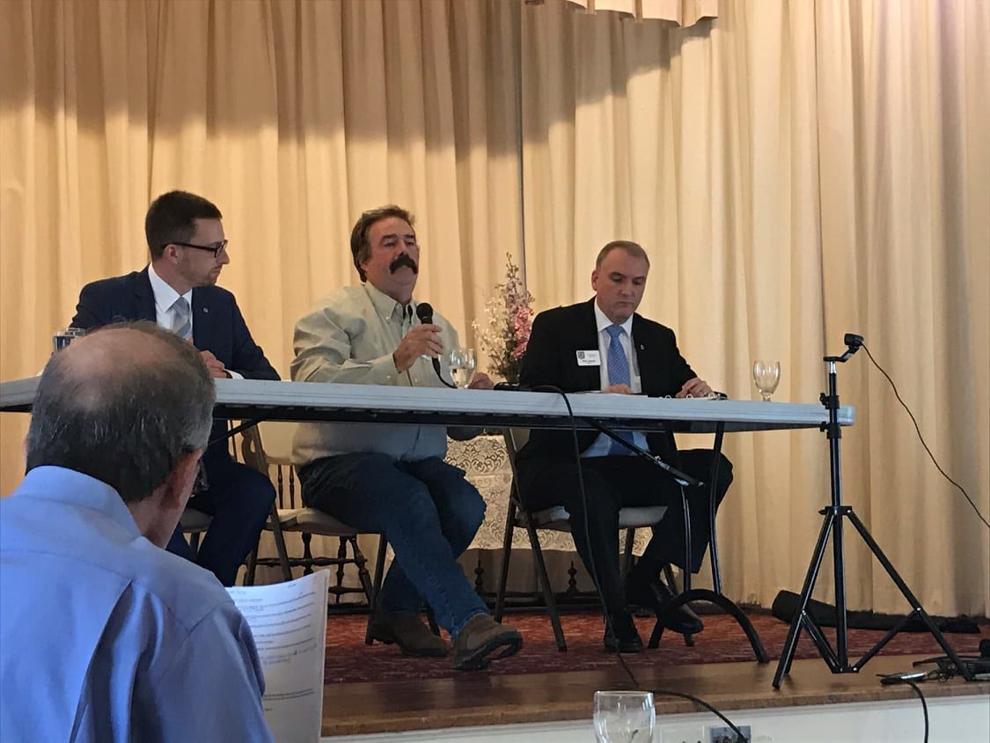 Whether he stays put for another term comes down to voters in November. At the event, which took place at the Cedar Falls Woman's Club and was hosted by the Rotary Club of Cedar Falls, voters got a taste of where the candidates stand on a number of issues. Moderator Gale Bonsall pressed the candidates on topics ranging from public safety and human rights to zoning and the First Amendment.
The trio also received some rapid fire "yes or no" questions on whether they support spending on certain projects.
Sires, born and raised in Cedar Falls, sat on the far end of the spectrum with his opinions on some issues.
He voiced adamant opposition to the public safety officer model as a "strong proponent of separate departments" because "firefighters and police officers are completely two different kinds of people."
"There are so many facets of each one of those professions that you can't do them both at the best level, you have to concentrate on one or the other," he later added.
A package of ordinances overhauling downtown zoning is another proposal he adamantly opposed.
Form-based zoning is a "real problem," for instance, because it allows for apartment buildings to be built in current R-1 districts where single family homes lie, he said. And he takes issue with the proposal largely "getting rid" of the planning and zoning process, which serves as a "checking point" for board members and residents who want to stop a project from moving forward.
On the opposite side sits Green, who is "100% in favor of form-based zoning" when it comes to the proposed law impacting development and expansion downtown.
Multiple property owners opposed the proposed ordinances Monday, and the second reading was postponed. Green said he supports the majority of councilors who felt the need to hear from the stakeholders, and if necessary, implement changes that would revert the process back to the planning and zoning board.
As for the PSO model, Green said it's a "false dichotomy" to ask: Do you want the model or don't you?
"I believe it's very possible to have a compromise," he said.
He noted he'd like to see changes but supports having first responders cross-trained. Both Sires and Green believe the full-time public safety director position should be eliminated.
"I believe that the vast majority could qualify fully as firefighters and police officers to do be able to do both roles, but I don't think it's fair to require them to have both roles in order to apply for the job, so that's why I proposed the Public Safety '22 Plan, which would require all officers to come in either as police officers or as firefighters," he said. "Once they're qualified, then they're able to attain additional certifications to become a public safety officer."
Blanford, a graduate of Cedar Falls High School and the University of Northern Iowa, complimented the current PSO model, but contended police and firefighters are somewhat separated as it stands.
"Fire personnel spend 95% of their time work on the fire side; same with police, and the benefit is that they are able to help each other" in responding to emergencies, he said.
When Sires raised doubts about whether a police officer or firefighter can be effective in both roles, Blanford maintained it is wrong to question the commitment or effectiveness of officers.
"These are well-qualified, well-trained people who are committed to keeping our community safe every day," he said.
As for the downtown zoning ordinances, Blanford broadly supported the vision process, calling it "hugely important" for replacing outdated zoning. He said the proposals are the result of hundreds of community members participating.
He acknowledged parking is a "sticking point," a separate conversation that "we should be having, and I hope the council will take up."
Two other issues were touched on at the debate. First, the conflict associated with Blanford using public parks for campaign events after a little-known policy outlawing such gatherings came to light. The council modified that policy Monday night to allow the events from noon to 8 p.m. until after the election.
The roles of the racial equity task force and Human Rights Commission also were discussed.
All the candidates largely complimented the work of the task force, assembled to put together a report and make recommendations for action. But Sires took issue with it not being an "independent committee" and instead having some city councilors sitting on it, along with other stakeholders, including members of the HRC.
There was support for providing the HRC with resources to do its job effectively. Green emphasized the importance of the commission's advocacy committee in understanding the complaint process involving the Iowa Civil Rights Commission "inside and out," and being able to listen to complaints without judgment while offering advice, such as how a person is able to access police body camera footage if issues were raised about an interaction with law enforcement.
At the same time, Green noted his expectation that the Human Rights Commission have a "very strong oversight role" with the ICRC, but not too much of a role in investigations, or else it loses "that ability to be advocates" for complainants.
Blanford, a former HRC member, slightly disagreed. He argued for a larger role to be played by the local agency and less by the ICRC.
He provided an example of people coming to the HRC after experiencing alleged housing or employment discrimination.
"It's already hard enough for them to come forward and tell something, but then to be told, 'Thanks for sharing with us, but tell it to somebody in Des Moines,' I think it's just going to make that process even harder and more difficult for people," he said. "I think keeping that process here in Cedar Falls, if there's a concern about resources, then let's give them resources they need to do it well. The most recent budget gave them $1,500 for the Human Rights Commission, which is woefully inadequate to be able to effectively serve the community of this size."
He said Cedar Falls can learn from what Waterloo has accomplished with its program, and advocated for the hiring a full-time human rights director.
Rapid fire questions posed to the candidates:
Should the city plant trees to replace the thousands lost because of storms and disease?
Should the city be spending thousands of dollars to install permeable alleys?
Should the city invest more than $4 million to remodel City Hall?
Should the city build a parking ramp in downtown?
Blanford: A qualified yes.