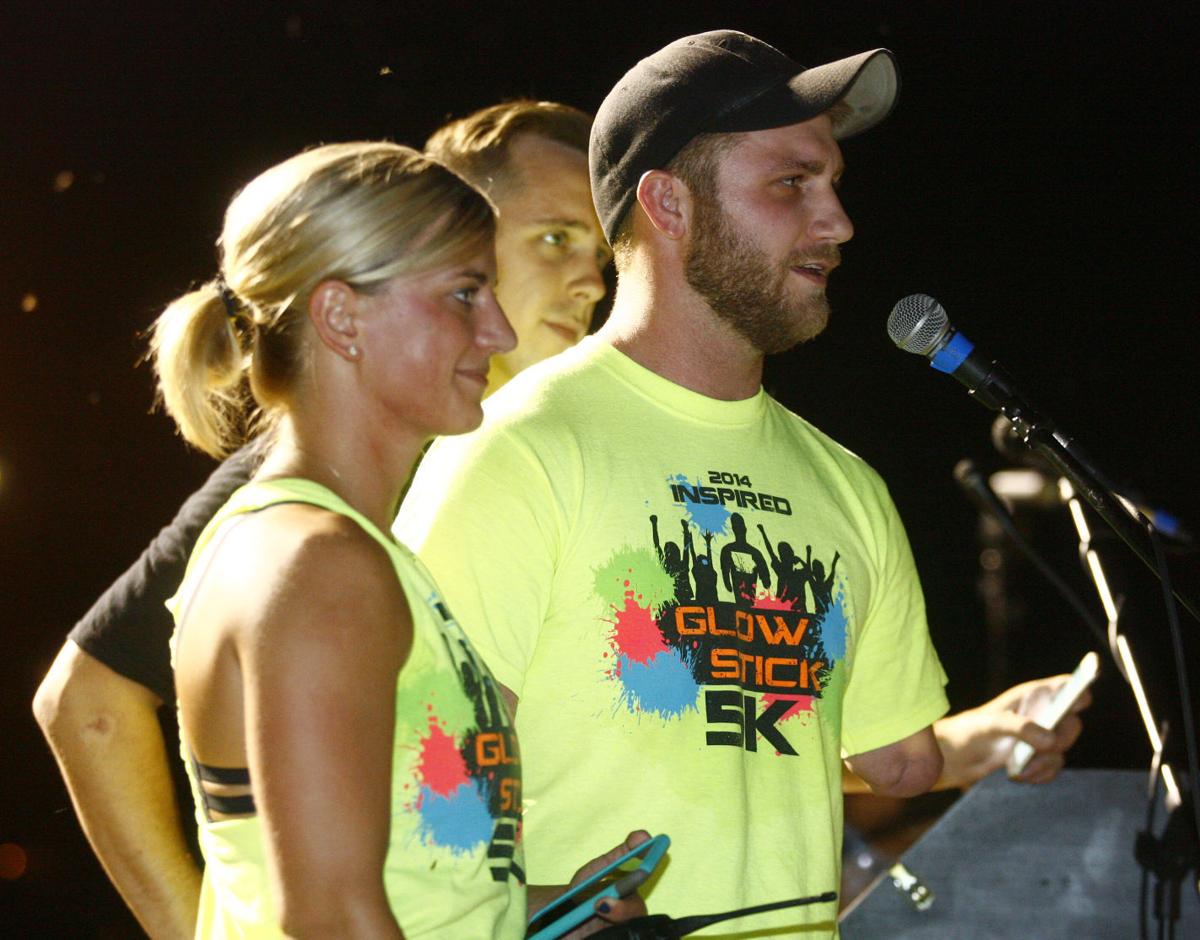 CEDAR FALLS — A disabled Afghanistan war veteran is contemplating his next move after the City Council voted 4-2 Monday night to reject his rezoning request to build a home in a remote area.
"We'll have to go back to the drawing board," Taylor Morris said following the council's action.
Morris and his wife, Danielle, asked the city to rezone 1.55 acres of land owned by Mikkel and Janet Mandt off North Union Road and north of American Martyrs Retreat House from A-1 agricultural to R-1 residential. The want to build an iPad controlled "smart home" to accommodate Morris' disabilities.
Morris, a U.S. Navy explosive ordnance disposal expert, lost portions of all four limbs in a May 2012 bomb blast in Afghanistan. His recovery with Danielle's support has garnered national attention.
Council members praised the Morrises and welcomed their decision to stay in Cedar Falls. But they expressed concern the rezoning, far removed from city services and other development, would set a precedent.
They also noted there were additional options for the Morrisses to build on that site, still owned by the Mandts, with a larger lot size without seeking rezoning, or at other sites.
"Typically, when we see agreement can't be met between a seller and interested buyer, usually the buyer is seeking other properties. And there are other properties in the city, residentially or agriculturally zoned, that could be built on," said Stephanie Houk Sheetz, interim community development director.
Wendell Lupkes of VJ Engineering, representing the Morrises and the Mandts, said in arguing for the rezoning, "The Mandts and the Morrises simply want to find the best logical way to allow the building of a new home on the selected location. They have explored all the possible ways to accomplish this with the fewest amount of special exceptions for variances to the city ordinances and still keep the intent of the parties in mind.
"The Mandts would like to keep their property and only sell what is required to make the transaction viable," Lupkes said. "The Morrises want to have an approved building site with as little disruption to the Mandt property as possible."
Lupkes noted residential use of the land is consistent with the city's long-term land use plan, but the site is quite removed from city services. "The uniqueness of this property, with its lack of city services in the foreseeable future, especially street access, would keep this from setting a precedent for any similar requests, as these conditions are very unlikely to all occur again," Lupkes said.
Council member John Runchey put a motion on the table for rezoning but indicated he would vote no.
"I'm delighted the Morrises are staying here. They're terrific young people," Runchey said. "I really struggle with this decision, and despite what Wendell says, I'm really concerned about setting a precedent. I want to guard against that."
Council member Dave Wieland expressed similar concerns, citing instances where services were extended to remote areas at taxpayer expense. "This is a tough, tough case," he said.
Council member Frank Darrah favored the rezoning. He acknowledged his colleagues' concerns. "However, I guess my thought is a precedent has already been set by Mr. Morris and what he has contributed to our country and his desire to return to Cedar Falls and make personal investments, not only residentially but business wise. I know he's in a leadership position with a group of young entrepreneurs to help our city grow," Darrah said, referring to Morris' role in the Cedar Valley Makers.
"I want this to be the kind of city that's receptive to those unique circumstances," Darrah said.
Wieland responded to Darrah, "I think when we get into the realm of making decisions based on emotion, we're on very dangerous ground. We represent the people of Cedar Falls. And the people of Cedar Falls expect us to make wise decisions." He urged other options be considered and moved to table the matter but that motion failed.
Only Darrah and council member Tom Blanford voted in favor of the rezoning. Five "yes" votes would have been required for approval due to the planning commission's 8-0 recommendation for denial. Council member Susan deBuhr was absent.
Get Election 2020 & Politics updates in your inbox!
Keep up on the latest in national and local politics as Election 2020 comes into focus.