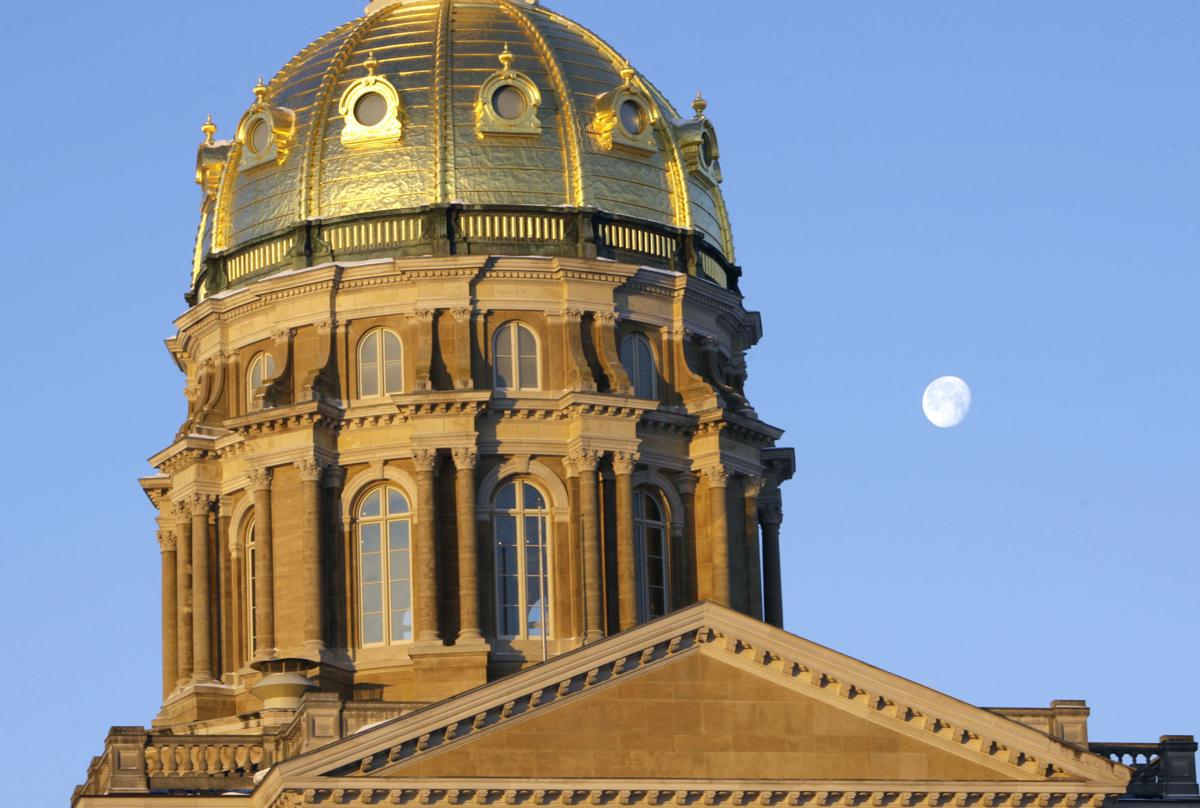 A roundup of legislative and Capitol news items of interest for Tuesday, Feb. 11, 2020.
SMOKE AND VAPORS: Definitions — or the lack thereof — tripped up efforts to ban smoking in vehicles if children are present and add vaping to the state's 2008 smoke-free workplace law.
HF 2093 would ban smoking tobacco and vaping in cars if children are present. There was support for the underlying concept, but vape shop owners said there is no evidence e-cigarettes present a danger to children.
Rep. Chris Hagenow, R-Urbandale, said he would continue to look for a way to move the bill forward.
A second smoking-related bill, HSB 627, would have added vaping to the Smoke-Free Air Act, but again the definition of vaping and lack of clear and convincing evidence of harm from secondhand emissions from e-cigarettes stymied the subcommittee.
BIKE LIGHTS: A requirement that bicyclists have front and back lights on their bikes and wear reflective clothing will move to the full House Transportation Committee although no groups are registered in favor of it.
Two Republicans on a House subcommittee signed off on HF 2037 after hearing from lobbyists who opposed the bill. HF 2037 would require a front white light visible from 300 feet and a rear red light visible from 300 feet. The lights could be steady or flashing. The fine for no lights would be $25, but a bicyclist would be given 72 hours to repair or replace the light.
The bill also would require bicyclists to wear at least 144 square inches of high-visibility or reflective clothing visible to the rear of the bicycle. The fine for not complying would be $25. The requirement would not apply to riders on a large group ride, such as RAGBRAI.
PAYING ATHLETES: A bill calling for college student-athletes to have control of their names, images and likenesses advanced to the Senate Education Committee over the concerns of regents universities and private colleges.
Sen. Nate Boulton, D-Des Moines, who sponsored SSB 2058, said college sports are generating more and more revenue that goes to coaches and facilities.
"It's not isolated away from athletes who are putting their bodies on the line," Boulton told the subcommittee.
Regents lobbyist Keith Saunders appreciated the spirit of the legislation, but said the issue can't be handled on a state-by-state basis.
"It needs a national solution ... not 50 different solutions," Saunders said. The NCAA is working on a solution by 2021 and there was a hearing in Congress on Tuesday on the issue.
Sen. Herman Quirmbach, D-Ames, cautioned against having too much confidence in either the NCAA or "our do-nothing Congress." The NCAA is acting only because of pressure from states like Iowa and others.
You have free articles remaining.
"It's the athletes who create the value," he said. "People aren't paying to see the coach."
BOTTLE BILL: A proposal to expand the four-decade-old bottle bill and double the handling fee on redeemed bottles and cans got mixed reviews in a Senate Commerce subcommittee. SSB 3109 also could lead to the eventual repeal of the bill enacted in May 1979 if the three-year rolling redemption average fell below 65 percent.
Retailers generally opposed a provision requiring them to pay a penny-per-container fee to distributors. That could cost the state grocery industry $15 million a year, its lobbyist said.
Conservation groups said increasing the handling fee would encourage redemption centers, which have not seen a revenue increase in 40 years.
Several groups at the hourlong hearing found things to like — and dislike — about the bill and are registered undecided.
Sen. Dan Dawson, R-Council Bluffs, said the subcommittee might consider advancing the bill to the full committee next week. However, Friday is the deadline for bills to be approved by a committee to remain eligible for consideration.
In the House, HF 2205 calls for the repeal of the bottle bill in 2023. In the interim, the revenue from estimated 30-plus percent of containers that are not redeemed would be used to promote recycling efforts. It is scheduled for a hearing Feb. 17.
K-12 SCHOOL AID IMPASSE: House Speaker Pat Grassley, R-New Hartford, held out hope legislative Republicans in the House and Senate will be able to close their $15 million difference on K-12 school aid for next year in time to beat Thursday's statutory deadline. House members voted 52-48 Tuesday to approve a 2.5 percent increase that matches the level requested by Gov. Kim Reynolds. GOP legislators defended the funding level over charges by House Democrats it was inadequate when school officials say they need 3.75 percent. A Democratic amendment to go to 3 percent failed, and Grassley said he was optimistic talks with majority GOP senators would yield a final agreement. "I know we have the ability to fund this," the House speaker said. Earlier this week, the Senate passed a 2.1 percent increase on a party-line vote. Both chambers have approved legislation to provide increased funding to address funding inequities on transportation and per-pupil issues.
HAND-HELD DEVICE BAN ADVANCES: Motorists would not be able to use hand-held electronic devices under legislation aimed at reducing distractions while driving that cleared the House Transportation Committee. Representatives voted 21-0 to advance House File 2119 to the House debate calendar. The measure would extend Iowa's texting ban to prohibit drivers from using a smartphone or other electronic device they would hold in their hand while operating a motor vehicle. Violating the provision would be a moving offense carrying a $100 fine, but there would be a "grace period" from July 1 to next Jan. 1 when only warnings would be issued for violations. "It's for safety. We've all been on the highway driving 70 mph and you look over and someone's weaving in another lane and they're looking at a phone for whatever reason," said Rep. Ann Meyer, R-Fort Dodge. "I think it's as dangerous as drunken driving." Drivers would be able to use electronic communication devices in hands-free mode that were physically or electronically integrated into their vehicles or could be operated with minimal contact. The prohibition would not apply to public safety agencies performing official duties, health care professionals dealing with emergencies, or in cases where a motorist was reporting an emergency.
A driver could use a hand-held device in a stopped vehicle not parked on the travel portion of a street or highway.
RESIDENT STUDENTS SOUGHT: Members of the House Human Resources Committee voted 11-10 to compel a Board of Regents policy requiring at least 75 percent of students accepted into the UI Carver College of Medicine and UI College of Dentistry be from Iowa or previously enrolled in an Iowa community, private or public college or university. Proponents of House File 2115 said it was an effort to attract and keep health care providers in rural areas, but critics doubted the way to accomplish that is to mandate that the state's only medical and dental colleges admit mostly Iowans. Rep. Marti Anderson, D-Des Moines, said 72 percent of UI med school and 71 percent of UI dental school students are Iowa residents so the bill is not needed. Others argued the bill would carry an $800,000 to $1 million cost in lost nonresident tuition, but Rep. Ann Meyer, R-Fort Dodge, said the requirement shouldn't be a burden given the proximity now to meeting the requirements. The bill would require UI officials to report annually to legislators on their placement of medical residencies around Iowa. The bill now goes to the full House for consideration.
EXTREME RISK LEGISLATION: Members of the Iowa chapter of Moms Demand Action for Gun Sense in America applauded extreme risk legislation introduced by two minority House Democrats on Tuesday. The bill would empower law enforcement officers to ask a court to temporarily block a person's access to guns if there is evidence they pose a threat to themselves or others. House Minority Whip Jo Oldson, D-Des Moines, and Rep. Kristin Sunde, D-West Des Moines, said the bill is needed to curb gun-related deaths in Iowa and would make Iowa the 18th state to adopt such legislation. "Not only do extreme risk laws save lives — they also have the support of the majority of Iowans," said Traci Kennedy, a volunteer with the Iowa chapter of Moms Demand Action. "As a gun owner myself, I can tell you it is possible to put an end to this gun violence and protect responsible gun owners' right to own a gun." On average, 212 people in Iowa die by gun suicide every year — equaling 80 percent of all gun deaths in the state, according to the organization, which also reported that in the last decade, gun deaths have increased 24 percent in Iowa.
PRISON ASSAULT REPORTED: State officials say an inmate at the Iowa Medical Classification Center in Coralville assaulted a correctional officer around 10:25 a.m. Tuesday. The correctional officer was working at his post when an inmate approached him, according to the state Department of Corrections. Without warning, the inmate began striking the officer with a series of closed-fist strikes. Additional officers responded to the assault and took control of the situation, state officials said. The officer and inmate involved in the incident were assessed by facility medical staff. The assaulted officer was taken by state vehicle to the University of Iowa Hospitals and Clinics in Iowa City to be assessed for injuries to his face. The inmate did not suffer serious injuries. Corrections officials say the incident remains under investigation.
IOWA DEER HARVEST NUMBERS: Officials with the state Department of Natural Resources say Iowa hunters reported harvesting nearly 94,000 deer during Iowa's 2019-20 hunting seasons — a decline from the previous year when hunters reported taking nearly 108,000 deer. Wildlife experts say a number of factors likely contributed to the decline, but DNR officials said Tuesday the most prominent was the outbreak of hemorrhagic disease — Iowa's second-largest — that killed thousands of deer across the state. The Iowa DNR manages the deer herd to support a harvest of 100,000 to 120,000 deer based on recommendations from the legislatively mandated deer advisory committee.
"Our deer population has rebounded after hemorrhagic outbreaks in the past, and we expect the same will be true after this outbreak," said Tyler Harms, a DNR wildlife biologist. "From our perspective, we manage the population for the long term, and impacts from this year — while significant — are likely a short blip on the horizon."