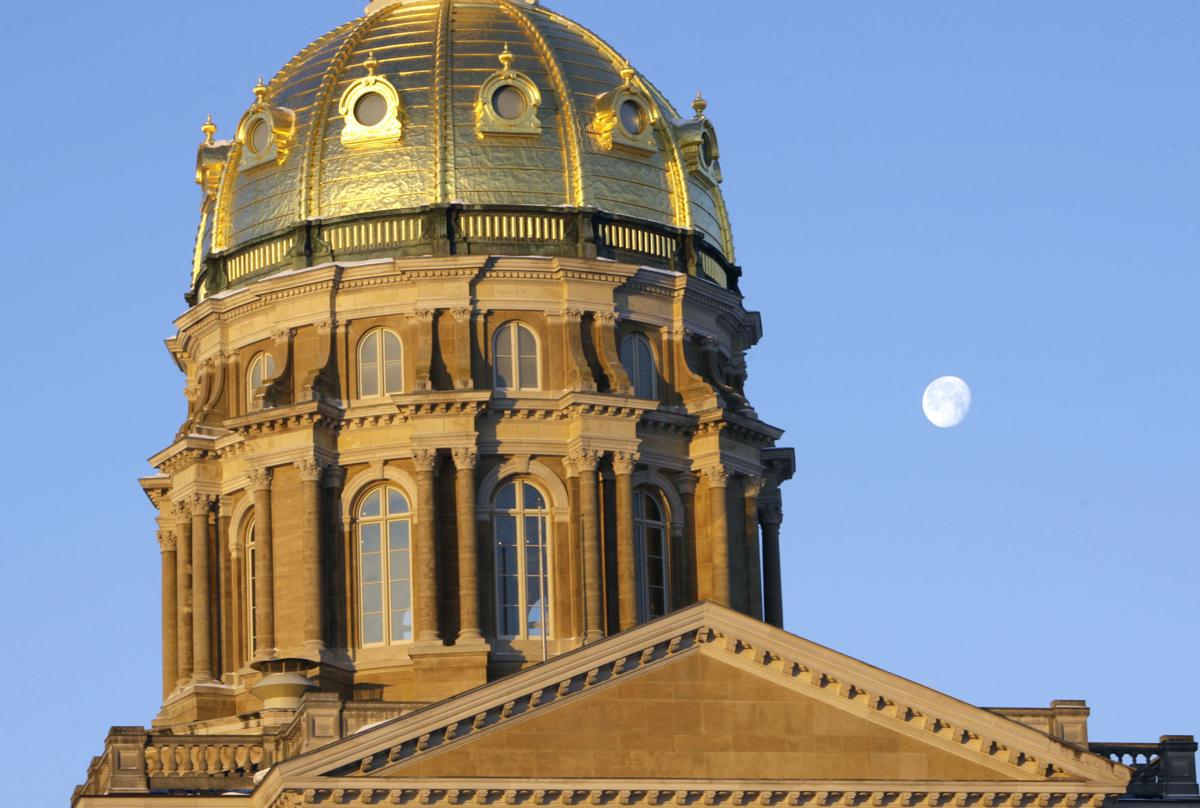 HIGHER ETHICS PAY: A House State Government subcommittee signed off on HSB 621, https://www.legis.iowa.gov/legislation/BillBook?ba=HSB621 a bill to allow the Iowa Ethics and Campaign Disclosure Board to offer its executive director a salary up to 50 percent more than the maximum of the position's current pay range.
Lawmakers were told that several people lost interest in the job when they learned of the salary range — $63,690 to $97,460.
A similar bill has been introduced in the Senate.
BACK TO DRAWING BOARD: Lawmakers told groups supporting a rewrite of the law on confidential law enforcement reports, records and information to go back to the drawing board.
Members of the House State Government subcommittee said there is not enough time to work through the bill before the Feb. 14 deadline for bills to win committee approval to remain eligible for consideration.
LESS COMMUNITY SERVICE: A bill that eliminates the option for offenders to perform community service if they can't afford to pay restitution and court-related costs, except for payment of court-appointed attorney fees, will move to the full House Judiciary Committee.
The bill would remove the requirement that a court determine an offender's reasonable ability to pay restitution except in the case of court-appointed attorney fees. It also would change how local governments are reimbursed for jail costs.
NO VIRTUAL CURRENCY: Government entities at the state and local levels would be barred from accepting payments in any form of virtual currency under legislation that cleared a Senate State Government subcommittee Wednesday.
However, officials from the state's treasurer's office, banking, currency and other organizations expressed concern the bill limited payments to be accepted by the government as only cash, which needed more definition to include checks, electronic transfer and other payment options that are not virtually or digitally sourced.
For instance, a representative of Iowa State University said the state school accepts foreign currency for tuition payments but immediately converts it to U.S. dollars.
Nunn said he was concerned that some forms of virtual or industry-backed currency are little more than gift cards that may cost taxpayers if payment is made from unknown sources that later default.
The bill goes to the full committee for consideration.
DECLARATION PREAMBLE: All public and private schools and attendance centers would be required to display a portion of the preamble of the Declaration of Independence under legislation approved by a Senate Education subcommittee Wednesday.
The required display would include the words: "We hold these truths to be self-evident, that all men are created equal, that they are endowed by their Creator with certain unalienable rights that among these are life, liberty and the pursuit of happiness."
Before the subcommittee vote, Connie Ryan, executive director of the Interfaith Alliance of Iowa, expressed concerns that girls will feel excluded with the "all men are created equal" wording and called the display in schools "a completely unnecessary mandate and cost."
However, Sen. Jerry Behn, R-Boone, said he didn't think the placement would be a big expense, and he wanted to keep the issue alive for more debate.
YEAR-ROUND DAYLIGHT SAVING TIME: Members of a Senate State Government subcommittee decided Wednesday that the time has come to make daylight saving time the official time in Iowa throughout the year.
Sen Jason. Schultz, R-Schleswig, said it was time for Iowa to "take a really bold stand" to move the issue forward since it did not appear action would be forthcoming at the federal level.
Sen. Brad Zaun, R-Urbandale, said Senate File 2077 https://www.legis.iowa.gov/legislation/BillBook?ga=88&ba=SF%202077 is an outgrowth of concern he's heard about the current arrangement whereby daylight saving time begins the second Sunday in March by moving clocks forward one hour and ends the first Sunday of November when clocks are moved back one hour.
The changes take place March 8 and Nov. 1 this year.
"For me personally, it's a pain when we have to switch and I like light and I think a lot of people like light and I just think it's a conversation to have," he said.
Brad Epperly, a lobbyist representing the Iowa Broadcasters Association, told the subcommittee having Iowa on a different time than border communities would create havoc for television and radio stations providing national programming to viewers in different time zones.
A House panel looking at the issue is considering tying Iowa's change to contiguous states, but Zaun said the Senate would stick with the bill as is and move it to full committee.
FLOOD RECOVERY: Legislation to provide slightly more than $21 million in state matching funds to priority flood recovery projects without jeopardizing federal money is on its way to Gov. Kim Reynolds' desk for her expected signature.
You have free articles remaining.
The Senate gave final approval to the package Wednesday on a 48-0 vote.
Sponsors said the $21 million appropriation would go to "immediate needs" identified by the Iowa Flood Mitigation Board.
But Sen. Rob Hogg, D-Cedar Rapids, said the state should be doing more to address the 35 projects with funding needs totaling nearly $165 million.
Senate Appropriations Committee Chairman Michael Breitbach, R-Strawberry Point, said the supplemental appropriation represented the request from "experts on the ground" at this time. Lawmakers are flexible enough, he said, to provide more state flood aid if that's what is recommended.
HAND-HELD DEVICE BAN WHILE DRIVING: Members of the Senate Transportation Committee — on the heels of similar action by their House counterparts — voted unanimously Wednesday to approve legislation that would bar motorists from using hand-held electronic devices while driving.
The only difference between the two versions is the House sets a $100 fine for violations while the Senate version has a $30 citation.
The parallel bills would extend Iowa's texting ban to prohibit drivers from using a smartphones or other electronic device held in their hands while operating a motor vehicle.
Drivers would be able to use electronic communication devices in hands-free mode that were physically or electronically integrated into their vehicles or could be operated with minimal contact.
Senate Transportation Committee Chairman Tim Kapucian, R-Keystone, said he believed the issue would be debated soon and the hand-held ban could make it to Gov. Kim Reynolds desk for her expected signature this year.
NO DEFERRED SENTENCES: A House subcommittee signed off on a proposal to bar public employees and officials who take more than $10,000 from their public employer from getting a deferred judgment, deferred sentence or suspended sentence if convicted.
Passage of HSB 617 https://www.legis.iowa.gov/legislation/BillBook?ba=HSB617 would start to make sure that public officials and public employees who steal, commit fraud, embezzle or otherwise take resources from a state or local government will go to jail if convicted, State Auditor Rob Sand told the subcommittee.
His proposal is based on his experience as an assistant attorney general.
The bill would let Iowans know that the "money they pay in taxes will be treated with the respect that it deserves," Sand said. "People need to know that when that money is stolen, someone has actual consequences for it. That it's not just a loan."
Financial crimes are hard to prosecute, Sand said. Prosecutors have to work very hard to get a prison sentence for public employee or officials to get a prison sentence for someone who embezzles tens or hundreds of thousands of dollars.
The bill would make sure that county attorneys know that "if they give these cases the time they need, it's good for them to know that they will have something that feels like justice for victims," he said.
FUTURE READY IOWA: One of Gov. Kim Reynolds' legislative priorities won bipartisan approval from the House Commerce Committee despite concerns about portions of the bill she says will "skill up" Iowa's workforce.
The bill builds on the Future Ready Iowa Act lawmakers approved last year.
It would create an apprenticeship training program similar to the existing apprenticeship program. It also would establish a child care challenge program under the Department of Workforce Development to encourage and enable businesses, nonprofits and others to start local child care facilities and increase the availability of child care for working Iowans.
It also calls for a workforce diploma program and establishing the minimum educational standards and establishing or modifying computer science instruction-related responsibilities of the state Board of Education, the Department of Education and its director, and school districts and accredited non-public schools.
Rep. Chris Hall, D-Sioux City, was concerned about a $500,000 appropriation for private vendors to handle some aspects of the Future Ready Iowa program.
"It gives me pause because it means the Legislature is intentionally, very narrowly choosing one of a small number of companies that provide this pilot program rather than use an RFP (request for proposal)," Hall said. "It's clearly redundant to a service community colleges provide at a much lower cost to the taxpayers."
Hall and three other Democrats voted against the bill, which was approved 19-4.
PUBLIC ASSISTANCE SCRUTINY: The Senate Labor and Business Relations Committee voted 7-4 to approve an amended version of Senate Study Bill 3068, https://www.legis.iowa.gov/legislation/BillBook?ba=SSB3068&ga=88) which would enlist one or more private vendors to verify the eligibility of about 600,000 public assistance recipients in Iowa.
Committee chairman Jason Schultz, R-Schleswig, said he believes the welfare-reform measure will improve efficiencies and free up Iowa Department of Human Services employees to do other work.
However, minority Democrats who voted against the measure said the measure ultimately would hurt children and was designed to "trip up" recipients or make them "lawyer up" to protect the assistance for which they qualify while fighting private vendors with a financial incentive to find savings for the state.
Schultz said ultimately the Department of Human Services would decide eligibility, not the private vendor.
He characterized the committee's partisan divide on the issue a clash of "two different ideologies and two different world views."
The bill now goes to the full Senate for consideration.