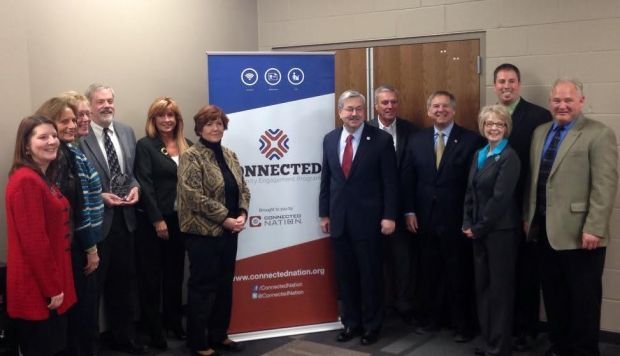 CEDAR FALLS | Foresight and commitment led Black Hawk County to earn the distinction of being the fourth Iowa community to receive a connected community certificate.
Officials took a moment to celebrate that honor at Cedar Falls Utilities Thursday, focusing on the future.
"It is clear the economy is changing dramatically and to remain competitive we must remain connected," Gov. Terry Branstad said.
He commended Cedar Falls Utilities for investing  25 years ago in then-new technologies that made it among the state's leaders in connectedness.
Black Hawk County is the first Iowa county to receive the certificate through the nonprofit Connect Iowa. The cities of Webster City, Indianola and West Des Moines have previously received the honor.
"We need to plan even more for the future, and recognizing that it's going to continue to change, the communities that will thrive in this new economy are those that take every opportunity to organize and plan and continually improve on their technological capabilities," Branstad said. "We're here today because that's exactly what Black Hawk County has done."
Kevin Blanshan, who led the Black Hawk County Broadband Committee, said the county spent two years preparing a technology action plan. He noted that more work is underway.
Blanshan, executive director of the Iowa Northland Regional Council of Governments, said the next phases to further improve connectivity will soon be noticeable. The committee will focus on digital literacy.
Blanshan said the committee also will work expanding broadband access, raising awareness about technology and training small businesses on technologies.
"I'm sure there are going to be others as we move forward," Blanshan said.
Jim Krieg, general manager of Cedar Falls Utilities, noted that 150 years ago the cities near railroads flourished. Fifty years ago, the cities near interstate highways flourished.
Krieg said the community made a conscious decision that it would connect fiber optics and try to be a hub city in that way. He said the success is apparent in the Cedar Falls Industrial Park. Twenty years ago, it had 27 businesses and $5 million in taxable valuation; today, there are 160 businesses and $270 million in valuation.
Though the city of Cedar Falls can take pride in its separate distinction as the state's first "gigabit city" that will help the region to attract business, others spoke of the practical, everyday importance of having higher speed Internet access.
Linda Allen, president of Hawkeye Community College, said the wider bandwidth allows students to have real-life experiences in a virtual setting. Nursing students, for example, can set themselves up in a virtual hospital.
Sheryl McGovern, joint director of the Waterloo and Cedar Falls public libraries, stressed the importance of the Internet in everyday life, whether it's job searching, reading the news or filing taxes.
McGovern said the library fills that need for people who don't otherwise have access to high-speed Internet services.
"The investment in broadband pays back huge dividends for Iowans as more of them find jobs, improve skills and achieve many life objectives, now aided by high-speed Internet access," McGovern said. "So, investing in high-speed broadband Internet access in Iowa is not only the right thing to do, it's the smart thing to do."