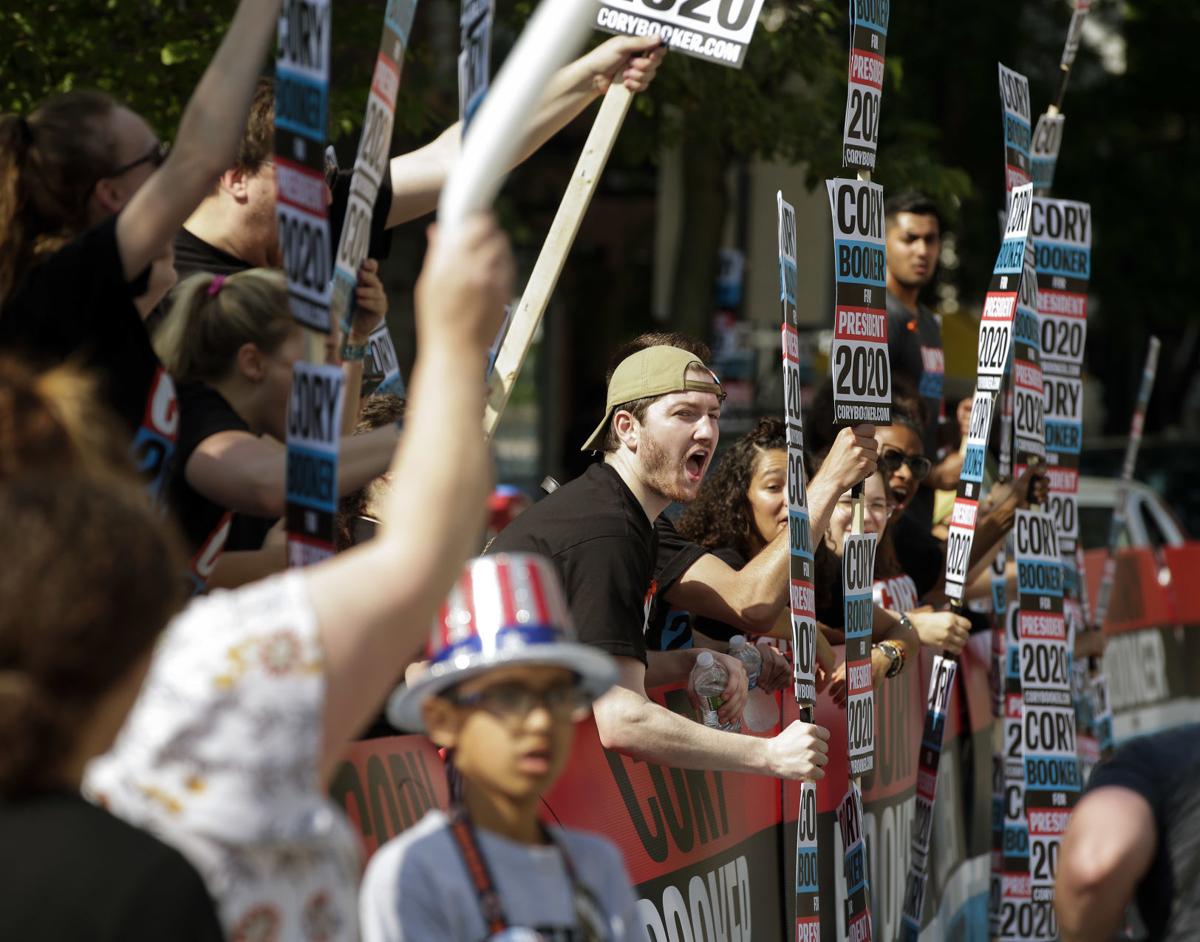 Cory Booker announced that, if elected president, he would on his first day in office issue an executive direction that would grant clemency to more than 17,000 non-violent drug offenders.
The action would target individuals jailed for marijuana-related offenses, those with "excess" sentences due to disparity in sentencing between crack and powder cocaine violations, and those who would be eligible for retroactively reduced sentences under the First Step Act.
The campaign said the clemency initiative would be the nation's most sweeping in more than 150 years.
"The war on drugs has been a war on people, tearing families apart, ruining lives, and disproportionately affecting people of color and low-income individuals — all without making us safer," Booker said in a statement. "When it comes to restoring justice, we can't be timid. ... Granting clemency won't repair all the damage that has been done by the war on drugs and our broken criminal justice system, but it will help our country confront this injustice and begin to heal."
Buttigieg staffs up in Iowa
The Pete Buttigieg campaign announced it has hired four directors and two dozen organizers in Iowa.
The Buttigieg campaign has named Kevin Groh organizing director, Julie Stauch political director, Bailey Romans as deputy political director, and Lala Xu as data director.
"Since Pete announced his candidacy, we've seen a 20 times increase in volunteers in Iowa. Our ability to organize this energy in Iowa is central to the success of our campaign," Brendan McPhillips, the campaign's state director for Iowa, said in a statement. "That's why we are fully investing in organizing efforts by building a robust and talented team that will resource, train, and channel this grassroots energy. We plan to engage Iowans where they are, in every precinct across the state."
Sanders hires Iowa's Omar
The Bernie Sanders campaign has hired Abshir Omar as its political director for Iowa.
You have free articles remaining.
The Sanders campaign noted it made the announcement on World Refugee Day; Omar was born in Somalia during that country's civil war and sought asylum in the U.S. Omar's father and one of his brothers were killed in the Somali Civil War.
"I was born in the middle of a civil war, grew up in a refugee camp and traveled across a desert to seek asylum in America with my mother, and today I can tell her with great pride that I am serving as Bernie Sanders' Iowa political coordinator," Omar said in a statement released by the campaign.
"Together, we are not only making history on this campaign, we are completing a political revolution that started right here in Iowa."
Bennet's plan to fix politics
Democratic presidential candidate Michael Bennet unveiled his plan to "fix our broken politics."
Bennet's list of proposals includes a constitutional amendment to reverse the Citizens United decision, a lifetime lobbying ban for former members of Congress, stronger ethics and anti-corruption rules for Congress and the White House, automatic and same-day voter registration, ranked choice voting, and safeguards against gerrymandering, voter suppression and foreign meddling in U.S. elections.
"If we don't fix our broken politics, we will keep struggling to make progress on the issues Americans care about — from health care to climate change to gun violence," Bennet, a U.S. Senator from Colorado, said in a statement. "We have to understand how the forces of Citizens United, gerrymandering, and special interests are working together to defeat the will of the American people and to support an agenda that has nothing to do with their priorities. We need to overcome that."
New group to tout progressive policies
A new issue advocacy group "Iowa Voices" launched with a mission of creating a grassroots organization that will highlight progressive health care and tax policies.
At an introductory news conference, Iowans shared personal stories about how they have been impacted by the Democrat-implemented Affordable Care Act and Republican-led federal tax cuts.
"Iowans are inundated with elected officials and politicians talking at us about issues that affect our lives, when instead we need to be heard," Iowa Voices executive director Emily Holley said in a statement.
The group said it also plans to educate voters and press elected officials like Iowa's Republican U.S. Sen. Joni Ernst, who is facing re-election in 2020. And it plans to conduct a six- to seven-figure ad campaign later this summer.