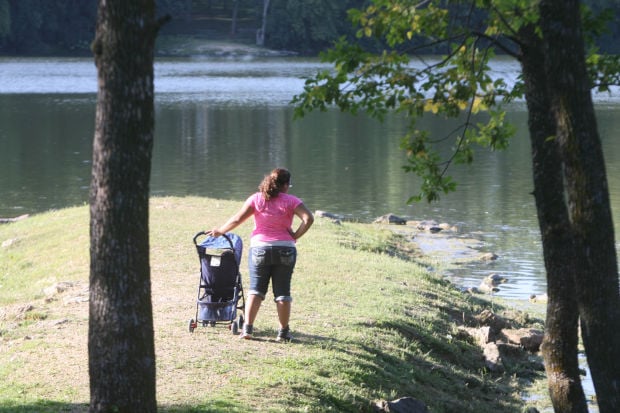 HAMPTON, Iowa --- The Iowa Department of Natural Resources presented its findings on Beeds Lake on Thursday, focusing on reducing algae in the water.
About two dozen people attended the meeting led by Bill Graham, project manager, and Jeff Berckes, project coordinator, with the DNR's watershed improvement section.
"What is the tipping point in Beeds Lake to where it can still process a certain amount of pollution and not have any water quality problems?" Berckes said.
A similar study on bacteria in the lake was completed in 2004.
Algae blooms are caused by excessive phosphorus, which is in turn results from various factors in the lake's watershed. Those include manure, eroded sediment, geese, carp and septic tank systems, according to Graham said.
"The carp isn't as big of a problem here," he added.
Graham said the total maximum daily load for high-flow years should be about 8,000 pounds, 1,470 for mid-flow years and about 1,100 for low-flow years.
"The dry years --- that's when you get the most algae," Graham added.
To combat excessive phosphorus and algae, he recommended promoting "ag-best management practices." But Graham also talked about controlling geese, inspecting and repairing septic systems, reducing the carp population and removing accumulated sediment west of the causeway and behind the sediment dam.
Moving the beach east of the causeway also would help reduce bacteria, which often causes swimming advisories.
According to a study done for Friends of Beeds Lake and other entities, dredging the lake and repairing the sediment dam would have cost $3.7 million in 2012.
DNR officials cautioned, though, they need to address the entire watershed if they want to get funding.
Scott Grummer, a fisheries biologist with the DNR, said officials must show a 50-year benefit to receive lake restoration money.
Lawrence Green, district conservationist for the Natural Resources Conservation Service Field Office in Hampton, said no-till farming, cover crops and buffers along Spring Creek would help.
"That would take care of a lot of your problems," he said.
Get Government & Politics updates in your inbox!
Stay up-to-date on the latest in local and national government and political topics with our newsletter.