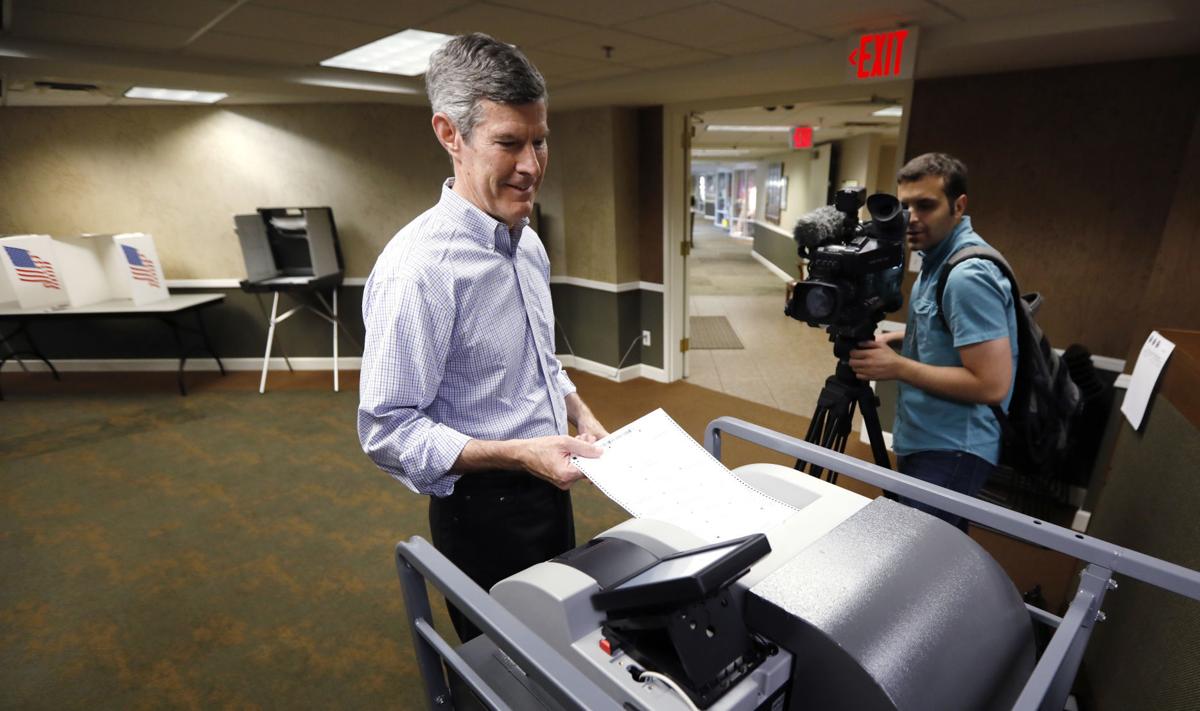 DAVENPORT -- Fred Hubbell won a convincing victory Tuesday in the Democratic primary race for governor, but now he faces the task of uniting the party behind his candidacy against Republican Gov. Kim Reynolds.
For more than a year, a crowded field of Democrats have vied for the support of primary voters. And while the campaign was largely civil, there still were differences on some issues and approaches between the candidates, which could require some fence mending.
Before Tuesday ended, former state Democratic Party Chair Andy McGuire and ex-Iowa City Mayor Ross Wilburn made it clear they were behind him.
In a statement sent out after the race was called, McGuire congratulated Hubbell and said, "I look forward to joining with him as we unite our party."
Not all have immediately jumped on board, though.
A spokesman for Cathy Glasson, who finished second in the primary voting, said Wednesday morning the campaign's "primary focus" now is on the Democratic Party's state convention June 16.
"Cathy and Fred talked last night and will be sitting down to have a discussion about the race and the issues," Roger Ouellette said in an email. "Our primary focus right now is on the convention which was highlighted in our press release last night."
In a statement Tuesday night, Glasson, the president of the Service Employees International Union, Local 199, said she has "hundreds of committed delegates" to the convention "who will continue their demands for progressive priorities in the party platform and from the candidates' campaigns."
Glasson had pushed for a state-run, single-payer health care plan, along with a $15 minimum wage within three years, and she'd been critical of rivals who hadn't joined her.
Remi Yamamoto, a spokesperson for the Hubbell campaign, said the Des Moines businessman had talked to all but one of the Democratic candidates Tuesday night.
"It's still less than 24 hours since results came in, and there are a lot of talks that are ongoing," she said Wednesday afternoon. "As noted in his speech, Fred looks forward to working closely with his primary opponents behind a united vision to get Iowa growing."
A spokesperson for John Norris, who finished third, said he'd congratulated Hubbell and "will make a statement in the coming days."
Wilburn posted a video saying he had congratulated Hubbell and was "committed to making sure we get Terrace Hill back." Wilburn said he'd focused on education spending and reforms to the criminal justice system. "I'm pretty confident Fred will carry on that message, and I wish him well."
Hubbell's winning margin was wider than what many had expected. He got more than 98,000 votes, or 55.5 percent of the total, according to an unofficial tally. Glasson, with about 36,000 votes, came in second with 20.5 percent. Norris got 11.4 percent and McGuire had 5.2 percent. Wilburn got 2.2 percent of the vote.
Troy Price, chairman of the Iowa Democratic Party, said Wednesday he believes the party will be united behind both its state and federal candidates.
"We had a spirited primary, and quite frankly that's what we wanted to see," he said. "At the end of the day people are united by the fact we need a new direction in Des Moines and we need a new direction in Washington. I think the party will come together."