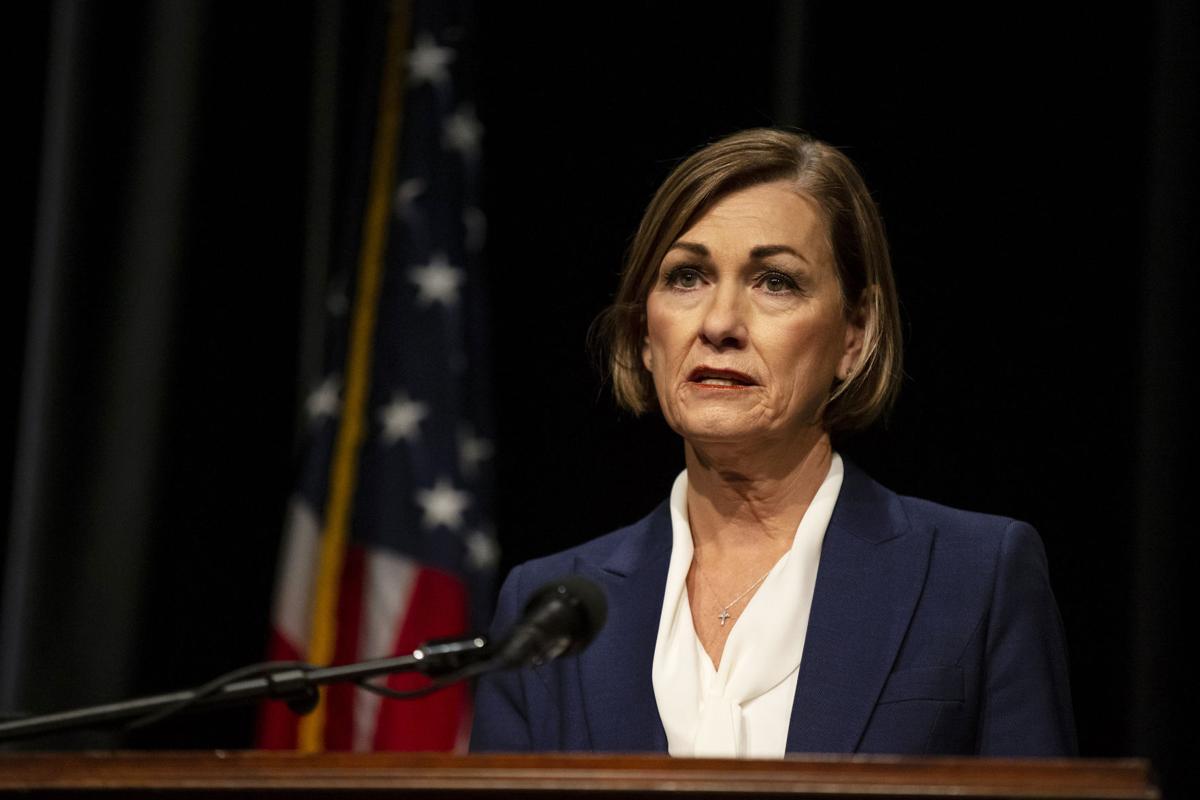 DES MOINES — Iowans must wear a face mask or other face covering while indoors in public and near other people for at least 15 minutes under a new public health order issued Monday evening by Gov. Kim Reynolds.
The face mask requirement is part of new orders issued as COVID-19 continues to spread rapidly through Iowa, creating the state's highest rates of cases, hospitalizations and deaths during the pandemic.
Reynolds' order, which went into effect at 12:01 a.m. Tuesday, also places a limit of 15 people on all indoor gatherings, including wedding and funeral receptions, family gatherings, conventions and festivals. The order limits outdoor gatherings to 30 people. However, the restrictions do not apply to gatherings in the workplace as part of normal daily business or government operations.
Restaurants and bars are allowed to remain open between 6 a.m. and 10 p.m.
In what is believed to be the first-ever live address from an Iowa governor televised during prime time, Reynolds on Monday night posited that Iowans may have become complacent, possibly leading to the latest spikes in cases, hospitalizations and deaths. She warned those spikes threaten to overwhelm Iowa's health care system, echoing warnings issued by hospital officials. Reynolds noted if COVID-19 patients overwhelm hospitals, all Iowans who need health care will be placed in danger.
"Right now, the pandemic in Iowa is worse than it has ever been," Reynolds said. "That's why I'm talking directly to you tonight, to ask for your help, not just as your governor, but as a daughter, as a mother, as a grandmother. It's up to all of us so that the worst-case scenarios that I just described don't become our reality."
Reynolds' address came on a day when Iowa posted 2,350 new COVID-19 cases, bringing the total to 187,035 since the virus was first detected in Iowa last March. Monday's six confirmed deaths brings the total to 1,991.
Iowa has seen hospitalizations more than double since Nov. 1 with Monday's number marking the largest single-day net increase. COVID-19 hospitalizations increased 113 on Monday to 1,392 — an 8.8% jump that was the largest in a single day — with 271 patients in intensive-care units and 123 needing ventilators.
Iowa has the fourth-highest rate of spread in the U.S., according to the latest report from the White House COVID-19 task force.
"Our health care system is being pushed to the brink," Reynolds said.
The face mask requirement includes exceptions, including for people with a medical condition or disability that would be aggravated by a mask, the deaf or hard of hearing, people who work alone or more than 6 feet away from others, people who are eating or drinking, and public safety workers whose duties would be hindered by a face mask.
All organized youth and adult sports activities of any size are suspended under the governor's order — including basketball, wrestling, gymnastics, swimming, dance, and group fitness classes at gyms.
High school, collegiate and professional sports are allowed to continue, but spectators are limited to two per student and are required to wear a mask.
Restaurants, bars, bowling alleys, arcades, pool halls, bingo halls, and indoor playgrounds are required to close at 10 p.m. and cannot host private gatherings of more than 15 people. Masks must be worn by staff who have direct contact with customers, and customers must wear masks when they are not seated at their table to eat or drink. The proclamation also requires masks inside casinos.
Hospitals must reduce inpatient elective procedures by 50 percent.
The latest orders continue until 11:59 p.m. Dec. 10.
Reynolds did not require but "strongly" encouraged all vulnerable Iowans to limit activities outside their homes, and encouraged all Iowans to limit in-person interactions with vulnerable Iowans.
Studies have shown COVID-19 is more dangerous to older people and those with health issues.
"If Iowans don't buy into this, we lose," Reynolds said. "Businesses will close once again, more schools will be forced to go online, and our health care will fail and the cost in human life will be high.
"So now is the time to come together for the greater good, to look out for each other -- not because you're told to, but because it's the right thing to do. That's who we are as Iowans, and I know without a doubt that we'll get through this together."
Iowa U.S. Sen. Charles Grassley joined the chorus Monday, taking to the Senate floor to urge Iowans to "step up their personal responsibility" in combating the COVID-19 community spread.
"Although promising vaccines for the coronavirus are on the horizon; it's more important than ever to stop the surge," Grassley said in prepared remarks. "It's critical for Iowans to step up their personal responsibility, to stay safe and healthy. For themselves and their loved ones."
Summary of enhanced public health measures
Effective Tuesday, Nov. 17 at 12:01 a.m. until Thursday, Dec. 10 at 11:59 p.m.
Mask Use: Indoor spaces open to the public and state executive branch buildings.
Masks required when individuals are within 6 feet of one another for 15 minutes or longer with certain exceptions.
Gathering restrictions: Social, community, business, or leisure gatherings.
No more than 15 people indoors and 30 people outdoors.
Restrictions apply to wedding receptions, family gatherings, conventions, and other non-essential gatherings but do not apply to gatherings that occur during the ordinary course of business or government
Sporting and recreational events: Youth and adult group sporting and recreational gathering are prohibited except for high school, college, and professional sports
High school sports and extracurriculars: Sporting, recreational, and extracurricular events.
Only two spectators permitted for each high school athlete, performer or competitor, and must wear a mask and maintain 6 feet distance from other spectators.
Students can be closer than six feet and are not required to wear masks.
Restaurants and bars: Restaurant or bar, including a wedding reception venue, winery, brewery, distillery, country club, or other social or fraternal club.
Closed to in-person services at 10 p.m.
No bar seating.
Masks required when not seated (while playing games, dancing, etc.).
Six feet distancing between groups.
Groups limited to eight people unless larger group is all same household.
Seated when eating or drinking and limit congregating.
Fitness centers: Fitness centers, health clubs, health spas, gyms.
Group fitness activities are prohibited.
Casinos and gaming facilities: Masks required except when seated to eat or drink.
Closer/prolonged contact establishments: Bowling alleys, pool halls, bingo halls, arcades, indoor playgrounds, children's play centers.
Closed to in-person services at 10 p.m.
Mask required when not seated to eat or drink.
Ensure that groups and individuals are six feet apart at establishment.
Groups limited to eight people unless larger group is all same household.
Non-essential/elective surgeries: A hospital must reduce its inpatient, non-essential surgeries to a level that uses at least 50% fewer beds than it did on average during September.
WATCH NOW: Gov. Kim Reynolds' previous press conferences