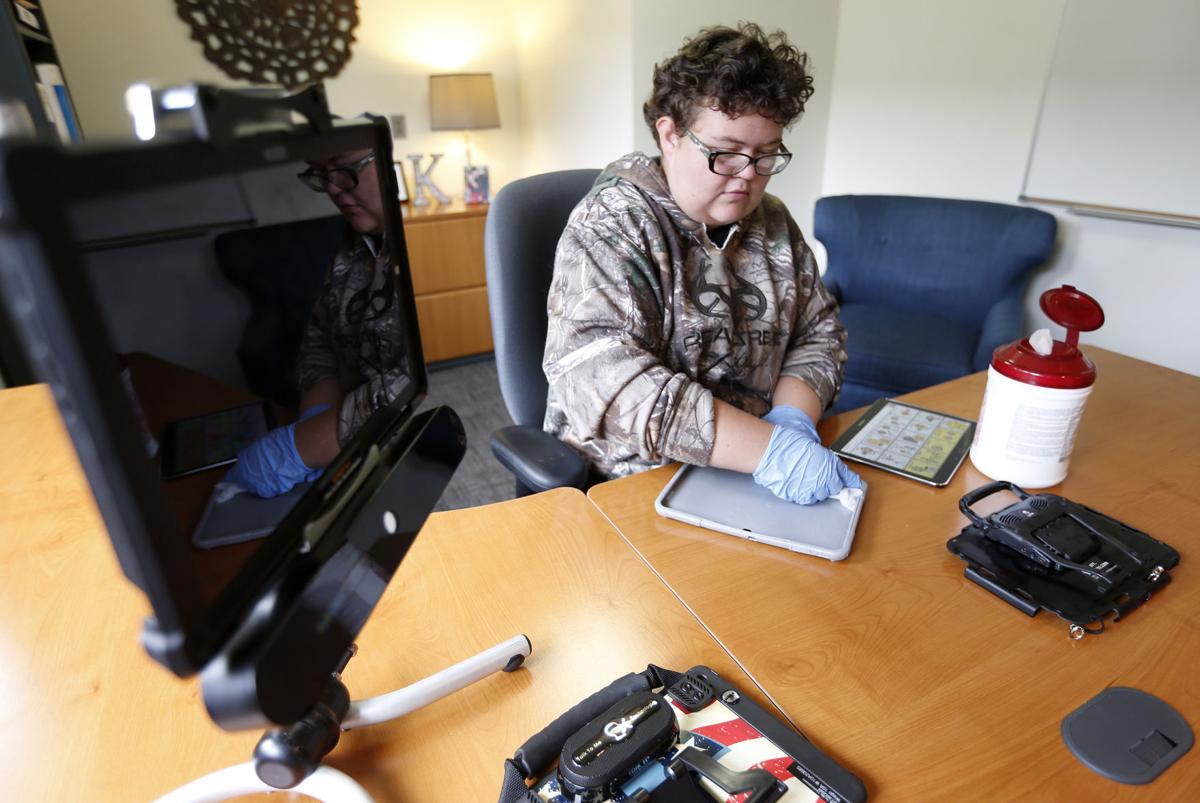 First in a series of stories reprinted from The Courier fall Inclusion magazine highlighting diversity in the community.
WATERLOO — About a year ago, leaders at Talk to Me Technologies, in the midst of a growth spurt, decided to do something to give back to the community.
The company looked to Exceptional Persons Inc. to hire a person with a disability to join the Talk to Me team. It didn't work out as expected. Brittney Vaughn's role at Talk to Me isn't as a charity case but as a valued member of the staff.
"It seemed to me, at the time, as a nice way to give back," said Kate Dunning, Talk to Me Technologies co-owner. "Which is ironic because I feel we've gotten much more."
That is what EPI staff say they want employers to realize when they chose to employ a person with disabilities.
"Just because someone has disabilities doesn't mean they don't have the same goals and aspirations," said Nicole Rand, EPI employment program director. "They want a social life, friends, and want to be part of a team."
Vaughn has demonstrated that and more since joining Talk to Me in March. Her EPI job coach, who helped her train on the job, discharged her from EPI in mid-August.
"I talk to my co-workers instead of going to my job coach all the time," Vaughn said.
When EPI connects employers with their clients, EPI helps them prepare for the job interview but lets the client speak for themselves at the interview. Job coaches, funded by EPI, help the client learn the job. Often, some accommodations are needed, but those are usually simple.
"Most time accommodations are easy such as laminate a task list or a photo of a finished product," Rand said.
Talk to Me Technologies programs and creates devices that help people with disabilities communicate. One of Vaughn's main jobs is to clean and prepare the devices for clients. Early in her employment, Vaughn was appointed tasks as needed. Staff at Talk to Me realized she could do more as she mastered each task and asked for another challenge. Within six months she had her own desk, business cards and an important role in the business.
"We have to have certain standards in the devices being clean and functional," Dunning said. "The care she takes is extraordinary."
Dunning said Vaughn's presence in the office has been "incalculable" for morale.
In late August, Talk to Me staff found another way to give back to the community by volunteering their time weeding at the Cedar Falls community garden. Vaughn was part of the group helping.