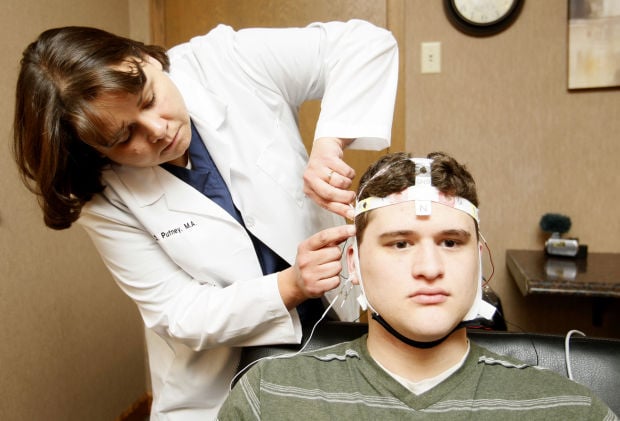 WATERLOO, Iowa --- Top-notch time management. The ability to multi-task. Proficient organization.
A brain that upends these basic life skills sets even the brightest individual up for failure.
Welcome to the struggles of a college student with attention deficit hyperactivity disorder.
"We see it a lot in high-achieving students," said Melissa Klein, special needs coordinator at Hawkeye Community College. "They may have done well in high school, but what worked in high school doesn't work for them in college. They have to relearn how to study. The material gets harder. Time management gets more challenging."
Challenging enough that many will fail.
Just 5 percent of college students with ADHD will graduate, versus 41 percent of their nondisabled peers, according to a 2008 report in the The Journal of Learning.
"The dropout rate is astronomical for people with ADHD," said Amy Putney, a neurofeedback therapist with Brain Matters at the Center for Functional Medicine. "College age presents new problems. It's a new environment, a heavier course load and no support system. All these problems stack up and multiply. Boy that's tough."
Particularly tough is the transition from high school to college, said Ashley Brickley, coordinator of student disability services at the University of Northern Iowa in Cedar Falls.
Until college, students with ADHD likely had a parent or guardian involved in managing their education plan. There may have been a parent- or educator-led initiative for a 504 Plan or Individualized Education Plan, allowed by the federal Individuals with Disabilities Education Act.
"In college, (a student is) considered an adult and must be their own advocate," Brickley said. "Mom or dad can't call the disability office and say accommodations are needed. A student needs to request services and complete the paperwork."
Last year at UNI, 30 percent of the 300 students served by Student Disability Services had a diagnosis of ADHD. "It's our largest population of students we serve," Brickley said.
While Hawkeye Community College doesn't keep official statistics on the nature of disabilities of the students they serve, a couple of years ago Klein did some digging and found that 25 percent of students served that year had a diagnosis of ADHD.
Students must provide documented medical diagnosis of their disability to be eligible to receive classroom accommodations. Under the Americans with Disabilities Act, instructors must allow those accommodations. Additionally, students' privacy is protected by the Health Insurance Portability and Accountability Act. "Our services are 100 percent confidential. Teachers never know the diagnosis," Klein said.
Typical accommodations include extended time to take tests, note-taking assistance, breaks to stand up and move around, selected seating and permission to use technology, such as laptops, smartphones for recording lectures and smart pens, in the classroom.
"Accommodations don't give an unfair advantage," Klein said. "They only level the playing field and give equal access to education. We don't want this diagnosis to be an impediment to success."
Get local news delivered to your inbox!
Subscribe to our Daily Headlines newsletter.