WATERLOO – Firefighters pulled a dog from a burning house Wednesday night.
Crews with Waterloo Fire Rescue located Roscoe, age 6, unconscious inside the smoke-filled home at 811 Burbank Ave.
Firefighters used oxygen to resuscitate the dog, said Battalion Chief Ben Petersen. The dog was walking around within minutes.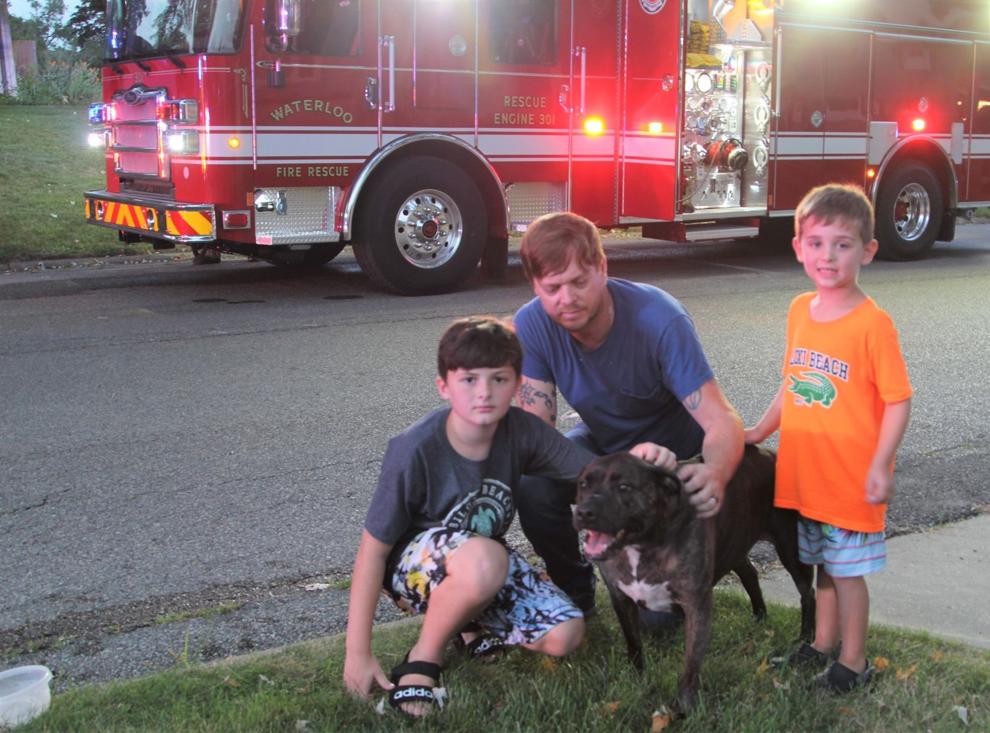 The fire apparently started in the kitchen while the residents were away and spread into the ceiling, Petersen said. They returned home and found the place filled with smoke.
Firefighters extinguished the flames in the kitchen area, but the rest of the house suffered heavy smoke damage, displacing the family of five.



WATCH NOW: Animal rescues
WATCH NOW: Animal rescues
Kitten rescued from Cedar River
Firefighters rescue dog from burning home, July 5, 2021
Duckling rescue, July 7, 2021
Fishermen rescue dog from freezing river, Feb. 5, 2017
Cats rescued from burning home, Jan. 17, 2016
A home caught fire and when the owner arrived, he said there were two dogs inside. Firefighters found them and revived one of them.
UPDATE: Dogs recovering from Cedar Falls fire
CEDAR FALLS – Emergency workers resuscitated two dogs after pulling them from a smoke-filled home in Cedar Falls on Tuesday night.
The dogs, Willow and Alley, 5-year-old great Dane mastiffs weighing 200 pounds each, were unconscious when public safety officers removed them from inside 1310 Hawthorne Drive, said Jeff Olson, director of public safety services.
Out on the front lawn MercyOne paramedics provided oxygen, and bystanders cheered when they saw one of the dogs begin to wag a tail.
"I can't thank them enough. I don't know what I'd do without them," said owner Sara Robert. "I've had them since they were about eight weeks. … They saved my life more than once, on rough days and rough times."
On Wednesday, city officials said the dogs spent the night at Taylor Veterinary Hospital in Cedar Falls and then were reunited with Robert.
"They are doing fine; they still have a small cough but will make a full recovery," said Dr. Wendi Goetsch, a veterinarian at Taylor. "The cough is normal as they clear the smoke from their lungs, and it will go away. Thankfully, the firefighters responded so fast and the dogs were able to get oxygen quickly. It saved them."
Fire Chief John Bostwick and Assistant Police Chief Craig Berte, also a public safety officer, along with Public Safety Lt. John Zolondek, were on hand at Taylor Veterinary Hospital on Wednesday to check on the dogs' progress. Zolenek was the one who administered oxygen to the dogs.
Robert was just returning home from work on Tuesday night and saw the fire trucks and ambulance.
"I saw the door was open, and they were my first thought," Robert said.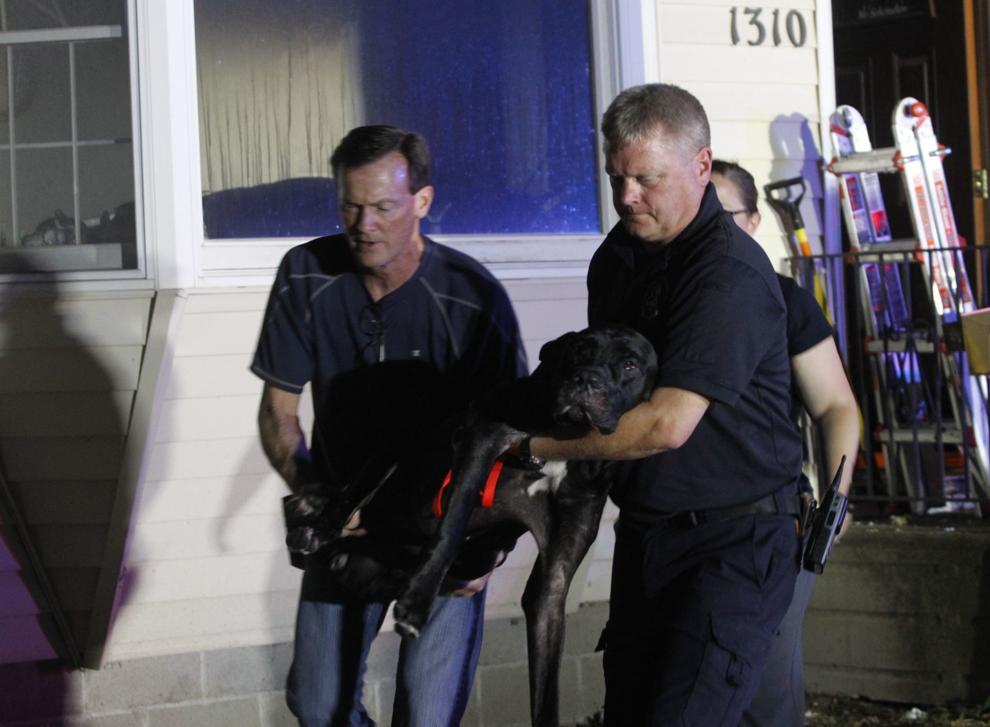 Olson said neighbors had called 911, and firefighters could see smoke through the front windows. They discovered a fire smoldering inside the bathroom and extinguished it. The dogs were found in a bedroom.
"They were lifeless. … They put oxygen on them, and those dogs laid there for 30 minutes, and I thought 'no hope.' And then the homeowners came home, and as soon as they heard their voices, the tail started wagging," Olson said.
"The dogs were huge; there was one over 150 pounds, and we had to carry them out by their legs and haul them to safety," said Berte.
Fire damage was isolated to the bathroom, but the rest of the house suffered heat and smoke damage. The cause of the fire hasn't been determined.
"It's amazing to see how they are doing now versus how they were just last night," Bostwick said.