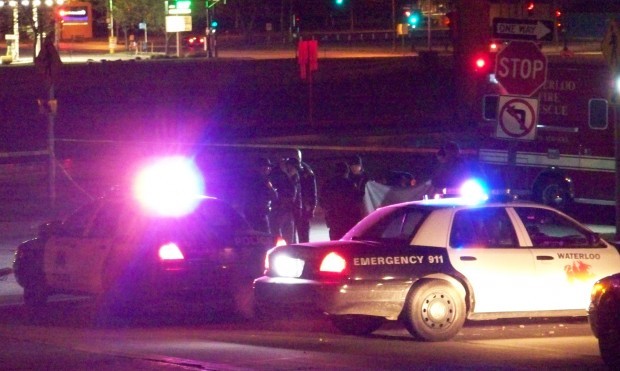 WATERLOO, Iowa --- The family of a Waterloo woman is looking for answers after she was found dead in apparent early Monday morning hit-and-run accident.
A passing police officer discovered the body of Becky Simpson Lawless, 59, after stopping to investigate items in the roadway at the intersection of Washington Street and West Mullan Avenue at about 4 a.m.
Family members said Lawless lived with her father, Oren Simpson, at his Patton Avenue home. They last saw her Sunday for supper at her daughter's home.
"We all had a nice Easter dinner," said Oren Simpson, noting relatives from out of town were also in attendance
Lawless didn't have a car, and Simpson said he gave her a ride to Prairie Lakes Park in Cedar Falls where she met her boyfriend for fishing at about 5:30 p.m.
She left the boyfriend's house in Waterloo sometime during the night, relatives said.
Family members said they don't know why she was in the West Mullan Avenue area.
A patrol officer spotted clothing in the street and got out of his vehicle. That's when he found her lying on the side of the road.
She didn't show any signs of life, and a medical examiner pronounced her dead at the scene.
It isn't clear how long Lawless had been there and who may have struck her. An autopsy is scheduled for Tuesday by the State Medical Examiner's Office in Ankeny.
Waterloo police said there were no witnesses and are asking anyone with information to come forward.
In the meantime, the relatives are pulling together. This is the second tragedy for the family in recent months. Lawless' daughter, Heather Nicol, died of cancer at the age of 41 in September.
Any resident with knowledge concerning Monday's hit-and-run accident is asked to contact the Waterloo Police Department at (319) 291-4349.
Get local news delivered to your inbox!
Subscribe to our Daily Headlines newsletter.