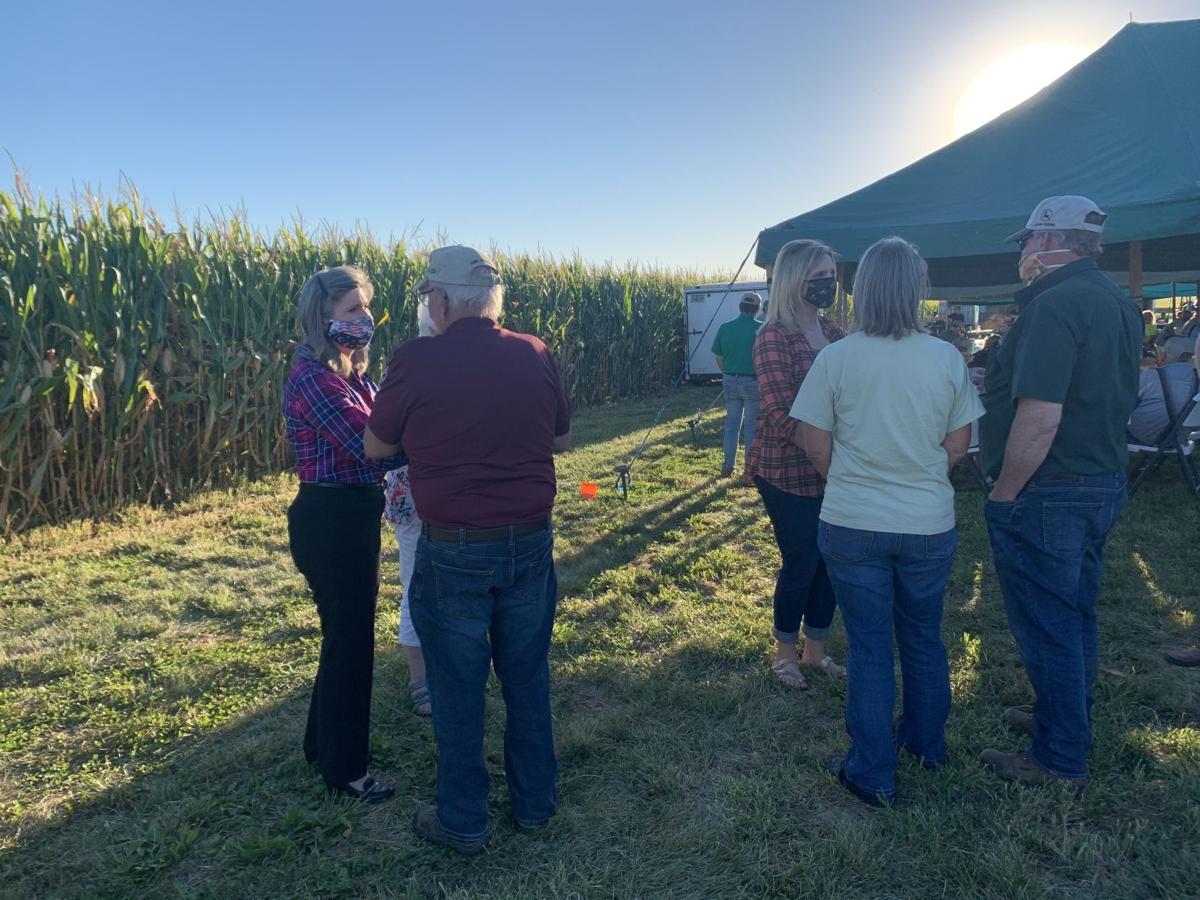 WATERLOO — U.S. Sen. Joni Ernst praised farmers, said agriculture and veterans were her top issues and noted she expects she and her opponent will spend $100 million in total on a close election during a Monday evening stop in Black Hawk County.
Speaking to around 100 attendees sandwiched between a corn field and a soybean field off of South Canfield Road in rural Waterloo, Ernst said the race between her and Democratic opponent Theresa Greenfield is likely to be very expensive and involve lots of advertising on both sides.
"This is one of the states (Democrats) can flip. They can; this is a purple state," the Republican told supporters at the Black Hawk County Corn and Soybean Association Test Plot, an annual event at Rottinghaus Farms.
Ernst said she believed her 2020 re-election campaign would cost more than her 2014 election, in which she took down well-known and well-funded U.S. Rep. Bruce Braley for the vacant Senate seat.
"It's probably going to be a $100 million race, and it's crazy. In 2014, it was $80 million," Ernst said. "There is no way I'll be able to outraise or outspend (Greenfield). ... We can't combat big money. That's why we need the grass roots."
One attendee told Ernst during the question-and-answer period he believed COVID-19 cases and deaths are being overcounted, a theory discounted by medical professionals who say the actual numbers are probably much higher than official tallies.
Ernst said she was "so skeptical" of those numbers as well.
"These health-care providers and others are reimbursed at a higher rate if COVID is tied to it, so what do you think they're doing?" she told the crowd.
Asked to clarify her remarks after the event, Ernst said that's "what I've heard" from health-care providers, but wasn't sure if that meant numbers were being inflated.
"They do get reimbursed higher amounts if it's a COVID-related illness or death," she said. "I heard the same thing on the news. ... They're thinking there may be 10,000 or less deaths that were actually singularly COVID-19. ... I'm just really curious. It would be interesting to know that."
President Donald Trump tweeted Sunday that only 9,000 of the more than 180,000 coronavirus deaths in the U.S. were actually caused by the virus, citing a Centers for Disease Control update that clarified underlying conditions of those that had died.
Ernst spoke extensively about the Renewable Fuel Standard and the small refinery waivers given by the Environmental Protection Agency that have bedeviled corn growers who supply grain to ethanol plants.
She said she is hopeful a favorable decision from the U.S. Court of Appeals for the 10th Circuit on the matter will be replicated nationwide, saying she was grateful the Trump administration has chosen not to appeal that decision.
"It has to happen," she said of ending the waivers. "This is like a no-brainer for those of us in farm country, is that the oil refineries are trying to find a way around the RFS."
Charles and Wilda Albrecht of Readlyn, who attended Monday's event, said they supported Ernst in 2014 and would be supporting her again this year, saying she was "extremely awesome."
"I truly believe this election is very important," Charles Albrecht said. "If the election goes the wrong way, I'm afraid it'll be doom and gloom."
Ernst was introduced by state Rep. Ashley Hinson, a Republican running for the U.S. House seat currently held by U.S. Rep. Abby Finkenauer. Both candidates and their staff wore masks, but most attendees at Monday's event did not.
"Ag policy is very important right now to the state of Iowa," Hinson said after the event. "We've had some challenges, and so I wanted to get out and speak to people, have conversations with people, and let them know what I stood for."