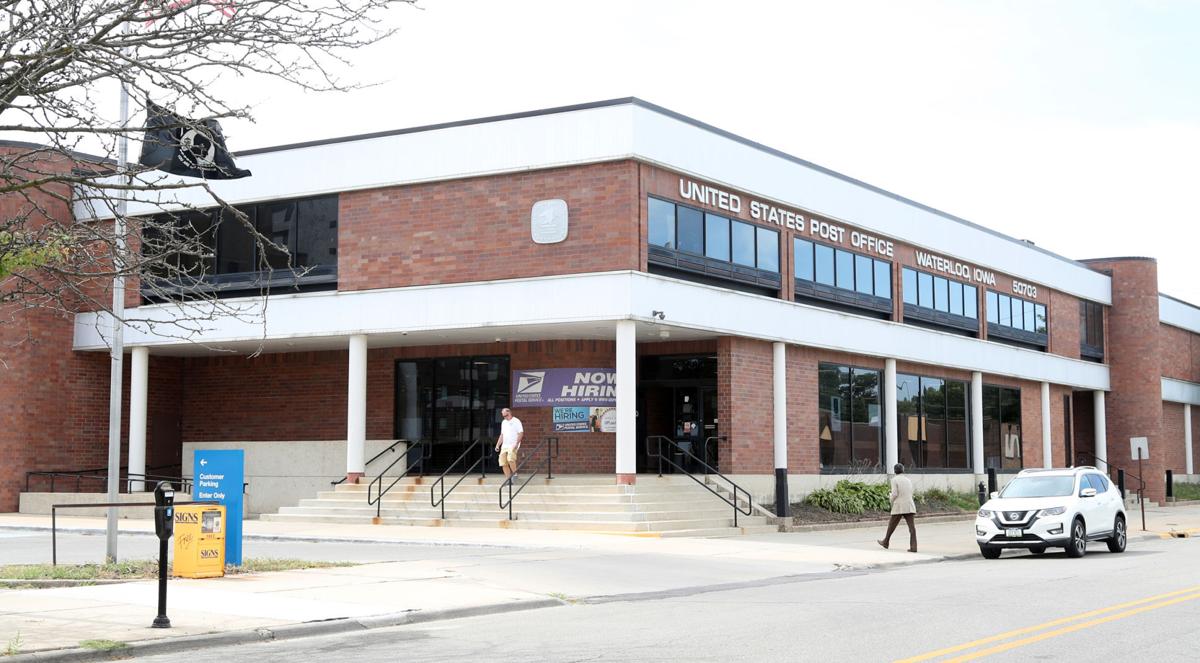 WATERLOO – Demonstrators opposing sweeping changes to the United States Postal Service plan to gather outside the Waterloo post office Saturday in support of the mail system that has been in place for more than 200 years.
The protest comes as changes in overtime rules, delivery practices and the removal of hundreds of mail-sorting machines across the country have caused a public outcry over delivery delays and the potential to upset mail-in voting in the upcoming presidential election.
"There's going to be quite a few people participating in the demonstration … showing the country how important even a small post office is. I think it's very powerful," said Kimberly Karol, president of the Postal Service Workers Union in Waterloo.
Americans for Democratic Action Iowa, Iowa Alliance for Retired Americans and Black Hawk County Supervisor Chris Schwartz will host the rally at 11 a.m. Saturday outside the Waterloo Post Office, 300 Sycamore St.
Karol, who has worked for the postal service for nearly 30 years, sounded the alarm this week about the removal of sorting equipment from the Waterloo post office. She appeared on several national news networks as the first person to speak out about the drastic changes.
"There is a significant amount of mail that was being held back," she said.
Louis DeJoy took over the role of postmaster general June 16 and implemented cost-saving measures to the organization that employs about 630,000 people.
Karol said the new rules — including eliminating or reducing overtime, removing mail-sorting machines and reducing the amount of trips a carrier can make to retrieve more mail — were announced immediately after DeJoy took office, and within days the changes were in effect in Waterloo.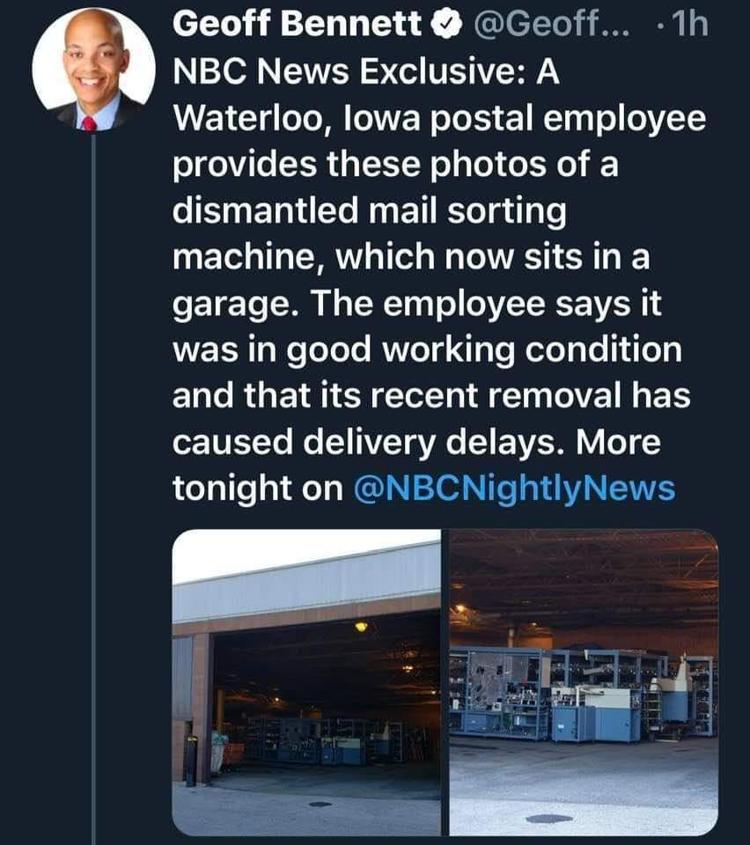 "It was amazing how quickly these changes were taking place and how dramatically it was going to have an impact on delivery for customers," Karol said.
Nicole Hill, a spokesperson for the Northland and Hawkeye District of the USPS, disputes that claim.
"The Postal Service in Waterloo is not experiencing any delays in processing or delivery at this time and has ample capacity to handle any volume today, during the Election Season, the holidays and beyond," she said in a statement to The Courier Thursday afternoon.
But Karol, a sales and services associate in Waterloo, said she has witnessed delays in deliveries, which many fear is an attempt to affect the absentee ballot mail-in process in November.
Changes delayed
On Tuesday, DeJoy, a major donor to President Trump's campaign, reversed course, delaying changes to the postal system until after the November election.
"I came to the Postal Service to make changes to secure the success of this organization and its long-term sustainability. I believe significant reforms are essential to that objective, and work toward those reforms will commence after the election," his statement reads.
Whether the mail-sorting machine removed in Waterloo will be reinstated remains unclear. The sorter, capable of handling 35,000 pieces of mail an hour, is one of six machines in Waterloo used to sort letter-sized mail and is part of the process carriers use to gather mail before hitting the streets, Karol said. The other five remain in operation, as well as other types of sorting machines and equipment.
Broader change
In an interview with The Courier on Thursday, Sen. Chuck Grassley said he was not aware of a machine being removed in Waterloo or of Karol's appearance on national news. But he did say changes have been happening to make the postal system more efficient for several years.
"It's time to conform the postal service to the business of today compared to 20 years ago. … There's a lot less business today," Grassley said.
Grassley said since the 1970s the USPS has been an independent agency and not politically affiliated.
"This postmaster has been on the job two months, so he's just carrying on what's being done under the previous postmaster. … He's appointed by a board of governors, not the president. He's not involved in the political system at all," Grassley said.
However, a report on NPR Thursday noted House Democrats are raising questions about whether a member of the board of governors skirted typical practices to influence DeJoy's hiring. Reps. Raja Krishnamoorthi, D-Ill., and Katie Porter, D-Calif., sent a letter to USPS board member John Barger raising questions about his role in recommending DeJoy for the position. The letter cites reports DeJoy was not included in a pool of candidates cultivated and vetted by an outside hiring firm contracted to fill the job.
DeJoy is the first postmaster general in almost two decades who is not a career postal employee.
Election season
"The United States Postal Service is one of our nation's most trusted institutions," said Black Hawk County Supervisor Chris Schwartz. "We rely on the postal service to deliver our medications, pay our bills, vote safely during the pandemic, and to keep the economy running. Americans will not stand for the attempts to undermine this valuable service."
Organizers of Saturday's rally are demanding the sorting machine be returned to the Waterloo post office; that Senators Joni Ernst and Grassley support Congress in providing emergency COVID-19 aid to the USPS; and DeJoy immediately reverse all recent changes to the USPS practices and procedures.
Grassley said any disruptions to mail-in voting won't be because of the postal service.
"In some states they can't get an absentee ballot until two weeks before election. It's not the postal service's fault. It's the fault of the state laws," he said.
President Trump has said he opposes additional funding for the post office, which has lost $2.2 billion in its most recently reported quarter.
Congress allocated $10 billion in funding for the USPS under the CARES Act for losses related to the pandemic. Democrats are demanding a $25 billion grant through the HEROES Act, which includes $3.5 billion to expand voting by mail.
Trump blames Democrats for delaying the aid.
"They need that money in order to have the post office work so it can take all of these millions and millions of ballots," Trump said in an interview on Fox Business. "If they don't get those two items, that means you can't have universal mail-in voting because they're not equipped to have it."
But Karol said the postal system is equipped to handle election mail, and USPS workers are accustomed to adjustments during peak mail times.
"The election is not something new. We've been having election mail since the Civil War," she said. "In a way, it's given higher priority the closer it gets to election time, so we can make sure every vote counts."
Karol suggested voters mail absentee ballots as soon as possible.
"We still have the capability (to keep up with demand) as long as mail-in ballots come in early," she said. "Our mail processing operators are working as hard as they can in the time we are allowed."
Every piece, every day
Mail carriers typically return to the post office several times a day to retrieve more mail, Karol said. But the new rules limit the number of trips mail carriers can make back to the office.
"Our operators get very frustrated because we've been in a culture where it's (deliver) every piece every day," she said.
The changes have made that more difficult, she said. "We're going to put through as much as mail as we can in a day, and what can't go will sit for the next day."
The new mandates also affect overtime hours. Staffing shortages in post offices across the country have led to overtime hours. Many retiring employees are not being replaced, she noted.
"Our workforce has shrunk significantly," she said.
With the limitation on overtime, Karol said available resources are going to waste.
"We're not utilizing all available manpower to get the mail out because that would require additional overtime," she said.
Redirecting mail
The Waterloo post office processes mail for smaller post offices. After hurricane-force winds devastated buildings in the Cedar Rapids area last week, mail was temporarily redirected to Waterloo.
And while some say mail has slowed during the pandemic, Karol said she has seen a massive increase. Typically Christmas is the postal service's busiest time of the year, she said, but the amount of mail sent during the pandemic has surpassed that.
"People were responding to the need for PPE, sending all over the country, because that's just what people in America do, and the postal service facilitates that generosity," she said.
The post office also became a tool for communicating with those who are unable to leave their homes.
"It's a safety net for our customers. … We fill an important gap in our ability to share information and communicate with one another."
Fuel tanker crashes into Waterloo home
Photos: Fuel tanker crashes into Waterloo home
A fuel tanker crashed into a Waterloo home just before 6:45 a.m. Thursday, Aug. 20, 2020.
Get local news delivered to your inbox!
Subscribe to our Daily Headlines newsletter.