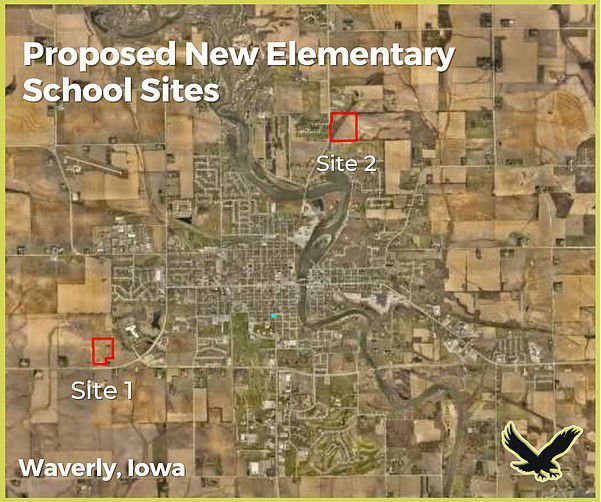 WAVERLY — Waverly-Shell Rock Community Schools has reached purchase agreements on two tracts of land for new elementary buildings.
The proposed schools would be funded through a $31 million bond issue for which the district is seeking voter support in a March 2 referendum.
Site one is on the southwest side of Waverly in the area that was known as Champion's Ridge. It is located north of Iowa Highway 3 west of the intersection with 10th Avenue Southwest, near the CUNA Mutual property.
"The exact location of the school building and exact size of the property is yet to be worked out with the city," said Superintendent Ed Klamfoth.
Site two is on the northeast side of the city along Horton Road across the street from the Hind's Addition and the Summit Drive Northeast intersection. The property is just south of St. Mary's Catholic Church.
"We have agreed in principle on a portion of that property that is offered for sale," said Klamfoth. There is a total of 120 acres available, but the district needs far less. For both sites, he added, "we know we needed nothing less than 15-16 acres."
The agreed-upon cost of the parcels is not yet being disclosed pending the outcome of the referendum, which requires approval by 60% of those voting for passage.
That is due to a contingency clause "that makes the agreement null and void if the vote fails," Klamfoth noted. "This is out of respect to the landowners. We don't want any details that might have been worked out with us to negatively impact their ability to sell their property at whatever price they might want to, should it go back on the market."
If voters approve the referendum, the Board of Education will take formal action to finalize the purchases. Property taxes will be used to repay the general obligation bonds; no increase is expected for property owners. The new voter-approved levy of $2.70 per $1,000 of taxable value would replace an expiring one, maintaining the existing tax rate.
Funds would also be used to make key facility improvements to Shell Rock Elementary and Waverly-Shell Rock High School.
Each new school would have a total estimated cost of $15.1 million-$17.1 million, including the land purchase prices. Shell Rock Elementary renovations would cost $5.4 million-$6.1 million. High school improvements would cost $4.7 million-$9.4 million.
Total expenses for the projects are estimated at $35.6 million-$40.3 million. Additional funding would come from bonding against the district's 1% sales tax revenues.