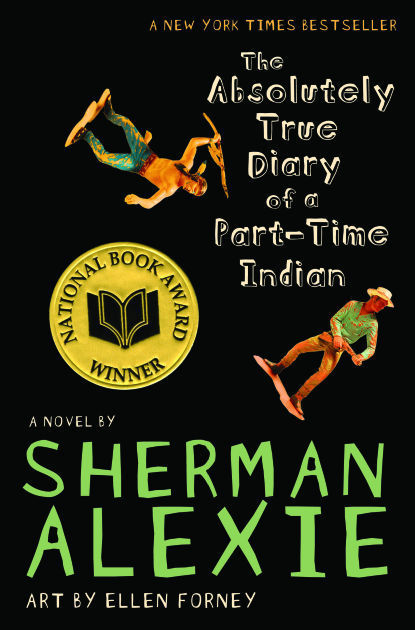 WATERLOO | In response to a parent complaint, Waterloo Schools officials have pulled the novel "The Absolutely True Diary of a Part-Time Indian" from all middle school classrooms.
A small group of teachers has protested the decision in a chain of internal emails obtained by The Courier.
The debate over whether the book should be pulled from classrooms has been eclipsed by questions of whether the decision was made in violation of district policy.
The district administration maintains the book is "inarguably inappropriate" for middle schoolers and therefore does not require a review process.
Some teachers disagree, arguing district policy calls for a review of the book before a decision can be made.
Controversy is nothing new for "The Absolutely True Diary of a Part-Time Indian" by Sherman Alexie.
The 2007 young-adult novel has attracted criticism from some parents for its use of profanity and references to masturbation. It is for these reasons, according to Superintendent Jane Lindaman, the book was pulled from middle school classrooms districtwide.
The critically acclaimed novel has won several awards, including the National Book Award. It is a New York Times Bestseller and is ranked on the "Best Books for Young Adults" list as one of the top 10 books for teens.
In it, Alexie confronts issues of race, poverty and sexuality through the autobiographical story of a Native American boy growing up in the harsh realities of a reservation.
It has been banned in dozens of schools across the U.S.
The book's removal
The first email came March 13.
The sender was Debbie Lee, the Waterloo School District's executive director of K-12 curriculum. She could not be reached for comment on this article.
Lee's message was received by almost 60 teachers, staff members and administrators.
"I am requiring all copies of the novel, 'The Absolutely True Diary of a Part-Time Indian', be removed from our classroom booksets," Lee wrote. "This book is not appropriate for use as an instructional tool in our middle school classrooms."
District officials later clarified the book also was pulled because "it was not recommended for use with students under 14," "was being used without explanation of 'why it is considered pertinent' as per district policy," and "parents were not notified that a text containing sexual references and profanity was used with their children."
Lee said students needed to be protected from the content of the novel and the ban was limited in its scope.
"The idea of censorship was raised and this is not censorship," Lee wrote in a later email. "The book remains in the library for check-out at the middle-school level. It remains as a choice for our high school teachers to use instructionally. The book is developmentally appropriate at the high school level. It's not developmentally appropriate for the students in middle school."
A more stringent review of curriculum material will be introduced next year, wrote Lee, who left the teachers with a few things to consider when selecting novels for their classes.
"If you ask yourself if maybe a text might be controversial, then it probably is," Lee wrote, "so don't use it."
The reaction
Kevin Roberts is a literacy teacher at George Washington Carver Academy, a middle school in Waterloo. He was leaving school for spring break when he got the email.
Roberts had recently wrapped up a unit about "The Absolutely True Diary of a Part-Time Indian" in his eighth-grade advanced literacy class. He knew how much his 13- to 14-year-old students had related to the novel's depiction of adolescence and struggle against adversity. He said some students told him it was the only book they had ever read they actually liked.
On March 25, Roberts replied to Lee and all the other teachers and administrators included in the email thread.
"As one who has used this book in the classroom, navigated the references to masturbation and profanity and fostered rigorous dialogue about theme and action in our community, I disagree with the blanket censorship of this book," Roberts wrote.
Deciding what books to use in class based on whether they were "controversial" was problematic in Roberts' eyes, but what troubled him most was how the Alexie novel was removed, and by whom.
"Allowing one person to deem a book inappropriate and require all copies of that book to be returned is a breach of those guidelines," Roberts wrote in reference to district policy. "More importantly, the choice to put this decision in the hands of one person reflects poorly on our district's teacher professionals who deserve a voice in this process."
Roberts' concerns about district policy were echoed by at least four other teachers and staff members over the last few weeks in the email thread, all of whom have asked not to be identified in this story.
The policy
In choosing curriculum, the Waterloo School District uses a series of policies provided by the National School Boards Association.
Chapter 603.6-R1 lays out the procedure for what to do when members of the public object to a piece of curriculum material.
The policy calls for the creation of a Challenged Materials Review Committee, a group of five or six members "representing parents, community members, media specialist(s), administrators and/or teachers."
The review committee would read, examine and discuss Alexie's novel, then write a report on their decision.
But a review committee was never formed.
The decision to pull the book, as district communication specialist Tara Thomas later confirmed, was made by Lee in consultation with Lindaman.
In her original email, Lee wrote "the issue has been taken care of with great care and understanding by all parties involved."
"I ask if, as a district, we value discourse and the inclusion of professionals in the censoring process," he wrote. "I cannot support the guidelines for text selection laid out in Dr. Lee's original email as they have a chilling effect on discourse and growth in the classroom as well as belittle the role of teachers as responsible decision makers."
Roberts' email exchange with Lee has circulated among the literacy education community at the University of Northern Iowa, where it has generated discussion.
"I think this situation deserves a cold, hard look," said UNI English education professor Jeff Copeland, who forwarded the emails to Sherman Alexie, the author. He is awaiting reply.
"If people in Ms. Lee's position can decide for themselves what is appropriate and not appropriate in the classroom, without involving at least a 'book reconsideration committee' ... where does something like that stop?" Copeland said in an email.
Policy questions
Lee responded to Roberts on March 30.
She welcomed the dialogue, but said she believed she was acting within her authority to remove the book from middle school "booksets."
Lee clarified a parent had "raised a reasonable concern" about the use of Alexie's novel in a class at Hoover Middle School, which was in the middle of a unit on the book when it was pulled from classrooms.
The concern of the parent, Lee explained, did not constitute a "challenge," so there was no need for the creation of a review committee.
Roberts responded the next day.
"Saying this book was not challenged, and therefore the district policy requiring a review process is not necessary goes against the spirit of the district policy," he wrote.
The district has since revised its position.
The complaint from the parent was not a "formal challenge," according to Lindaman, and therefore did not warrant review.
In the event of a complaint about teaching material, policy 603.6-R1 states a district administrator should invite the individual to submit the complaint on a special form.
Once the form is filled out, it is supposed to be passed on to the curriculum coordinator -- in this case Lee — who will then create the review committee.
But the parent who complained about Alexie's novel never filled out the form. 
According to Lindaman, the district agreed with the complaining parent.
"The text was inarguably inappropriate for such young minds," she said. "Since we agreed with the parents, there was no need to file a request to remove the book."
For Roberts this response raised more questions. Why did the agreement of a few administrators lead to book being removed from all district classrooms? How could it be said "the text was inarguably inappropriate" when he and other teachers are arguing the book is appropriate?
"I still think this book deserves debate and discussion," he said after hearing Lindaman's response.
Roberts and other teachers are willing to have a conversation with parents and administrators about whether Alexie's novel is appropriate. But the way Roberts sees it, the district is ending that conversation before it can even begin.
"The only way to decide this is dialogue," Roberts said, "and not just one person."
Roberts has asked a committee be formed to review the book. That committee could serve as a model for future decisions in similar situations.
According to a statement from Lindaman, the district plans to "review regulation (pertaining to challenged material) 603.6-R1, adding language where needed to enhance clarity on the process for approving materials containing sexual references and profanity (i.e. who is involved, forms needing to be submitted)."