WATERLOO — One of the most anticipated aspects of Stacey Snyder's recent trip to Antarctica for her students was whether or not she would jump into the Southern Ocean.
The expanded learning program teacher at Orange and Lowell elementary schools did take the aptly-named polar plunge, dressed in a penguin outfit. It's something all 150 travelers on the ship National Geographic Explorer were invited to do during their Nov. 27-Dec. 10 Lindblad Expeditions trip on and around the frozen continent.
People stood ready to pull each jumper out after they hit the water and get them to a warm, dry place. Photographers were also prepared, getting pictures from multiple angles to prove the feat.
"The kids bought into it ahead of time," Snyder said last week, back in her Orange classroom. They weighed in on a poll about what she would do and some participated in a survey asking if they would jump into the water given the chance. They also used degrees of latitude to figure out how far she traveled, which turned out to be 7,383 miles.
Snyder was there after being selected for one of 45 Grosvenor Teacher Fellowships, which include travel to one of about 10 destinations. She had to list three locations as part of the application and got her top choice. Before getting the fellowship, "Antarctica was never a place I thought I would go."
She was nominated by Alex Oberle, professor of geography at the University of Northern Iowa, after working with him to write a grant that allowed teachers to take ecology tours to sites around the state. "Our commitment is to offer presentations in our local community and create a lesson for National Geographic Education," said Snyder.
She flew out of Cedar Rapids Nov. 27 to Buenos Aries, Argentina, via Dallas. Their ship left from Ushuaia on the island of Tierra del Fuego at the southern tip of the country.
"It takes two days to get through what they call the Drake Passage," said Snyder, between the southern tip of South America and Antarctica's northern peninsula. Once beyond that point, the travelers had six days to explore the beautiful, stark landscapes of the islands and mainland along the peninsula.
"It was hard to say goodbye. It was just so different," she noted.
They would get from the ship to land via small motorized boats called zodiacs that fit eight to 12 people. Their first stops on land were some of the South Shetland Islands, Half Moon and Barrientos. They also went sea kayaking one day.
Snyder saw icebergs, a large pyroclastic rock formed from volcanic material, 2:30 a.m. sunrises and lots of animal species. The most plentiful were nesting penguins, including about 200,000 Adelie penguins on the Paulet Islands.
"We saw nesting rookeries every place we went, but that was the largest," she said.
"I did see four species of penguins, four species of seal, three whales and then a variety of other birds besides penguins," said Snyder. Some of those included wandering albatross, petrel and scua.
"I was fortunate to see a blue whale," she said, which is believed to be the largest animal ever to exist. The mammal played alongside the ship for a half hour. The type of albatross she saw has the "longest wingspan of any living bird, typically eight to 11 feet."
Also under the category of "large" was the 86-mile-long by 25-mile-wide iceberg that rose 100 feet out of the ocean and an estimated four to five times that height under water.
"It fell off the continent two years ago," said Snyder. With her students, "that's one of the things I want to do is deal with scale," whether involving animals or icebergs.
Among the other wonders, "we were able to see Emperor penguins floating on icebergs 26 miles from their nesting grounds," she noted. The naturalists on board said it wasn't particularly common to see the birds. "It was an amazing expedition even for those guys."
Being in a polar region didn't mean the travelers were bundled up for winter weather, though.
"There were days we were hiking I took my jacket off," said Snyder. "In the right season, visiting Antarctica is not as cold as some people would think."
Since they were traveling in the southern hemisphere and despite the snow, it was a different season there than in Iowa.
"It's their late spring, early summer," she noted. "It was between 25 and 41 degrees." As it turned out, that was warmer than the 16 degrees Snyder experienced when landing back in Cedar Rapids.
That Antarctica spring weather was one of the reasons jumping into the ocean wasn't as bad as it could have been for the teacher. "They told us it was 29 degrees" in the water, she said. The air temperature was 31 degrees that day.
While there, Snyder took a lot of pictures with the help of some shipmates. In a partnership with Iowa State University's Forward Learning Experience program, she brought along five 360 degree cameras.
"My task was to take as many 360 (degree) photos as I could," she said. This spring, Snyder and her students will undertake a project that will allow people to view the pictures using virtual reality goggles.
Stacey Snyder's trip to Antarctica
Antarctica trip blue whale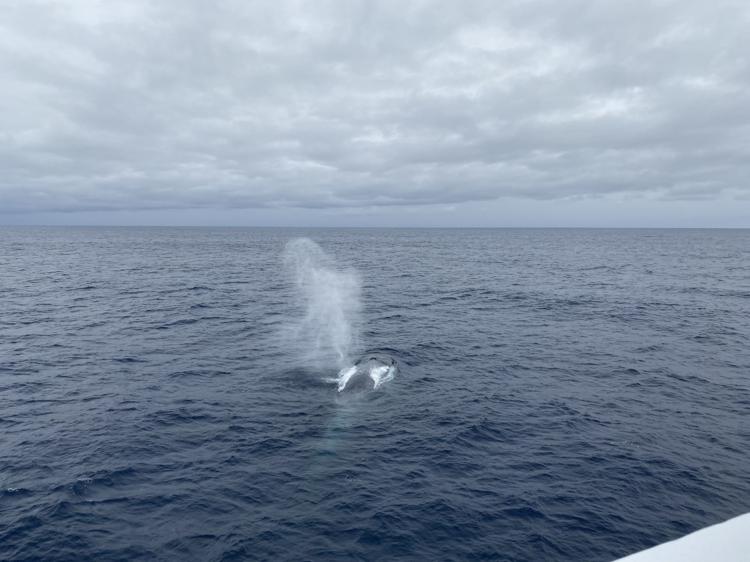 Antarctica trip penguins on belly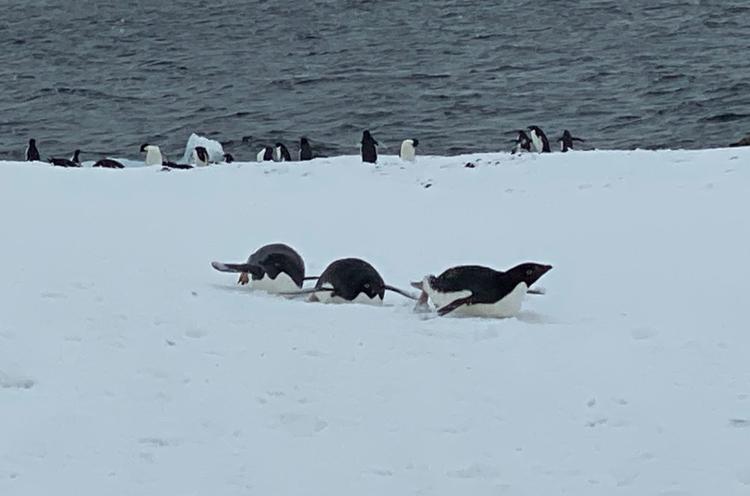 Antarctica trip leopard seal
Stacey Snyder Antarctica iceberg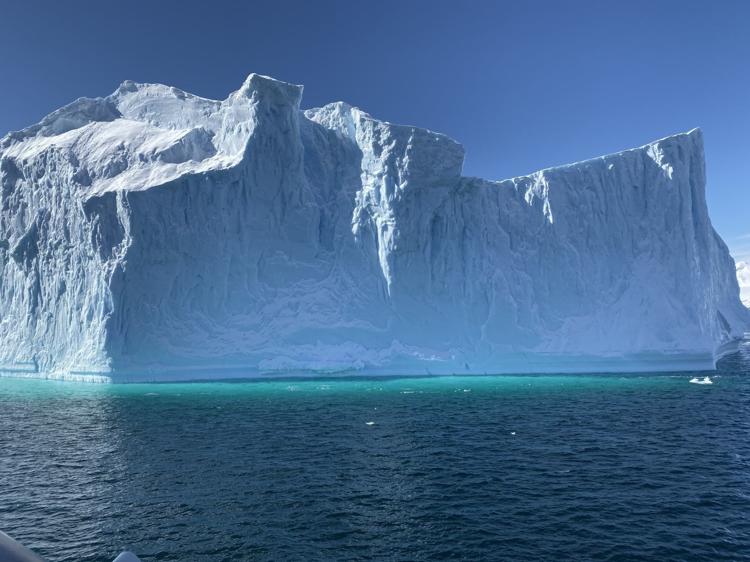 Antarctica humpback whale fluke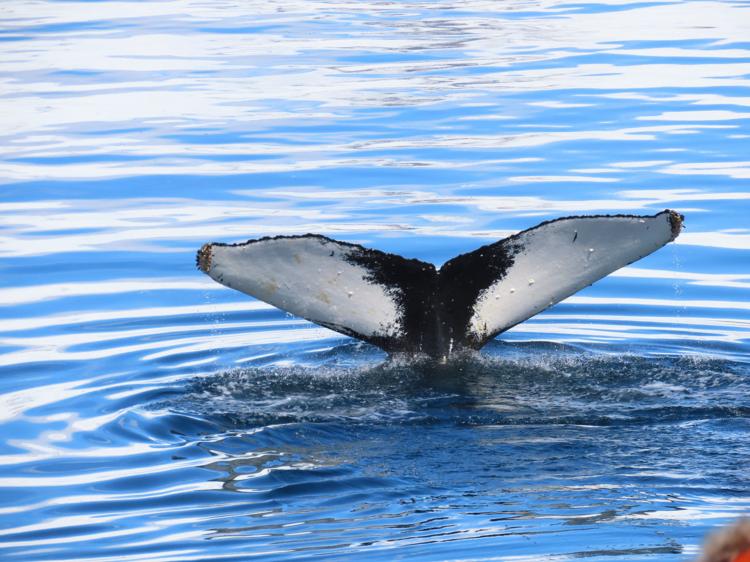 Antarctica Gentoo penguins on nest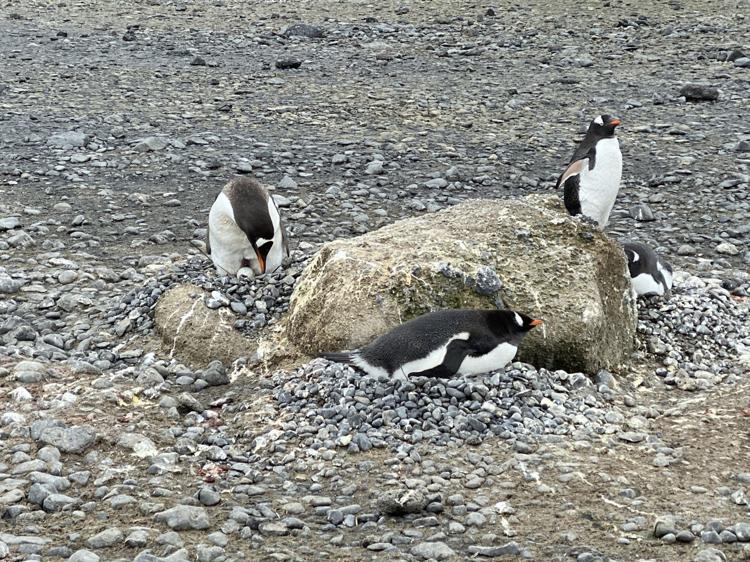 Antarctica penguins on iceberg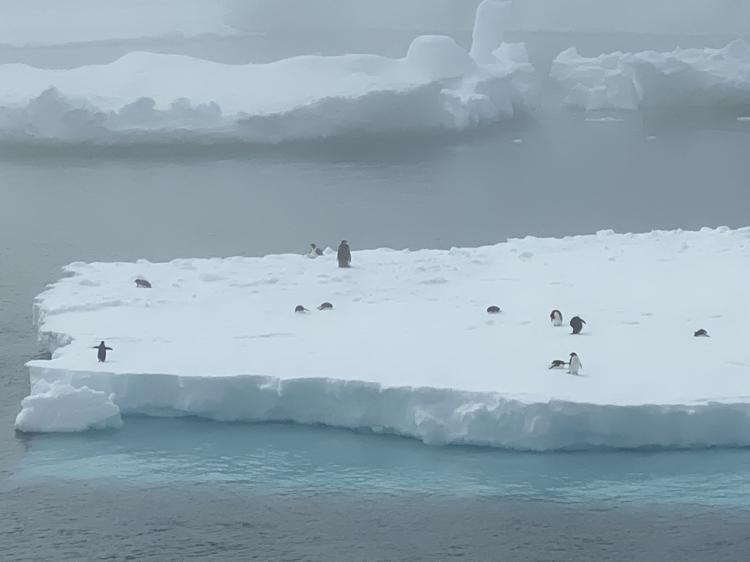 Antarctica zodiac passengers
Antarctica Wandering Albatross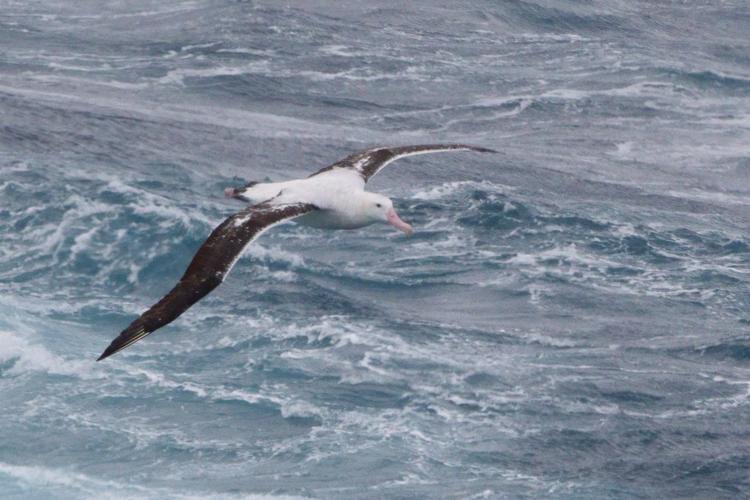 Antarctica Stacey Snyder pyroclastic rock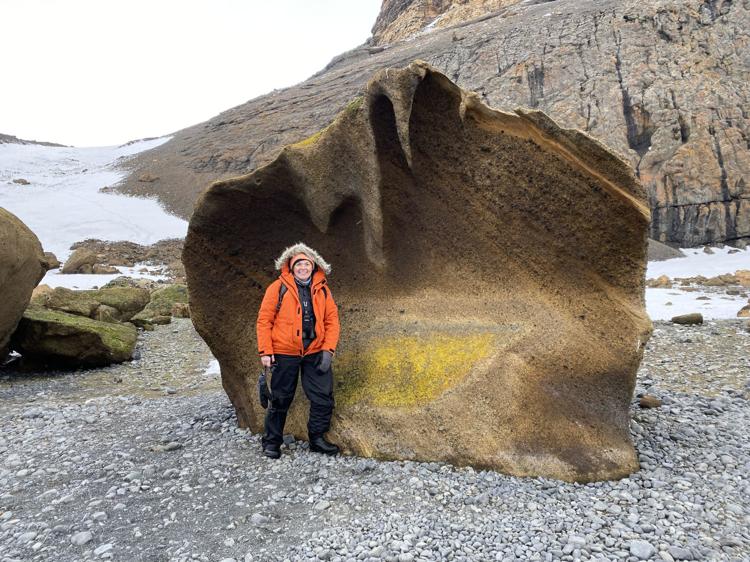 Antarctica penguin rookery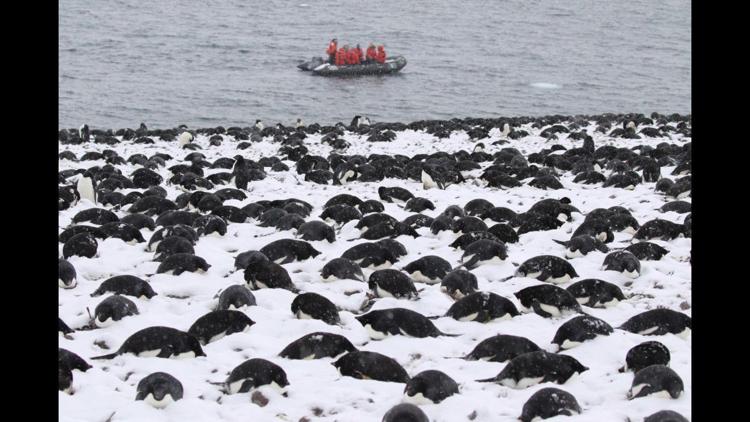 Antarctica-polar-plunge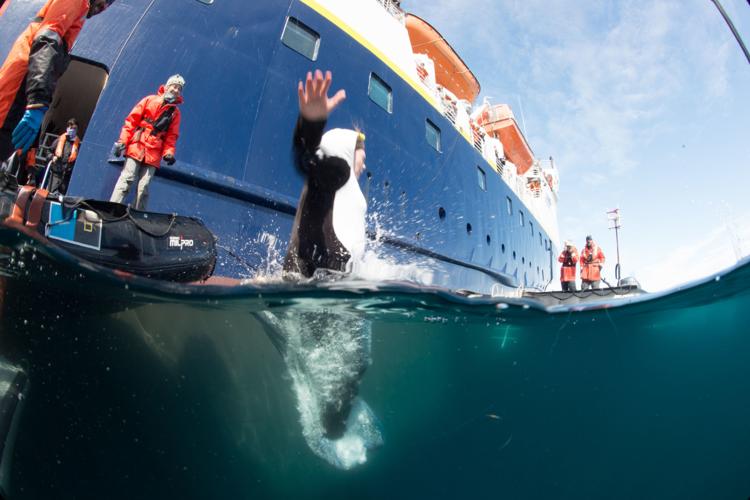 Antarctica orca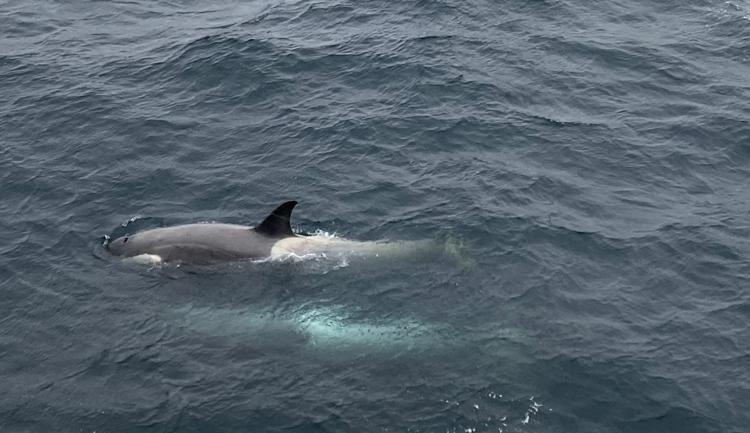 antartica-2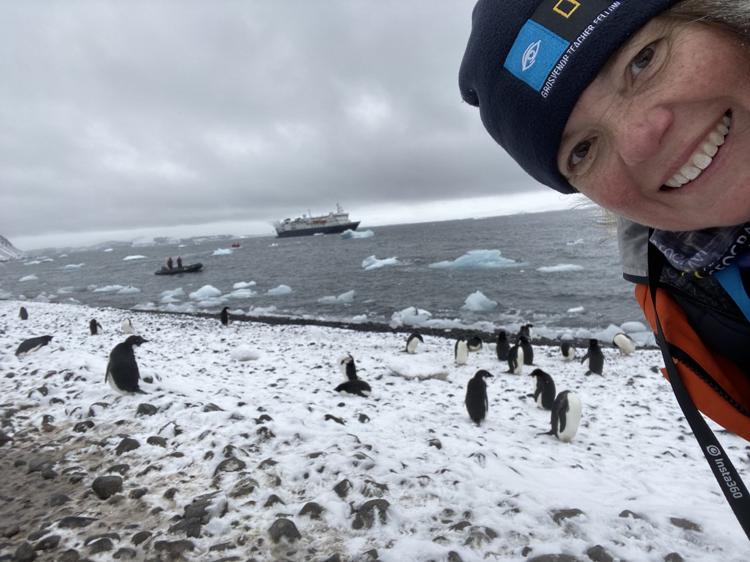 Anctarctica leopard seal on iceberg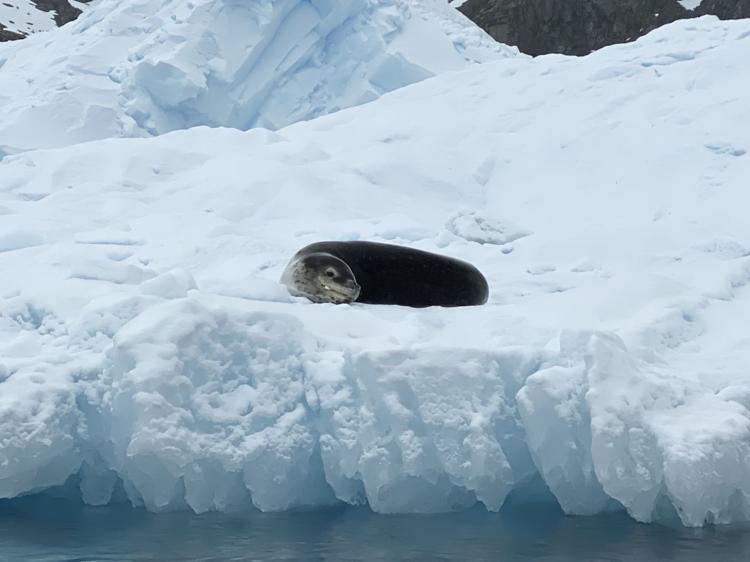 Antarctica blue whale video
Orcas swimming in the ocean near Antarctica video
Be the first to know
Get local news delivered to your inbox!