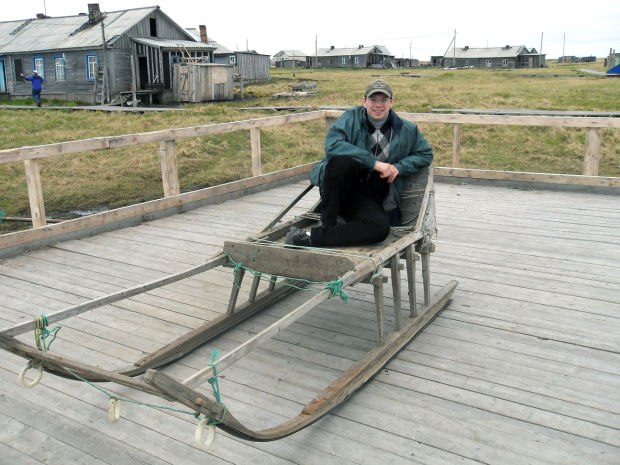 CEDAR FALLS | It's Andrey Petrov's dream to make the University of Northern Iowa a nerve center for international Arctic research.
The assistant professor of geography at UNI won a $749,875 federal grant, called Arctic-FROST, from the National Science Foundation this year with the hope of one day transforming his research lab into a center for international scholars to study the changing Arctic frontier.
"It was one of my long-term career goals to do some kind of project like this," said the Russian native.
UNI's department of geography ACRES Lab would house the project for the next five years, generating research on the regional, cultural, economic and environmental sustainability factors affecting the frozen north.
"In Iowa, there's nothing that separates us from the Arctic," Petrov said, explaining that there is little topography protecting mid-Atlantic states from Arctic weather systems. "The same air you breathe there, we breathe here."
The expert on social and economic systems in the polar region said Arctic indigenous peoples and rural Iowans share similar challenges, like a declining youth population and limited infrastructure, labor markets and transportation.
Both Iowans and Arctic natives are learning to foster economic development in these communities without damaging the environment, he said.
"We need to have a balance of development versus conservation."
Petrov said he hopes to expand his research lab and offer UNI's undergraduate student population more research opportunities. UNI and indigenous students living in the Arctic would be encouraged to collaborate on projects and interact with visiting scholars as part of Petrov's mission to "(build) the next generation of sustainability scientists in the Arctic."
Jonathon Launspach, an Iowa City native and recent UNI graduate, said he owes his current job as a contractor for the Environmental Protection Agency in Duluth, Minn., to his undergraduate research with Petrov.
"If you go to larger universities, it's pretty hard because most of the time you'll be competing with masters students where you won't get that opportunity to do that research with a professor," he said.
Launspach worked alongside Petrov tracking tundra fires using NASA satellites during his senior year, mapping data which Launspach presented at national conferences and in Iceland, Russia and Canada.
"Petrov was a great mentor. ... If you came to him with a question, he'd fire one right back at you," he said.
Petrov and Launspach uncovered that wildfires have been sweeping through the Arctic tundra at a higher rate recently. These fires release carbon and methane gas stored in the soil, which contributes to global warming.
"Carbon that's been stored in the soil for 50 years is released in one month," Petrov said. The two have co-authored a paper from the project that is currently undergoing peer-review.
Petrov also has been in contact with Iowa Sen. Tom Harkin's office on issues of climate change.
Harkin was scheduled to speak at an international Arctic conference in Iceland earlier this month, but cancelled his appearance because of the partial government shutdown.
Petrov's work on Arcitc-FROST project was stalled during the shutdown since federal websites like NASA were out of order. But since Congress reached a deal to reopen government Thursday, Petrov can finally access his grant funding information and kick Artic-FROST into gear.
Correction added (10/22): The original story stated Dr. Petrov did not teach for the geography department. It also omitted the type of work his student does for the EPA. Those changes have been made in the story.