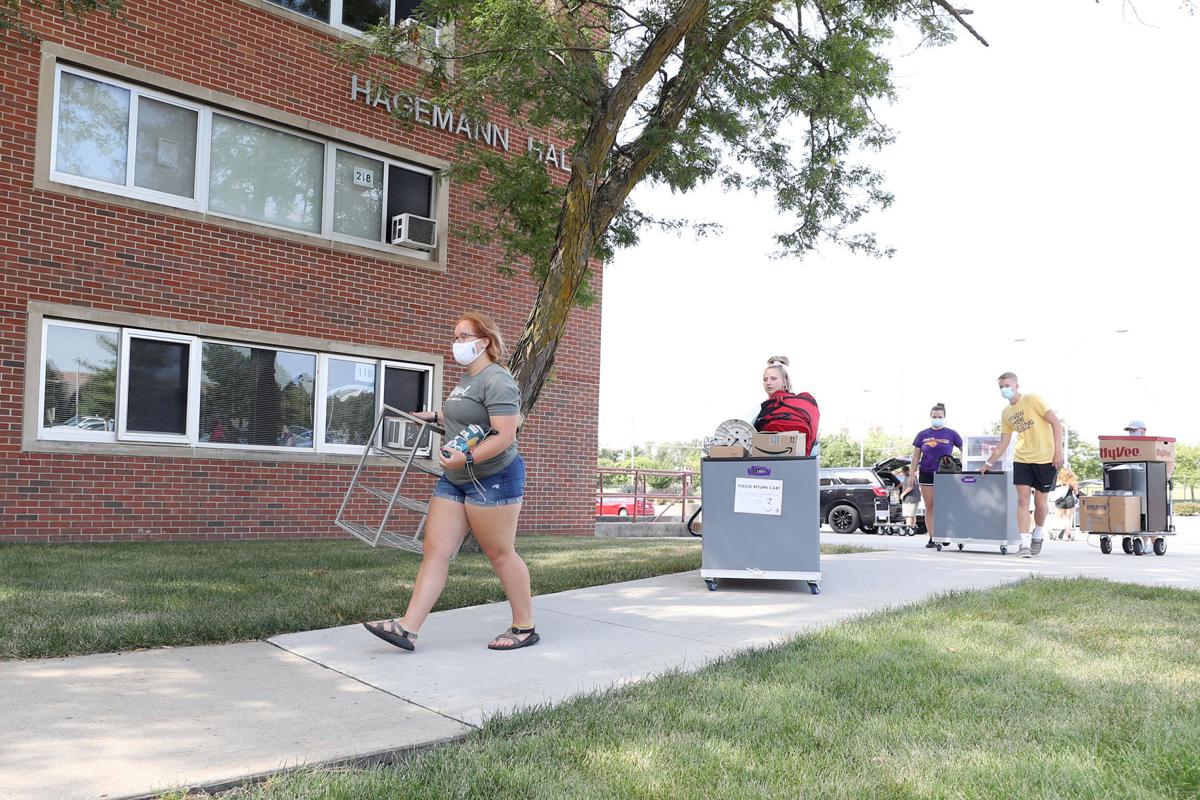 RAYMOND — Carrie Denton has two children in college in Iowa. One is living at home for her final semester at the University of Northern Iowa; the other is on campus at Grandview University in Des Moines.
So Denton is well aware of how COVID-19 has been spreading across campuses since students returned in recent weeks.
Denton's daughter, Riley, is at home in Raymond. She had been living in Cedar Falls until May, when her lease ended.
Denton said the family has had "several conversations" about COVID-19 and the possibility she could expose her family to it.
Riley works at grocery store and "sees the public quite a bit," her mother said. "She also has friends and other people that she's out seeing. … That was a risk that we had to take allowing her to come back into the house."
Still, Denton said her daughter "has always been pretty responsible about making sure her circle is pretty tight and not taking too many risks."
Denton's son at Grandview just tested positive for COVID-19, but is asymptomatic, she said.
"He's not coming home," she said.
Colleges across Iowa are dealing with the pandemic. New cases have been spiking in Iowa — making it one of the nation's hot spots — and that increase is being driven by infections in Iowans ages 19 to 24. College students, in other words.
So serious was the spike in cases Gov. Kim Reynolds ordered bars closed in six Iowa counties, including three that host regents universities — the University of Iowa in Iowa City, Iowa State University in Ames, and the University of Northern Iowa in Cedar Falls.
From requiring face masks to keeping students a safe distance apart inside classrooms, the schools have implemented many methods to keep students and staff safe.
"We are pleased that students are wearing face coverings in the classroom, and are seeking testing when they feel they may have symptoms," Iowa State spokeswoman Angela Hunt said in an email exchange. "... We're making adjustments as circumstances warrant, and we'll continue to do so until the pandemic ends."
Northern Iowa
At the University of Northern Iowa, face coverings are required in all campus buildings. That includes areas such as elevators, restrooms and hallways. There are exceptions for dorm rooms and private offices or while eating.
Face coverings are also required in outdoor settings when 6 feet or more of social distancing can't be maintained. Cloth masks are preferred, but UNI is making face shields available for those with medical conditions or other unique situations. Complimentary face coverings are available at the UNI Bookstore by showing a university identification card.
Students and staff are asked to complete a daily health check of temperature and COVID-19 symptoms online. Those who have symptoms or believe they've been exposed are asked to stay home and call UNI's student health clinic for a phone assessment. They are also asked to notify their residence hall office if they live on campus.
Students are directed to the clinic for testing and contact tracing if needed and kept separate from other patients. Contact tracers work with students who test positive to track down others who may have been exposed.
Students are asked to quarantine for 14 days if they might have been exposed. Students are asked to self-isolate for a 10-day period from when symptoms appeared if they are diagnosed with COVID-19. Those who do either submit an online notification so professors know the reason for their absence.
Students can isolate in their house, dorm room or apartment. If they have been diagnosed with the disease, UNI advises them to stay in a separate "sick room" and use a separate bathroom if available.
UNI announced last week that its fall semester commencement, usually held in December, will be moved up to Nov. 28 and be a virtual event. That follows an earlier-than-usual ending to the semester before Thanksgiving. With the football season postponed, UNI also announced homecoming will be moved to the spring, although some virtual events are still planned for this fall.
Many off-campus educational opportunities are continuing as planned aside from study abroad, which has been postponed through January.
As of Friday, the student clinic had reported 105 cases out of 405 tests administered since Aug. 17, the first day of classes. That included 35 positive tests the past week, according to the university's online COVID-19 dashboard. As of Thursday, UNI's department of residence listed 91 students in quarantine and 32 students in isolation.
University of Iowa
The University of Iowa requires face coverings during in-person classes and, unless posted otherwise, in all university buildings, according to the school's COVID-19 website. Anyone alone in a private office or their residence hall room does not a face covering.
Face coverings are also recommended outside if social distancing cannot be maintained.
The campus also has been advised to practice other standards of coronavirus safety, maintaining 6 feet of social distancing whenever possible and frequent hand washing for at least 20 seconds.
Students who test positive or who are notified that they may have been exposed can notify the university online. Students who test positive should self-isolate, assist with contact tracing and inform people with whom they may have had close contact.
If contact tracing identifies them as at risk, students are supposed to quarantine and watch for symptoms. If they live in residence halls, the university has housing set aside for quarantine.
If they don't live on campus, these students are advised to follow U.S. Centers for Disease Control and Prevention guidelines for isolation and quarantine.
Students are expected to abide by the COVID-19 safety guidelines off campus as well, said Sarah Hansen, vice president for student life. Doing things like gathering in large groups or not wearing face coverings when recommended can lead to restriction of activities, disciplinary probation or suspension.
Reynolds' order to close bars has helped.
"That's a pretty important factor for us," Hansen said.
The university has an online tracker that lists self-reported cases. As of Friday, there had been 1,395 confirmed cases among students this semester, 97 residential students with COVID-19 isolating on campus, and 15 residential students quarantined after potential exposure.
The University of Iowa has a total enrollment of roughly 30,000 students, and roughly 5,100 live on campus, according Hansen.
Iowa State
At Iowa State University, cloth face coverings are required indoors in all university buildings. They are also required outdoors when people are in the presence of others.
The school is offering online and hybrid classes. Roughly half the usual number of students are coming to campus for class, Hunt said.
Iowa State has reduced classroom capacity to 50% or less to allow for more space between students, and is providing remote work options for staff when possible.
Dining areas have reduced seating capacity and implemented traffic flow measures to create social distancing, and have expanded takeout options and locations.
Campus buildings and offices also have implemented traffic flow measures and limited room capacities.
Any Iowa State student, faculty or staff member who tests positive for COVID-19 must isolate for 10 days. Students in residence halls have the option to move to an isolation room or complete their quarantine at home. Students living off-campus or in on-campus apartments must isolate in place.
The school also requires on- and off-campus gatherings of students to comply with all public health orders, and students must wear face coverings and maintain social distancing.
Iowa State's Thielen Student Health Center provides testing for students, faculty and staff with symptoms or who were potentially exposed. The school plans to open a second testing site next week at Hilton Coliseum.
Hunt said Iowa State officials feel their strategies have been effective because the school has a "small number" of cases among faculty and staff. She also praised Reynolds' order to close bars and the city of Ames' passage of a face covering mandate.
Iowa county and city governments can pass face mask mandates, but cannot include enforcement mechanisms.
According to Iowa State's online tracker, since Aug. 1, 839 students have tested positive — 655 confirmed through on-campus testing and 184 self-reported, as have 10 faculty members. In the last week, 502 of those student cases were confirmed.
Your experiences
The Courier wants to hear about the experiences — positive or negative — students are having on college campuses this fall. If you are a student or a parent with a child attending college in Iowa and have a relevant experience to share, please contact The Courier.
Concerned about COVID-19?
Sign up now to get the most recent coronavirus headlines and other important local and national news sent to your email inbox daily.