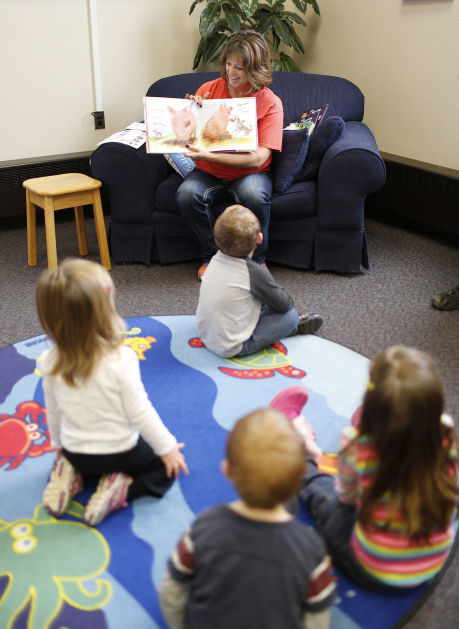 WATERLOO — Summer doesn't have to mean children take a break from learning.
That's the idea behind Cedar Valley Reads, a new partnership in Waterloo and Cedar Falls that involves libraries, festivals, sports teams, and other organizations hosting free reading and book giveaway events. The first one is Thursday and they will continue at least once a week into August.
Cedar Valley Readers, part of the national Campaign for Grade-Level Reading, is the impetus behind the new initiative and Waterloo Community Schools is lead partner. The learning loss experienced by children during the summer months — often called the "summer slide" — has been identified as a chief cause of falling behind in school, especially for those from low-income families. As little as 20 minutes of daily reading can prevent summer learning loss, according to organizers.
"The research is that if you can keep kids from sliding backwards during the summer you actually can go further during the year," Waterloo Schools Superintendent Jane Lindaman told Board of Education members during a recent meeting. The initiative "really is a community effort and it's the first time we're doing it. So, we really need people to grab your kids and take them to these events."
She suggested that residents talk with people they know at work, church and other organizations to spread the word about the reading events. Organizers are also suggesting parents take pictures at the events and share them on social media platforms such as Facebook and Twitter using the hashtag #cedarvalleyreads.
"Every single week we would hope that parents would take their kids to these events," said Lindaman. "We would hope that every single person sitting here in the audience would look at our elementary kids and if you don't have one you're going to partner with somebody."
Cedar Valley Readers is budgeting an estimated $10,000 in staff time, promotions and book purchases on the initiative, according to coordinator Lekeisha Veasley. The organization will draw on grant funds it previously received as well as in-kind or cash matches from the district, R.J. McElroy Trust, Cedar Valley United Way, Community Foundation of Northeast Iowa and Cedar Valley's Promise.
"They're going to do a really big focus on book giveaways, talking with parents on how to help your kids," said Lindaman. "That is a significant thing and it is a change from anything we've ever done before."