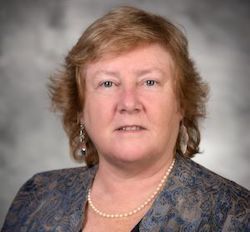 CEDAR FALLS — Kelly Burke liked what she saw at the University of Northern Iowa during the first day of a virtual visit to the campus.
The provost finalist even co-opted UNI's "Forward Together" slogan, used on a website page providing COVID-19 updates, as she summed up her feelings about the university's direction during a virtual public forum Thursday.
"I think if we move forward together intentionally, UNI has a very bright future," Burke told the online audience in her presentation before taking questions.
She is the second of four candidates who are remotely visiting the campus. Vandana Kohli, the first, finished her interviews Thursday.
Burke has been at the University of North Carolina Greensboro for 31 years, starting as an assistant professor and rising into the administrator ranks. Since 2016, she has been vice provost for academic affairs and dean of the university's Graduate College. She earned her doctorate of musical arts from the University of Michigan in 1989.
Speaking on regional comprehensive universities – like UNI and the one she works at – Burke said they are a model of higher education worth preserving and promoting.
"As we move into the future, what is our destination? I would love to see us be who we are," she said.
"We are resilient and we are successful. We must stay guided by our mission, or we will become something else."
Burke sees a real danger that such universities could lose their way with a "knee jerk reaction" to the problems brought on by the global pandemic, economic recession, racial divides and systemic inequalities.
"We are all facing declining enrollment, the demographic cliff," she said. In Iowa, Burke cited statistics and projections forecasting a loss of more than 15% in population between 2012 and 2029.
She praised a focus on justice in UNI's diversity, inclusion and equity initiative and pointed to expected growth in the university's minority student enrollment over the coming years. She noted that the pandemic laid bare the inequities some students face as universities often needed to provide technology to keep students connected remotely.
"The socio-economic divide is a real one," said Burke. "Our job is to step up."
An antipathy for higher education and its rising cost along with the growth of student debt are among the challenges comprehensive universities are facing. She said it is important to get legislators on board with the value of what they offer.
"It's to their benefit to have an educated citizenry," she said. In countering declining state support, "you've got to find ways to backfill and you've got to have the conversations continuously" with legislators.
She said universities should learn from the new approaches they needed to use during COVID-19 restrictions, especially when it comes to being more inclusive.
"If you have some things that are working well, don't abandon them," said Burke. Other pieces are better face-to-face and should return to that, even if they're more expensive.
"Double down on what you do best," she said, including a focus on undergraduate education and success. "Stay with your mission. It's a great mission."