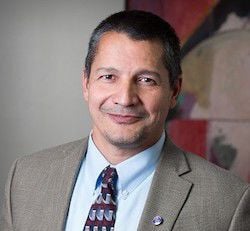 CEDAR FALLS — Jose Herrera believes the future is secure for regional comprehensive universities.
Such institutions – including the University of Northern Iowa – are the "engines of the economy" as they train people for a wide range of careers, he told a virtual public forum Monday. "But there are some very significant challenges on the horizon."
The provost finalist talked about those challenges and answered questions from the audience on the first day of an online visit to UNI. He is the third of four candidates going through the process. Vandana Kohli and Kelly Burke were interviewed last week.
Herrera is provost and vice president for academic affairs at the private Mercy College, with metropolitan New York campuses in Dobbs Ferry, Bronx and Mid-town Manhattan. He has been there since 2017.
Previously, he spent three years as a professor and administrator at Western New Mexico University in Silver City and 15 years as a professor at Truman State University in Kirksville, Mo. He earned his doctorate in biological sciences from Kansas State University in 1996.
Herrera said demographic projections suggest the growth in comprehensive regional universities' enrollment nationwide since at least 1955 will even out "in the next 20 to 30 years." A growth in "the dollar values that families have been paying for tuition" since 1973 plays a role, as well. He noted there is now a "cavernous gap" between median income and tuition costs that once wasn't there.
The native of Chicago said when he went to Northern Illinois University, a regional comprehensive in DeKalb, Ill., his cost for spring semester 1984 was $918.84. "I was not only paying for tuition with that $918, I was paying for room and board," he noted. That cost reflected a scholarship and Pell Grant as well as serving as a resident assistant in a dormitory.
But because college costs then were so much closer to the median income level, it "allowed me to take some academic risks" – including English and music classes that weren't necessary for a biology major. He said "there's an increasing trend" to disaggregate the college experience because costs are so much higher now and universities often need to quickly adapt to the wants of students and families.
"In some cases, the students are saying I can't afford to live on campus," said Herrera, so they commute. Students may also request online courses, for example – something that could increase in the future because nearly all are now familiar with virtual learning. He said about half of students are "asking what can an institution do for my career" once they've completed their education.
In response to questions, Herrera said he values transparency, collaborative decision-making and ensuring people understand why certain decisions – even those they don't agree with – are made. "It builds trust within the team," he noted.
As far as an effort to redesign general education requirements at UNI, Herrera advised making them relevant by weaving in the "needs and wants" of students so they understand the necessity of the courses. He also said greater outreach to Hawkeye Community College students in Waterloo may be helpful in encouraging them to move on to UNI after finishing an associate's degree. Coordinating with Hawkeye on general education requirements could make the transition easier.