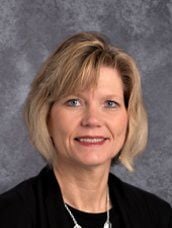 WATERLOO — Families are already open enrolling their children out of Waterloo Community Schools after Gov. Kim Reynolds signed a bill into law earlier this month banning its voluntary diversity plan.
"We are monitoring closely the impact of the diversity bill," Waterloo Superintendent Jane Lindaman told the Board of Education on Monday.
She noted, "At this point in time, we've had 70 applicants" requesting to open enroll out of the district for next fall since May 10, when the bill was signed. "I will tell you that they are overwhelmingly white."
White students account for 91% of applicants, Lindaman said. Of the others, 5% are Black, 3% are two or more races and 1% are Hispanic. Open enrollment requests "are coming from across the district," she said, but the highest concentrations are from Orange Elementary, Hoover and Central middle schools, and West High School.
"I don't know where it will land, but it will be significant," she added, of the students leaving the district.
When students open enroll out of a school district, the state per pupil funding they generate follows them. A fiscal note from the Legislative Services Agency estimated a $554,175 decrease in state per pupil funds for Waterloo Schools under the bill, which would equate to 75 new open enrollments out of the district for classes starting in the fall. Another 57 students leaving at a cost of $431,832 under the new open enrollment option was estimated for the 2022-23 school year.
Waterloo Schools is one of five districts impacted by the legislation. Others include the Des Moines, Davenport, West Liberty and Postville school districts.
Waterloo's plan balanced the number of students from low-income and higher income families transferring in and out of the district annually. For the current school year, officials said there are 306 students open enrolled out of Waterloo Schools. The deadline to apply for open enrollment is March 1, but that was waived this year for the affected districts since the law was passed well after that date.
Initially for next year, Lindaman said the district had another 69 open enrollment out requests, 35 of which were granted. The other 34 students were put on a waiting list because there wasn't someone of the same socio-economic status coming into the district. Additionally, five from other districts were on the waiting list to get in.
"So, those 34 are gone plus others" who made up the rest of the 70, Lindaman told the board. Officials didn't answer a question about which districts those students are enrolling in. They did say seven of the students who are leaving have an individual education program, which is developed for those with a disability.
Of the five students open enrolling into Waterloo Schools, four are coming from Cedar Falls Community Schools and one is coming from Union Community Schools.
Lindaman noted that school districts annually are required to certify whether or not they have space available for open enrollments in. "What a district cannot do is (say), 'I'll take students one, three, and six but not two, four, and seven.'"
With the original deadline to request open enrollment waived this year for the affected districts, she said the legislation did not set a new one. However, "there's got to be a deadline somewhere. You don't want students open enrolling out in December."
Lindaman is asking the state to set that date.
"I wrote a formal request to the governor's office and the Department of Education," she said, including a suggested deadline. "I felt like June 15 was a fair date."