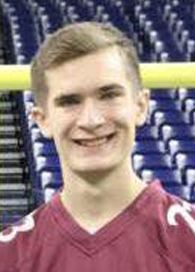 NASHUA — Wartburg College freshman Caleb Lines stood on the football field at Lucas Oil Stadium Saturday night and told himself no matter what happened, his weekend was already complete.
The 2018 Nashua-Plainfield High School graduate was about to compete in the Dr Pepper Tuition Giveaway at halftime of the Big Ten Championship football game, and at stake was $100,000.
The day before, he had thrown 16 footballs into a can in 30 seconds to win a $25,000 scholarship and become one of two finalists, and the winner would receive $100,000 for college tuition.
"It was really fun, but I'm not going to lie, it was really, really nerve-wracking as well," he said. "I mean I told myself, I would have been fine either way, but $100,000 is a lot of money and then, you know, people don't always think this about me, but I'm really competitive, too."
Saturday's setup — Lines and Chicago native Taylor Miller, a pre-med student at Spelman College in Atlanta, would have 30 seconds to throw as many balls into a large Dr Pepper can five yards away — was the same as Friday's when the four semifinalists competed.
Well, almost the same. At stake, of course, was that hefty bump when it came to the scholarship. And, unlike Friday, the stadium was filled with 70,000 fans.
Although the number of balls that landed in the can fell, Lines finished with nine to beat Miller by one and claim the grand prize.
The victory capped a whirlwind weekend for Lines, who hopes to one day get a doctorate degree in biochemistry and help eliminate global food insecurity.
He and his father, Dean, were treated to a three-night stay in Indianapolis.
"When we got there, the Dr Pepper people told us this was going to be a VIP weekend," he said, "and they really made it that. It was so much fun, and to be able to share it with my dad, that was cool, too."
He laughed when asked about competing in the semifinal round.
"That was a little weird," he said, "because the stadium was virtually empty. There were some production people there setting up for the game, but they were doing their jobs. … You don't realize how big those stadiums are until you're on the field and the stands are completely empty."
On Sunday, though, he was back to just being a college student, albeit one coming off a memorable weekend.
"The other competitors were great, and that made it even better," he said, "but right now, I need to study. I've got a little catching up to do."