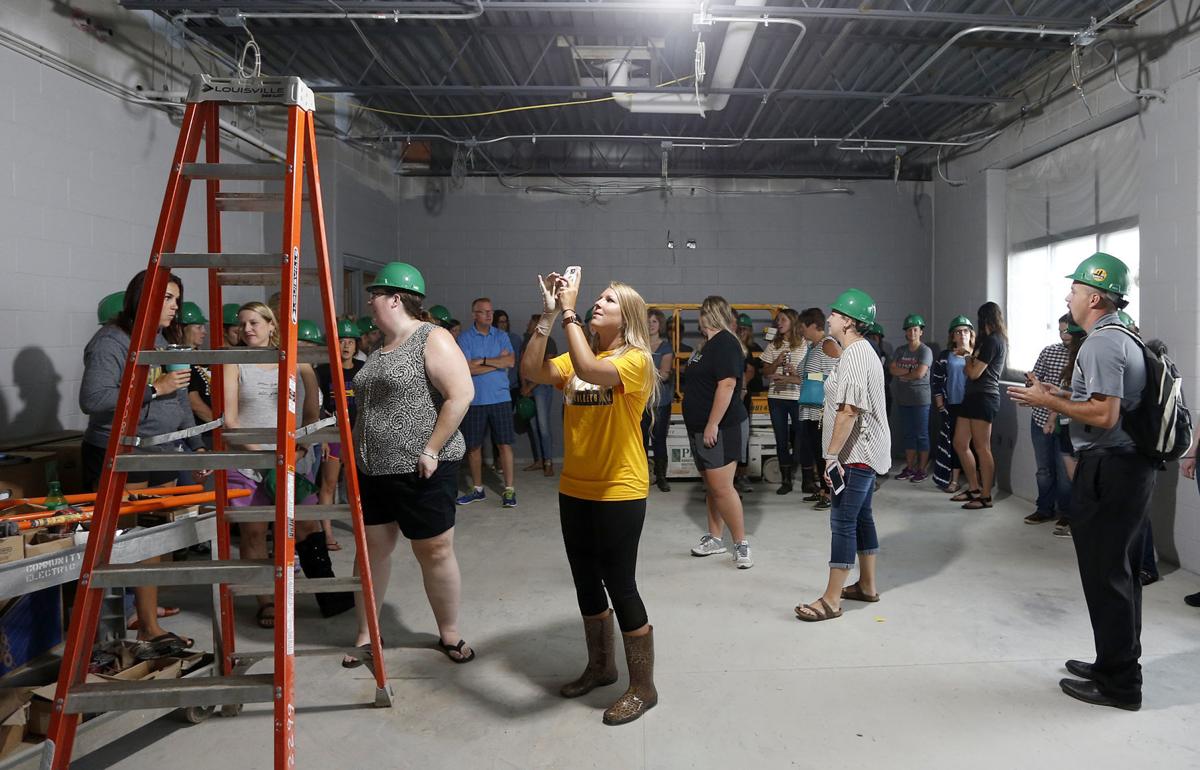 JANESVILLE — Four new elementary classrooms with air conditioning are ready for returning Janesville Consolidated School students.
The cooler air also will be available in the building's 11 other existing elementary and preschool rooms. Individually controlled rooftop heating and cooling units have been installed for each, with work ongoing at the secondary level. Construction continues for new and renovated preschool, middle school, and high school classrooms and other spaces.
District staff Tuesday toured the school with administrators, the architect and project manager Phillip Nieman of Peters Construction Corp. The Waterloo contractor was awarded a $6.45 million construction contract last October. The total cost of the project, including architect fees and non-construction expenses, is expected to be around $8.6 million.
"One of the main things we tried to work on this summer was to get rid of the boiler system and replace it with a number of rooftop units," said Nieman. That effort is complete at the elementary level and workers are finishing the upgrades in the middle school area now.
Standing in an existing elementary room, Nieman pointed to where a wall-mounted heater had been. "If it looks kind of like we didn't do anything, we did a good job," he said.
Until now, air conditioning has been limited at the school. "We probably had four rooms, a library and a cafeteria," said Janesville Superintendent B.J. Meaney. Once all the construction is done early next spring, the building will be air conditioned except for the gymnasiums.
The four new elementary classrooms — two second grade and two third grade — are on the east side of the school. A new restroom also was constructed.
New sidewalks have been installed outside the rooms and the ground will be seeded for grass. Sidewalks have been poured outside other parts of the building with new additions, as well.
Construction is well underway with another portion of the addition. It includes two preschool and three middle school classrooms, separated by a set of double doors.
"For the most part, the windows are in, the aluminum frame doors are in," said Nieman, in that area. He expects to receive orders in the "next few weeks" of insulated metal doors. "We're shooting for completion right around, right after Christmas."
Another part of the addition includes a new gym and band room on the northwest side of the school. Three new high school classrooms and a new locker room would be built south of the gym and adjacent to the existing building. The current band room will be remodeled into a second locker room.
As of Tuesday, the gym area consisted of steel beams rising out of the ground, with workers actively assembling the structure. Work on that area is expected to be finished around March 1.
Officials made the case for expanding classroom space and a larger new competition gym in a February 2018 bond issue referendum due to enrollment growth in recent years. During the past year, the district served 397 students in kindergarten through 12th grade, according a state enrollment report, and Meaney is expecting an increase this fall.
"We'll be up, I just don't know how much yet," he said.
Janesville School staff members were enthusiastic about the building expansion. Heather Howland, a special education coordinator and instructional coach, noted how the additional rooms will allow for separate elementary and middle school areas.
"It's been a long time coming, so we're just super-excited," she said. "There's going to be space for everything."
Be the first to know
Get local news delivered to your inbox!