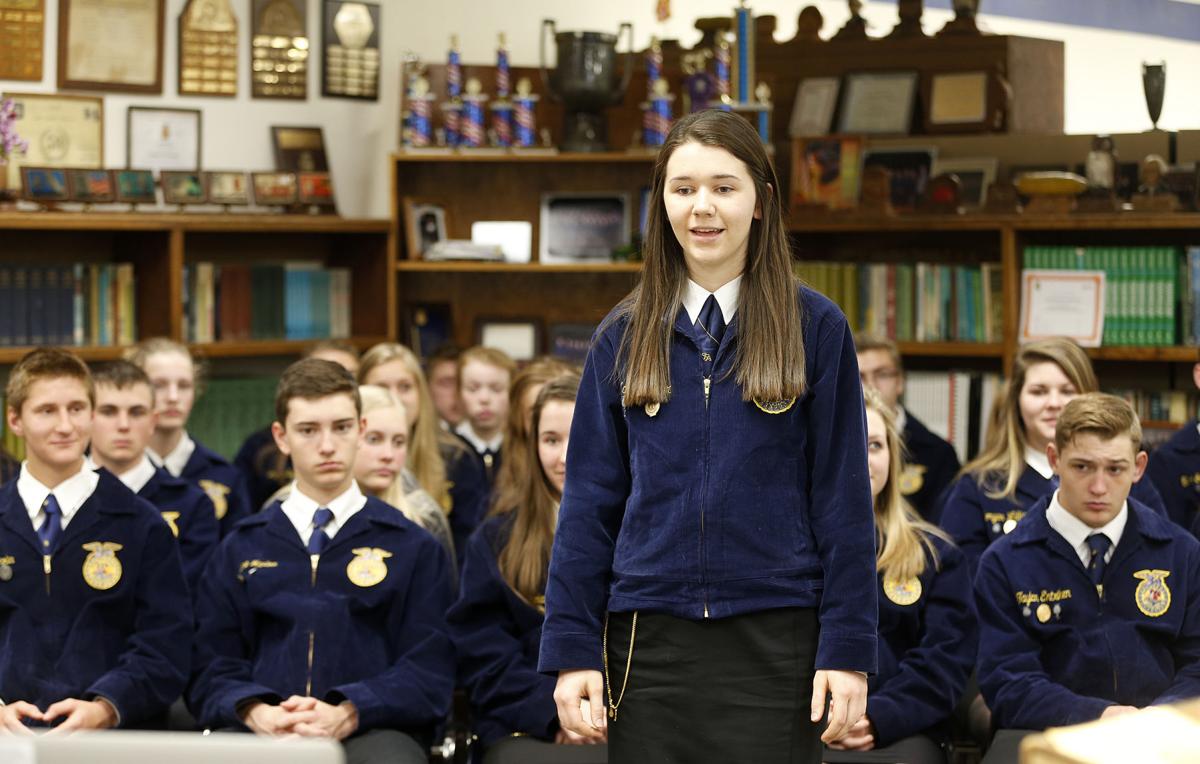 HUDSON — As President Trump proposes cutting agriculture programs and renegotiating trade deals, students in Hudson High School's FFA chapter may have more questions about federal farm policy than usual.
Who better to pose them to than newly confirmed Agriculture Secretary Sonny Perdue?
That's just the person two of the chapter's members talked to Monday as their peers looked on. The 42-member FFA chapter was one of six from around the country that participated in a 45-minute town hall-style question and answer session with the head of the U.S. Department of Agriculture. Students gathered in Hudson's ag classroom dressed in their navy blue FFA jackets for the event through You Tube Live.
Purdue expressed optimism about the future of agriculture, tackled questions on trade disputes and talked about conservation efforts by farmers. With one questioner asking about a product that came before the USDA for approval, he admitted to not knowing enough to give an answer.
"These are questions I'm going to have to go and study on," said Purdue. "It's my fifth day on the job." The Senate confirmed his appointment to the position April 24.
Other FFA chapters participated from Leesburg, Va.; Eau Claire, Wis.; Dover, N.H.; Greeley, Colo.; and Indianapolis. The national FFA organization recommended participating schools.
"To me, it's very humbling because we have very many, many strong FFA programs in the state of Iowa," said Dennis Deppe, Hudson's FFA adviser and agriculture teacher.
When Hudson was first called on to ask a question, senior Maria Geisler, president of the FFA chapter, stood up. She pointed out that, for Iowa and surrounding states, the Mississippi River is an important part of the infrastructure to transport farm products around the U.S. and across the world.
"What would you do as the secretary of agriculture to improve the infrastructure in the United States?" she asked.
"The president has proposed a very costly, very significant infrastructure program," responded Perdue. Agreeing rivers and ocean ports are important to the transportation of agricultural goods, he suggested infrastructure dollars need to be used for enhancing production so "we can keep growing and thriving."
When Hudson was called on again, freshman Kacie Herring brought up the issue of those in America who don't have enough food. Noting "42.2 million Americans live in food insecure households," she asked what steps Perdue would take to improve the situation.
He pointed out the U.S. agricultural sector produces plenty of food, and it's relatively affordable. "The farmers of America, the producers of America, are doing more than their share," said Purdue.
A student at another site asked about the threat of cuts to the department presented in the administration's budget.
"We've had no real input or impact," said Purdue, since Trump's budget proposals were unveiled before he was confirmed. While the agriculture secretary will advocate for programs, if cuts are approved "we're going to manage the budget we're given."
Perdue also faced budget cuts in a former position as governor of Georgia and learned how to protect priority programs. "We did more with less," he said.
Other Hudson students also were prepared to ask questions.
"I wish he would have talked about technology a little bit," said Lane Marlow, a junior. He expressed concern veteran farmers doing their job "the old-fashioned way" are getting pushed out by younger counterparts who have gone higher tech and are making more money.
For senior Ethan Griffith, the issue was corporate farms versus family farms, like the one run by his family. He worries the solution is getting bigger, like those corporate players, or getting out of the business.
"There's all these corporate farmers that are taking over everything, and we can't compete," said Griffith. "If he would have touched more on that, it would've helped me out. I don't want to lose what my family's built."